Warren Buffett said, "Be Fearful When Others Are Greedy and Greedy When Others Are Fearful." I opine that now is the time for Halozyme Therapeutics, Inc. (HALO) bulls to be greedy rather than fearful, and buy into the current weakness. The ones who will buy HALO now when it is trading with a "7" handle and lower, should be richly rewarded in the future, in my opinion. The situation is anything but hopeless.
Here is a posting I found on the Yahoo message board, click here, that describes some analyst reactions to the recent selloff in the stock. I will repeat the post here:
Piper Jaffray analyst Charles Duncan said he expects the pancreatic cancer halt to be resolved in "weeks, not months" and that it would not hurt the broader technology platform as the dosing levels varied significantly from those of Hylenex.
Jefferies & Co analyst Eun Yang maintained her assumption that the pancreatic cancer treatment would be launched in the United States and Europe by 2019, and generate combined peak sales of about $548 million in 2027.
UBS maintains $14 price target. Thinks Hylenex Diabetes potential upside surprise. Gives $5 value to PEG but not changing estimate.
BMO Capital analyst Jim Birchenough, M.D. is out defending Halozyme BMO Capital analyst Jim Birchenough, M.D. is out defending Halozyme Therapeutics (NASDAQ: HALO), which is down 29% after temporary halt of phase 2 trial enrollment and dosing for PEGPH20 in pancreatic cancer. "We believe HALO weakness represents an over-reaction to today's news given that PEGPH20 represents only ~$1.00/share in our NPV estimate for the company," Birchenough said. "Any imbalance in thromboembolic risk should be easily manageable with ASA +/- anticoagulant, as is done commonly with large cancer drugs like REVLIMID." He added, "Thromboembolic risk for an IV formulation of PEGPH20 has no implications for the broader PH20 SubQ platform and we continue to see upside to recent EU approvals of HERCEPTIN SC and MABTHERA SC." The analyst maintained an Outperform rating and price target of $24.00.
HALO Is Approaching Significant Long-Term Support at $7.25, $6.50, $6.00 & $5.00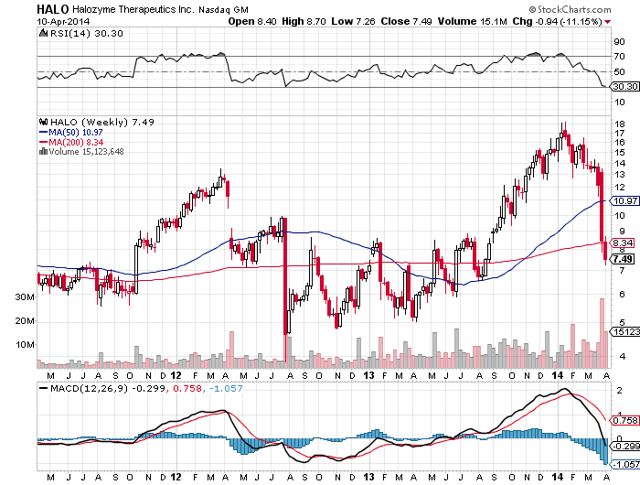 The above weekly chart of HALO is updated through Thursday's close, 4/10/14. From a recent high of $18.18, today's low in HALO reached $7.29, a drop of 59.9%. The last major bull leg started last August at $6.51. The stock then rallied $11.67 over the next 5 months, but has given back 93.3% of those gains in the past 3 months. With Thursday's close of $7.49, the stock is just $2.49 from major support at $5.00. The last 3 times the stock bottomed at the $5.00 level or a bit lower, it quickly rallied back to $8.50. Should the stock fall to $5.00 again in the near future, it should also rally back quickly to $8.50. So anyone who buys shares in the $7, $6 and/or $5 area, should do just fine if they hold for that snap back rally. If you follow this company back over its history, it has had several of these short-term setbacks, and each time the stock recovered to a price close to where it was trading prior to the setback. There is no reason to believe that this time will be any different. If you liked owning the stock at $13 or $14, you should love owning the stock at $6.50 or $7.00. From the current levels, all speculative frothiness has been washed out of the stock, and it should start building a nice base to work on up to higher prices. At worst, the stock should base either at $7.00, $6.50, $6.00 or $5.00 and then rally $3 to $3.50 from the low and then trade back and forth in a trading range. If $6.50 to $7.00 holds the bottom, we could soon see $10.00. But if the stock continues to fall to its long-term support at $5.00, it should quickly recover back to $8.50, as it did three times in the recent past, as shown on the above chart.
Disclaimer:
The thoughts and opinions in this article, along with all stock talk posts made by Robert Edwards, are my own. I am merely giving my interpretation of market moves as I see them. I am sharing what I am doing in my own trading. Sometimes I am correct, while other times I am wrong. They are not trading recommendations, but just another opinion that one may consider as one does their own due diligence.
Disclosure: I am long HALO.