Here is a great article by Alan Knuckman at StreetAuthority, that was just posted here, calling for selling of monthly May 16 strike puts for 40 cents. If the stock stays above $16 in 30 days, you keep the premium and make a 2.6% return for that one month of work. If the stock keeps falling, then you will be exercised and long at an effective price of $15.60, after one figures in the 40 cents received from the puts. Not bad at all.
I have been selling puts already that expire this Friday, April 25, 2014. Last week I sold the $18.50 and $18.00 puts, and today I sold the $17.50 puts for 41 cents. On the puts I sold today, I will either keep the premium or get long the stock at an effective price of $17.09. which is $1 below today's low of $18.09. I will end this article with a daily chart of CLF, followed by the weekly chart. You will see that the stock is at major support and quite oversold. With earnings coming out after the close on Thursday, April 24th, I am looking for a bounce back towards $19 and higher once traders realize the current negativity towards the stock is overdone and not justified.
Current option premiums are elevated due to the fact that earnings are coming out this week. Following earnings, the option premiums should decrease. I call this letting air out of the balloon. If CLF falls post earnings and I am exercised on my puts, then I will sell out of the money calls each week until the stock is called away from me on a small rally.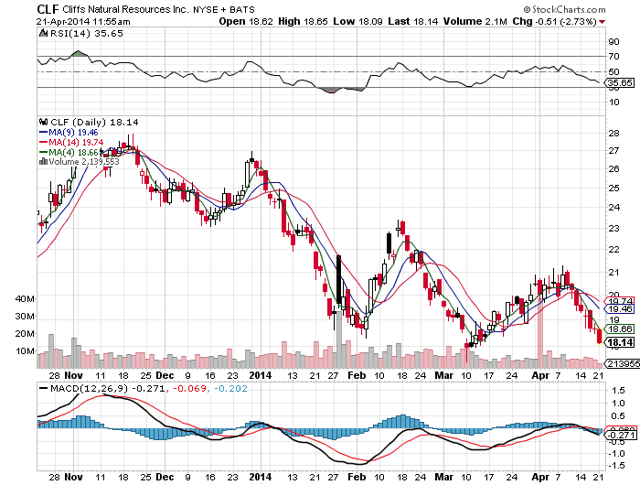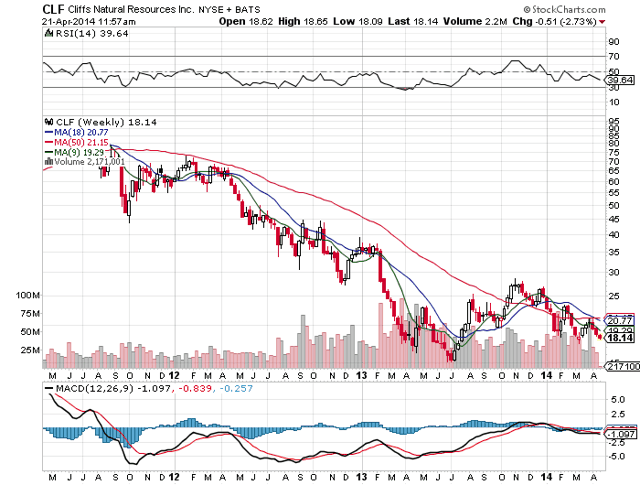 Disclaimer:
The thoughts and opinions in this article, along with all stock talk posts made by Robert Edwards, are my own. I am merely giving my interpretation of market moves as I see them. I am sharing what I am doing in my own trading. Sometimes I am correct, while other times I am wrong. They are not trading recommendations, but just another opinion that one may consider as one does their own due diligence.
Disclosure: I am long CLF.
Additional disclosure: I have naked short positions in CLF, with strikes of $18.50, $18 & $17.50, and will probably sell more puts post earnings on any further weakness.