Cliffs Natural Resources (NYSE:CLF) Held Support At $17 Post Earnings
Following dismal earnings results, Cliffs Natural Resources (CLF) has held support above the critical $17 level as predicted in my last article, click here. Well, today, Americanbulls.com confirmed a buy at $17.58, click here, based on a bullish harami pattern. I am currently long the stock and short some calls against my position. I am also still selling weekly out of the money puts just out of the money, to collect the premium. Here is the daily chart: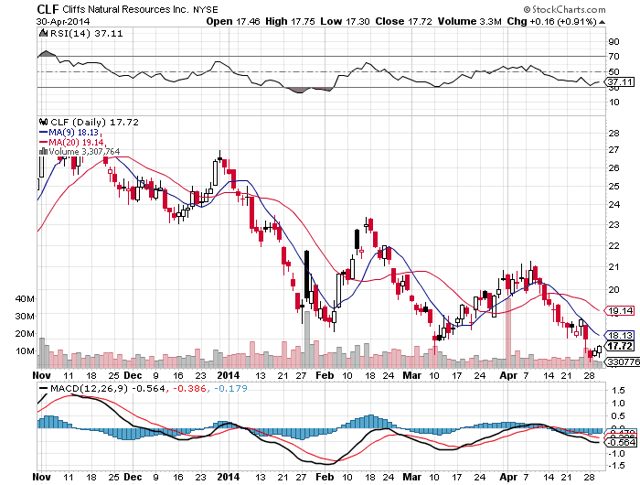 I am looking for the gap up to $18 to be closed later this week, and then a move to begin towards $20.50 and then $22.00. Despite the short-term challenges, CLF is in a value area and trading at a fraction of book value. With the massive short interest, since they can't knock this stock under $17, it should quickly move higher on short-covering.
Petrobras (NYSE:PBR) Should Be Watched For A Buy Below $13
Americanbulls.com finally took profits today in PBR thanks to a bearish shooting star sell signal, click here. Maybe it will now start a correction back closer to $12.25 to $13 where it can be bought again in anticipation of another rally higher. You will notice from the following daily chart that the MACD has turned down and it is a better short than long above $13. Here is the daily chart: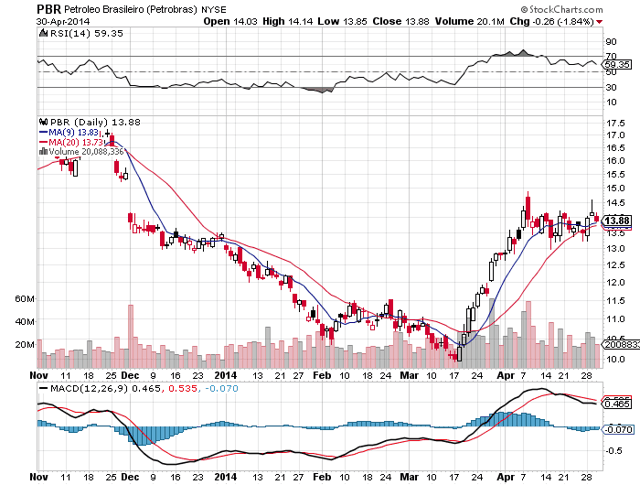 HALO Is Trying To Bottom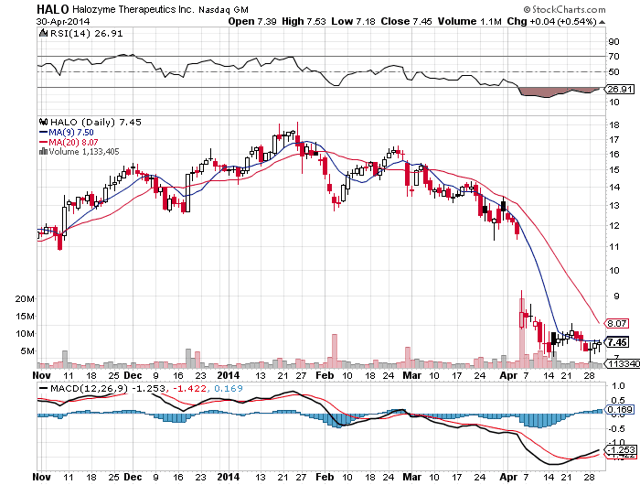 The MACD has given a buy signal (see bottom of the daily chart of HALO). The $7.01 low was taken out on Monday when HALO traded down to $6.88, running stops. That same day the stock rallied and ended up making a bullish hammer and also a bullish harami pattern that was confirmed as a buy at Americanbulls.com on 4/29/14, click here. I expect a bullish announcement to hit the street sometime soon that could pop the stock up a couple dollars overnight. Until then, it should stay in a $3.00 range from $6.50 to $9.50 and one can make some nice pocket change swing trading the stock in the trading range.
Twitter Is My Best Trading Idea Currently
If you have not read my last article on the social media stocks, please read it first, click here. Twitter's earnings announced after the close on 4/29/14, were not bad enough to justify the chart action that followed. Thus, I bought the stock with impunity, first around the $38.60 area, and later down to the $37.87 area, where the stock closed in the night session, down $4.75 from the closing price.
I was hopeful TWTR would pop a bit in the premarket but it instead continued to fall to $36.56 low, before recovering. When it rallied to the $36.80s, buying appeared. I was convinced the worst was over, and sure enough, within ten minutes, the stock rallied over $1 off the lows. It then fell back to $37.00 where I went long to average down my price. After slipping briefly back into the high $36s. the stock recovered to $38.25 where I was able to unload nearly all of my shares above $38.00. I then bought in the $37.60 area and lower, making several scalps both premarket and after the regular trading session began. Here is the intraday chart of TWTR: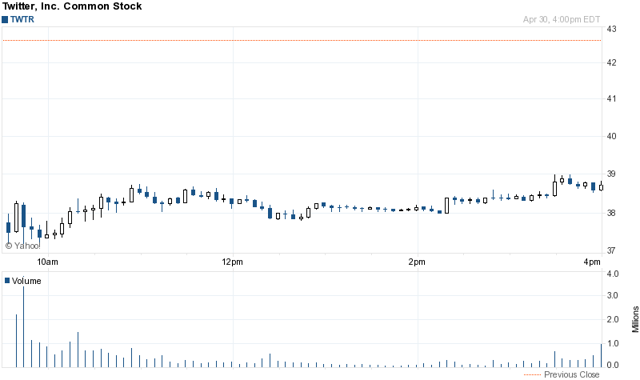 You can follow the chart along. I predicted the low of the day would occur in the first 15 minutes of trading, and I was correct. I expected to get a significant rally and then a setback near the lows towards the end of today. When the stock rallied to $38.50 about 10:50 a.m., I went completely flat. On the quick drop to $38.00, I bought a few shares, that I unloaded in the $38.30s and $38.40s. About 12:30 p.m., the stock dipped below $38.00 and I bought more aggressively. When TWTR could not go back into the $38.30s, I went flat again around $38.15. Just prior to 1:00 p.m., the stock fell back to $38.00 and one or more "stoppers" kept the stock from going any lower than $38.00, as if it was a Friday pinning job being implemented. The chart shows how the stock was locked at $38.00 around 2:12 p.m. for a few minutes and the bulls ended up winning this battle. I found this extremely bullish and was sure at 2:15 p.m. that the stock was closing on its highs instead of its lows. But another bullish thing happened on the close. The exchange declared the close as $38.97, a price never seen prior to 4:00 p.m. This means there were massive buy-on-the-close orders that required these high prices to be filled. This should bode well for tomorrow. After YELP came out with earnings that first dropped the stock down but then recovered, I decided to buy TWTR again at $38.70 and will carry those shares overnight. I had an order at $38.69 that was only partially filled, another bullish omen.
Pete Najarian on Fast Money's Halftime show reported he bought TWTR today and used covered calls for protection. He is using $35 as his stop. I don't think the stock will go straight up from here, but I do believe all dips are a buy, especially as long as it is trading under $40. Buying TWTR under $40 is a no-brainer.
I believe we have already seen the low in TWTR likely, but if I am wrong, either $36 or $35 should hold for now. I expect TWTR along with all of the social media stocks to bottom this week. Weibo (NASDAQ:WB) rallied today and closed up strongly. Facebook (NASDAQ:FB) closed up as well. Angie's List (NASDAQ:ANGI) had a bullish harami yesterday and closed up today, but at Americanbulls.com they surprisingly failed to declare the stock a buy. In any case, today's action in ANGI was bullish and it should quickly rally back above $12.
Tesla Motors (NASDAQ:TSLA) Dropped Seven Weeks As Predicted & Now Is Rallying For The Second Week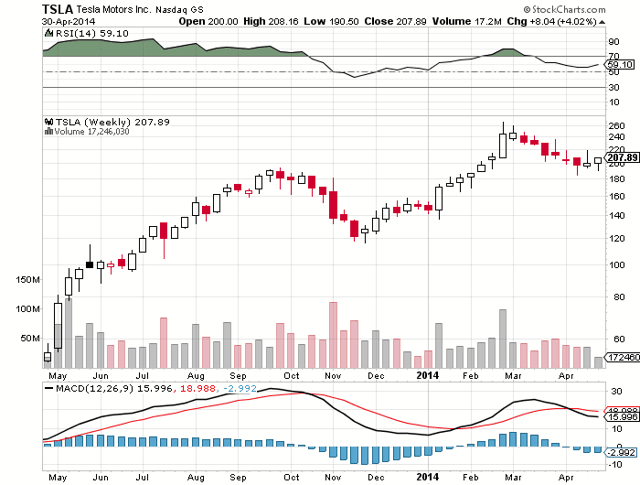 I predicted that TSLA should fall for seven weeks after it had only fallen for 4 weeks, click here. It turned out to fall for 7 weeks, hitting a low of $184.32, before rebounding last week to $219.33, but falling back and barely closing up for the week. It formed a bullish gravestone Japanese Candlestick on the weekly chart. The last bar on the chart is this week which shows a white candle with prices through today, 4/30/14. There are two more days for TSLA to rally further this week. I expect that it will rally to the $214 to $220 area yet this week.
Bitauto (NYSE:BITA) Gave A Buy Signal Today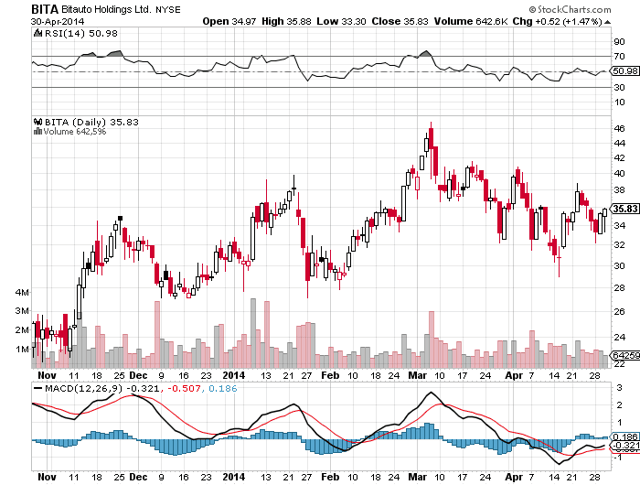 I call Bitauto Holdings (BITA) the Chinese Auto Listing & Advertising Company, the mini-Tesla. It trades quite similar to TSLA and at Americanbulls.com it got a buy signal today just like TSLA did, click here. A bullish engulfing pattern was confirmed with today's up close, and they are long the stock at $35.36. I am looking for BITA to rally quickly towards $40.
Conclusion:
There are more stocks I could have covered. I did not cover GDX or NUGT as they are still giving mixed signals, along with the gold metal. I like both the bullish leveraged NUGT & the bearish leveraged DUST, on dips to support. Neither is worth holding more than a day or two, but can both be successfully traded during the day, often on the same day. When I get a clearer signal then I will comment.
Disclaimer:
The thoughts and opinions in this article, along with all stock talk posts made by Robert Edwards, are my own. I am merely giving my interpretation of market moves as I see them. I am sharing what I am doing in my own trading. Sometimes I am correct, while other times I am wrong. They are not trading recommendations, but just another opinion that one may consider as one does their own due diligence.
Disclosure: I am long CLF, ANGI, TWTR, HALO.