With Fed bond buying tapering continuing this week, dropping another $10B, and the strong jobs number announced today, gold should have dropped precipitously. But it did not. After dipping briefly, it has now reversed to the upside, thanks to escalating tensions in Ukraine. Is Ukraine enough to single handedly rally gold miners? The charts are saying yes. Just take a look at today's daily chart of June Gold futures: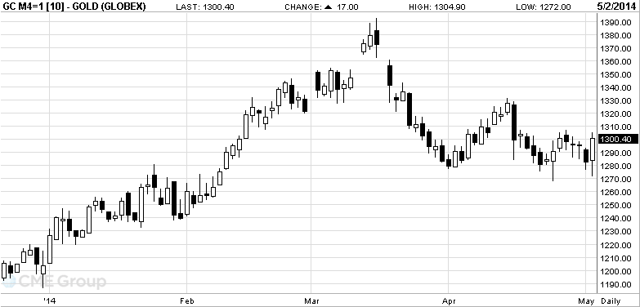 The market day session closes in a few minutes at 1:30 p.m. EST, so the late trade shown is not quite the closing price for today, Friday, May 2, 2014. What is important is that the dip down towards $1272 was reversed and we are closing back above $1300. What we need now is just two closes above $1305 and the bottom is in. Today's high was $1304.90. Today we went from support near $1270, and rallied to short-term resistance back towards $1305. The double bottom of today should cause gold to rally for most of next week. This should cause a very tradable rally in the gold mining stocks. To see where the gold mining stocks are trading, just look at the daily chart of the gold mining ETF (NYSEARCA:GDX) as follows: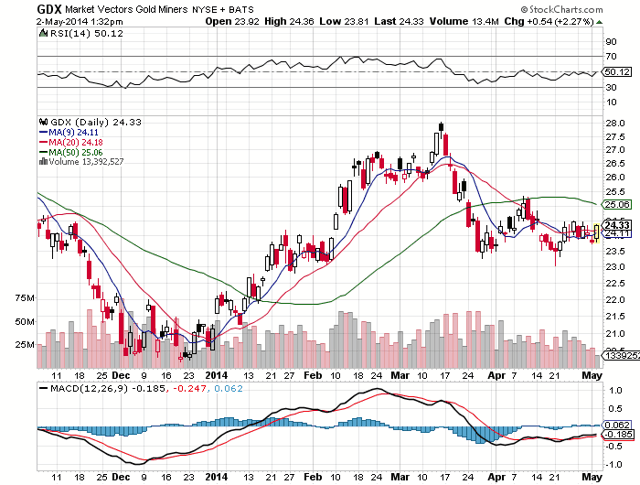 The markets are still trading so the last trade of $24.33 in GDX may not be today's closing price. However, it will probably be close. One can see that the MACD gave a buy signal over a week ago. However, I have been reluctant to recommend buying of gold mining stocks when the only thing bullish about gold is the Ukraine conflict. I have recommended buying dips for quick scalp trades, in the triple leveraged gold mining stock ETF (NYSEARCA:NUGT) when it trades below $35.00. Here is the NUGT daily chart: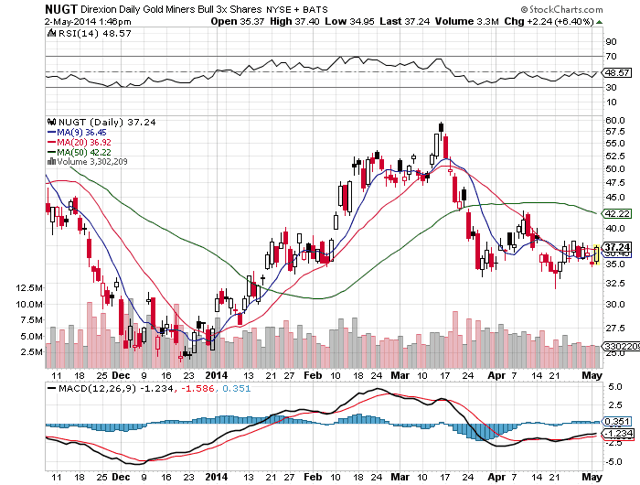 Today we dipped again just under $35.00 and it was a great buy! I was a bit slow today and did not buy NUGT till it hit $35.90 and sold out on a rally towards $37.00, liquidating at $36.98. However with gold continuing to rally, I have repositioned long with a core position in NUGT at $36.76 and am recommending buying NUGT under $37.00. Until June gold closes above $1305, it could dip back a bit on Monday if the Ukraine situation does not worsen over the weekend. However, I will be using any weakness in gold and the miners to add to my NUGT position. Whether or not this is the ultimate low in gold or not, it appears to be a very tradable bottom and scalping from the long side is strongly advised. Also please note: "It is still too early to recommend putting on a long-term position in the miners and no option positions are yet advised". If buy and hold is your trading style, then I would recommend scale buying NUGT every 50 cents to a dollar lower, as it dips, and taking partial profits on small rallies to free up cash to be able to add on further dips. Recently, I have not felt comfortable trading the gold miners other than for a quick scalp trade until now. Going long the miners should work for at least a week, and possibly much longer.
I will close with charts of the Junior Miners ETF (NYSEARCA:GDXJ) and the corresponding Leveraged Junior Miner ETF (NYSEARCA:JNUG). The Junior miners move more than the large miners so many like to trade the juniors. I prefer NUGT over JNUG because JNUG has more volatility and more slippage. Here are the daily charts: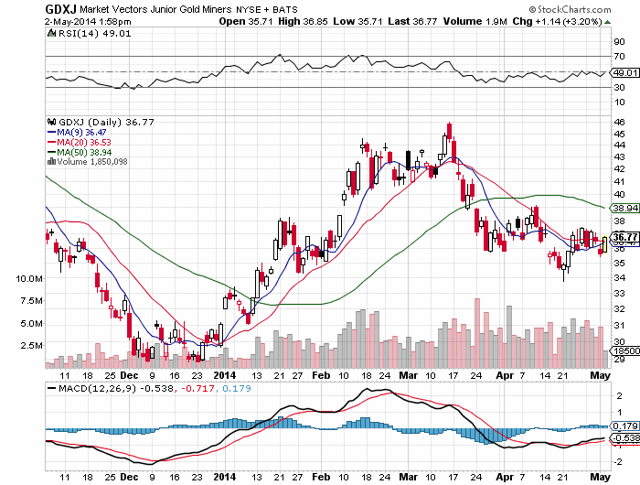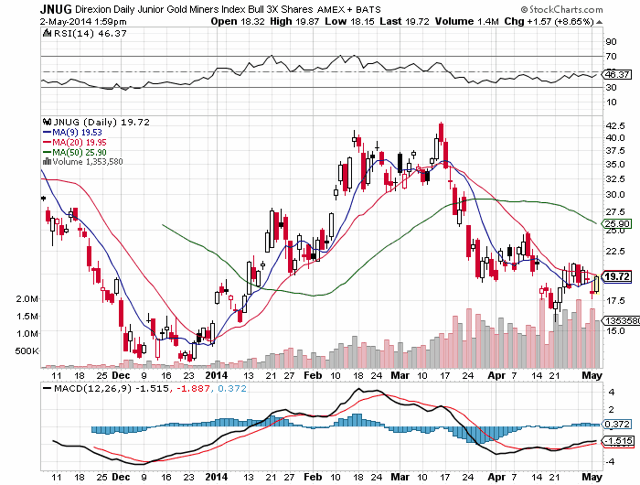 Disclaimer:
The thoughts and opinions in this article, along with all stock talk posts made by Robert Edwards, are my own. I am merely giving my interpretation of market moves as I see them. I am sharing what I am doing in my own trading. Sometimes I am correct, while other times I am wrong. They are not trading recommendations, but just another opinion that one may consider as one does their own due diligence.
Disclosure: I am long NUGT.