Dan Nathan just mentioned on Fast Money, click here, that he closed out his Twitter (NYSE:TWTR) short position today. He still wants to sell rallies and he might be right long-term. However, on a short-term basis, it is looking like TWTR wants to bottom around the $30 area and this could be a nice spot to do a nice scalp trade from the long side.
On May 5th, I did an article, click here, where I indicated that the end of the share lockup on May 6th, would be a non-event. With TWTR crashing down $6.90 on Tuesday, closing into new lows at $31.85 (drop of 17.8%), it is apparent I was wrong. However, I am not convinced that I was wrong based on the release of the shares from lockup. I believe that a majority of the drop was computer generated sell orders placed in the thin premarket. They overwhelmed the buyers and caused panic. With the stock opening down nearly $3, hitting of stops added to the few sellers who wanted to sell for the first time, which added to the weak hand sellers panicking, the margin call sellers, etc. The snowball effect just got out of hand. TWTR is merely a victim of a flawed market structure. In the past, when massive sell orders came in, they were met with buy orders from specialists. But today, with computers doing as much as 80% of the trading, computers don't send in buy orders to support the market. When sell orders try to overwhelm the system, the computers pull their bids (remember the flash crash of 4 years ago, this same May 6th). In fact, when sell orders come in, instead of putting up buy orders, computers are just as likely if not more likely to add to the frenzy with sell orders of their own. The computers will see opportunity and join in the fun. The computers take over. On the 4th anniversary of the flash crash, TWTR had a flash crash of its own, played out in slow motion. Computers are to thank for the Twitter mini crash in my humble opinion. I am not saying anything was done illegally, and I am not calling it market manipulation. What I do say is that it was opportunistic bears who figured out a way to take advantage of the anticipated selling by insiders and long term holders of Twitter stock. They front ran the sellers and caused the mini crash. The fact that nearly 500 million shares were released into the market and the fact that the daily volume was only 134.5 million, it is apparent that a vast majority of the large holders of stock were holding and not selling. I feel I was correct that selling by insiders would be a non-event. Selling by computers is a different story.
Tuesday evening, I regrouped and did further research on TWTR. I think that I now know the most likely scenario for TWTR going forward. If you read my comments that I posted to my TWTR article, this morning, Wednesday 5/7/14, you will see that I was looking for TWTR to find support at $30. It did. Look at the intraday chart: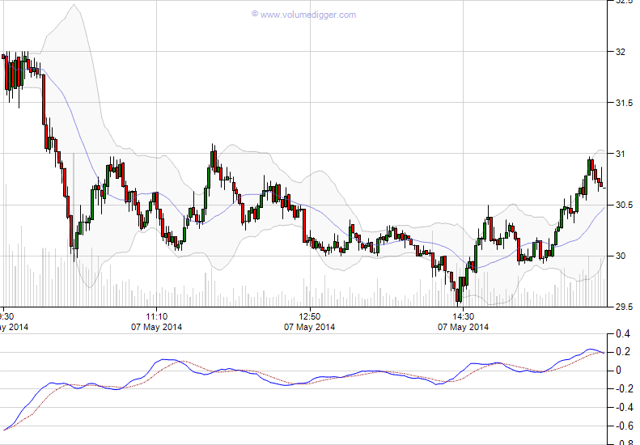 Today in the premarket, which is not shown on the above chart, TWTR traded above $32 and spent as much time above the previous day close of $31.85, as below. Stability in the premarket was a good sign for bulls. The chart shown above is a two-minute bar chart with each bar showing where TWTR traded in two-minute increments. I prefer daytrading using signals generated on the 2-minute charts. Anyway, following along on the chart, when TWTR could not take out resistance at $32, selling resumed and TWTR quickly fell to a few ticks below $30. From that early low, TWTR rallied a whole dollar to a few ticks shy of $31.00. It then worked lower to successfully retest the $30 area (higher low), followed by a strong rally to $31.10 (higher high). This is a bullish development, even if the stock could not add further to the gains. In an a-b-c fashion, TWTR corrected back down to $30.00 where a large bid order was found and kept the stock from making new lows. For nearly 75 minutes, TWTR traded sideways from $30.00 to $30.35. However, just after 2:10 p.m. EST, a large sell order finally crashed the support that had held at $30.00 for over an hour. Over the next 8 minutes TWTR fell no lower than $29.76 and tried valiantly to bust back above $30.00. However, there were not enough buy orders to bust on through, so TWTR fell further, falling precipitously to the low of the day of $29.51, around 2:28 p.m. EST. Since 2:30 p.m. is often a pivot point in time, I was hopeful TWTR could at least begin a rally back up to retest $30.00. I knew that if on the retest, if $30.00 was successfully breached, buy stop orders would propel the stock much higher. TWTR did rally right on schedule, but the first attempt at $30.00 was too much and it fell back towards $29.80. An amazing thing then happened. Buying came in and propelled the stock right on up through $30.00 and buy stop orders propelled the stock back above the $30.35 resistance to a high of $30.50. Now, TWTR had not only made a new low below $30.00, by nearly 50 cents, it had now rallied an equal 50 cents to the upside. This turned TWTR from bearish to neutral, for the first time in a couple days. It was imperative for TWTR to hold and close above $30.00 to remain neutral. TWTR did retest the $30.00 mark and slipped down a few pennies below the support. But in the mid $29.90s, strong buying kept coming in and the support held. In fact, during the last 30 minutes of trading, TWTR retested and broke through the $30.50 resistance, stopping a few pennies shy of $31.00. Although late profit-taking caused the final close to end up $31.66, down $1.19 for the day, closing above $31.50 late in the day turned the stock from neutral to bullish. I can now say with reasonable confidence that the worst should be over. TWTR should continue working on the base established at $30.00. When TWTR rallies and can close back above $32.00, then the bottom will be confirmed. I am looking for a move in TWTR back toward $40.
Facebook (NASDAQ:FB) May Give A Clue To Where Twitter (TWTR) Will Trade Next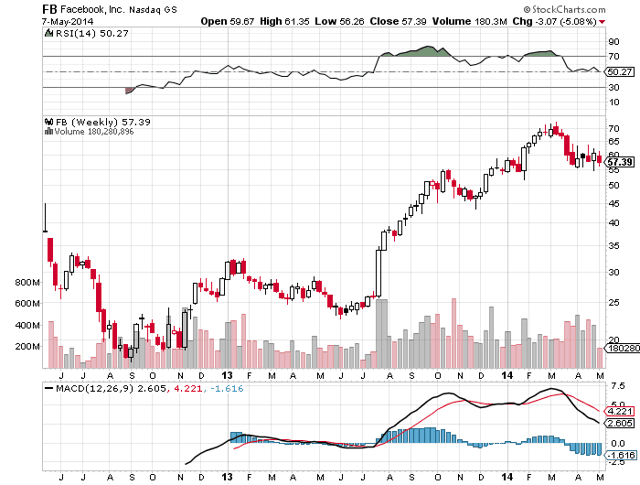 The above weekly chart shows what happened when Facebook botched their IPO. FB sold off from nearly the opening tick, working lower in the first 3 weeks to $25.52, before bouncing back up to $33.45. The $7.93 rebound was a 31% rebound. FB then worked down to its all-time low of $17.55, a drop of 47.5%. From that low, FB bounced 33% to a high of $23.37. Fell back towards $18.80, before bouncing 29% to $24.25. Then from a low of $18.87, FB popped to $28.88, and finally $32.21. That was a pop of 53.5% and further rally of 71.3%. What is important from all this, is that when FB fell, it bottomed and then rallied 31%, followed by another 33% and then 29%, before finally popping over 50% and moving up strongly for good, thanks to great earnings. What does this say about Twitter? Well, I believe that looking at rallies of 29, 31 or 33% off of lows, is a good price target to take profits on longs. Today, TWTR made a low of $29.51 and if that is the low for this down move, then expect a pop back up between 29 to 33%, or a move to $38.07 to $39.25. Then I would expect a retest of the low, and possibly making a new low a bit lower, maybe toward as low as $26, which was the IPO price.
In any case, TWTR is oversold and should bounce shortly upwards of $8.50 to $9.75 off the bottom. Facebook took the dive early and found its low value within the first few weeks of trading. TWTR is just finding out now where the point of equilibrium, since the lockup made such a small float, the stock could never find its equilibrium point between true buyers and sellers. That is happening now. Facebook bottomed and began rallying once the lockup ended, and I would expect the same soon from Twitter.
Disclaimer:
The thoughts and opinions in this article, along with all stock talk posts made by Robert Edwards, are my own. I am merely giving my interpretation of market moves as I see them. I am sharing what I am doing in my own trading. Sometimes I am correct, while other times I am wrong. They are not trading recommendations, but just another opinion that one may consider as one does their own due diligence.
Disclosure: I am long TWTR.