Like punch-drunk boxers, stumbling around aimlessly having taken so many hard and rapidly fired hits, there are many momentum stocks that have been declared broken and down for the count. However, those declarations of imminent defeat are premature. I expect many of the momentum names to bounce off the ropes and spring back with new life, as early as Monday, May 12, 2014! Look for the momentum stocks to soon get their second wind!
There are presently several momentum stocks that appear to be excellent "buying on dips" trading candidates. I will discuss a few of them individually.
Twitter Is Establishing A Very Tradable Short-term Bottom
Wall Street darling Twitter (NYSE:TWTR) was brought to market with great fanfare. It soon shot up to great heights, where it flamed out, and is now a shooting star. But before it completely dies, it should rise from the ashes like the Phoenix, to be reborn. Twitter is presently suffering a great trial by fire which many think it is losing. However, like Facebook did before it, Twitter should rise from the ashes and spring forth a new stock. With all of the carnage Twitter has suffered, the bears have yet to bring the stock down to the IPO price of $26. Dan Nathan and others are calling for that correction to occur in the near future. Maybe TWTR sees $26, or maybe it doesn't. What I do strongly believe, is that anytime Twitter trades under $30, it is a steal, (think Facebook under $24)! Here is the Twitter daily chart: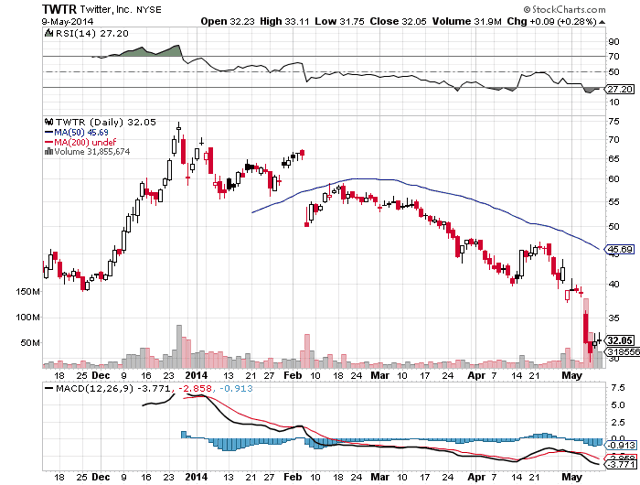 When TWTR crashed on Tuesday, May 6, 2014, it closed at $31.85. After bouncing off a low of $29.51, and closing at $30.66, TWTR has now completed two closes above $31.85, but barely. Nonetheless this confirms a short-term bottom. On Friday, TWTR created a bullish gravestone marker candlestick, or what I call a flag pole. Closing near the low of the day forms the base of the flagpole. Monday should be a higher day and we should take out Friday's high of $33.11. If that high is not challenged, then the action would be considered very bearish and we might have to roll over prematurely. I am looking for TWTR to work higher for the next five days, hopefully trading to at least the $34.50 to $35 level. Since $35 was where stops were placed previously on long positions of $40 and above, the $35 level may now become resistance, especially on the first retest of that level. Also, on the crash day, TWTR attempted to stabilize in the $34.50 to $35 level before ultimately crashing lower. It is possible TWTR might be able to work above $36 and attempt to partially fill the gap area. I will have a better idea how far this rally might go, after Monday's action.
Once TWTR works higher and reduces the oversold condition, one would expect to see the stock retest the bottom towards $30.00. If support gives away, TWTR could break down to attempt to fall to the $26 IPO price. Since it might take a few weeks if not a few months, to get TWTR to retest the $46 level, anyone who is long above $45 might want to sell out half or all of their position at a price of $36 or higher, with anticipation of buying back on a test of $30, down to the $26 IPO price. As Dan Nathan suggests, it might take the next earnings report in early August to get TWTR to bottom for good and begin moving up in earnest.
Tesla Motors (NASDAQ:TSLA) Continues To Be A Buy On Dips
If you read my Mar 30th article on TSLA, click here, you will know that my buy area in TSLA was $165 to $190. Well, take a look at the current daily chart of TSLA to see how that has worked out: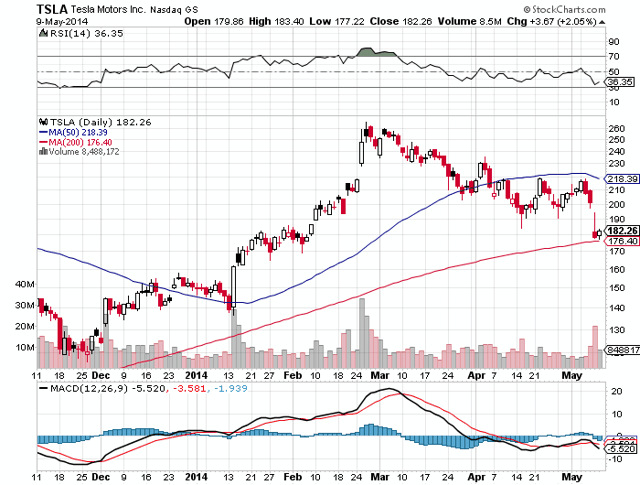 Looking at the daily chart of TSLA, one can see that TSLA fell to a low of $184.32 on April 15th, before rallying to close that day at $193.91. Once TSLA came into my buy zone below $190, it immediately rallied, hitting a high of $219.33 within a week. A week later it fell to $190.50, not quite hitting my $190 buy zone. That caused a rally to $218.66. With earnings after the close of May 7th, TSLA finally got a close below $190, hitting a low of $178 and closing at $178.59. On Friday, TSLA bounced and closed at $182.26. TSLA is sitting just above the 200 day moving average of $176.40, and again I am looking for a short-term bottom and rally of $28 to $38 off the low. It is quite likely the low has already been made on this down move. Any move lower on Monday, would merely be a move to run the stops below $178 and would be a screaming buy in my opinion. I am looking for lower prices to be rejected in the short term, and a quick move back above $190 towards $200.
Angie's List (NASDAQ:ANGI) Is Sitting At Long Term Support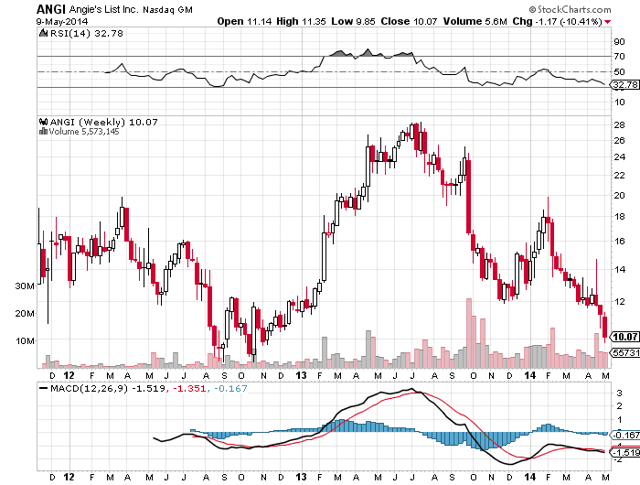 Angie's List (ANGI) is sitting at long-term support, looking at the above weekly chart. This past week ANGI slipped just under $10, hitting a new 52-week low of $9.85, before bouncing to close just above $10. ANGI has not been this cheap since the fall of 2012, when ANGI hit a low of $8.94 before bouncing to $12.23. ANGI then fell to $8.95 but immediately popped back to $11.94. After falling back to $9.69, ANGI went back to $12.03 and eventually broke out to higher prices. From an all-time high of over $28, ANGI has fallen back towards its lows, and sits not far from the all-time low of just under $9. I am looking for ANGI to again find support and bounce back towards $12. I expect ANGI could remain in a trading range of $9 to $12 for some time. However, eventually I expect ANGI to break out to the upside and work back above $20. The recent earnings report beat expectations and caused ANGI to rally from $12 to $14.65 before getting caught in the social media smack down. As TWTR and FB hit bottom and start to rally, expect ANGI to follow.
Disclaimer:
The thoughts and opinions in this article, along with all stock talk posts made by Robert Edwards, are my own. I am merely giving my interpretation of market moves as I see them. I am sharing what I am doing in my own trading. Sometimes I am correct, while other times I am wrong. They are not trading recommendations, but just another opinion that one may consider as one does their own due diligence.
Disclosure: I am long TWTR, ANGI.
Additional disclosure: I may buy shares in TSLA within the next 72 hours.