Gold And The Miners Are Now In A Coiled Spring Pattern!
To understand where we are in the gold market, please read Kira Brecht's article at Kitco, posted here. She does a great job explaining how one can make money in sideways markets like gold is trading in right now. She suggests buying short-term dips at support and selling out on rallies.
I have been saying a similar thing for some time, that one should buy dips in the triple leveraged gold mining ETF (NYSEARCA:NUGT) when it trades under $35. That has worked out well. However, recently NUGT has weakened further, trading below $33 for much of the day yesterday, May 19, 2014. Here is the NUGT daily chart: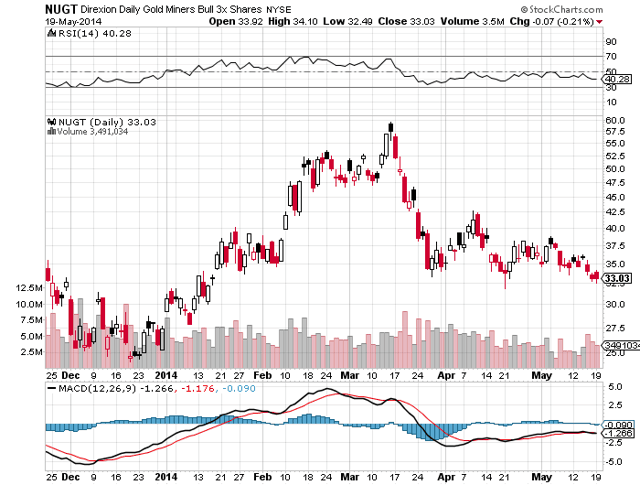 Yesterday's low of $32.49 was very near the $31.88 low of April 21st. Back then, NUGT popped back to $38.10 in a couple days of making that low, a gain of 19.5%. Back to today, anyone buying NUGT from $33, down to $30.00, should be rewarded in the short-term, as NUGT is getting oversold, having closed down for 8 of the last 10 trading days.
Those interested in achieving greater leverage, can also consider buying dips in the triple leveraged Junior Miner ETF (NYSEARCA:JNUG). The JNUG daily chart looks like this: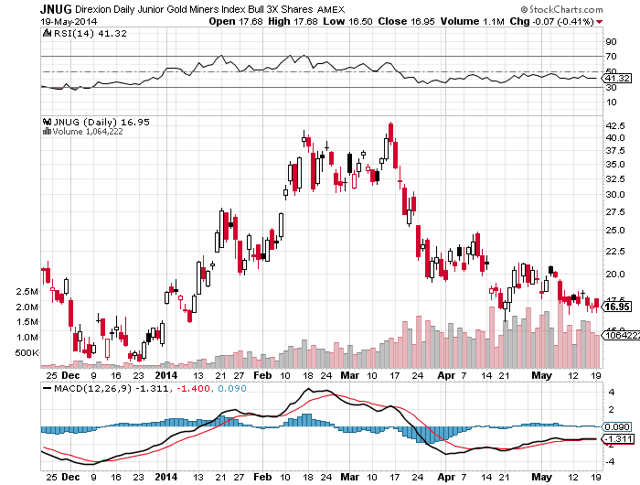 Yesterday's low of $16.50 is very close to recent lows made last week in this ETF, and not far from the $15.72 low struck on April 21st. That low resulted in a rally to $20.80 in a couple days, a gain of 32.3%. Buying JNUG during that dip a month ago, one could have realized a 32.3% gain in a couple days, vs. a 19.5% gain in NUGT. There are many traders in our group wanting to buy JNUG at $16, but I am thinking about buying right in here, a bit above $16, and adding on any further weakness. Trading at a lower price, it is easier to average down in JNUG and the leverage is tremendous.
When trading leveraged ETFs, one must not go all in at the same price. Instead, one should scale trade by starting out buying a small position and adding more shares on weakness. The secret is to buy so small that you are happy when the stock price falls so you can add more shares. If you are accumulating your position and become disappointed you are seeing further weakness, then you are buying too big and are overleveraged. Remember, triple leveraged means your position is three times larger than it would be without the leverage. It is difficult sometimes to remember that fact.
Note: If one has not traded triple ETFs and/or does not understand the risks involved, please read my article posted here, that gives a nice overview.
Disclaimer:
The thoughts and opinions in this article, along with all stock talk posts made by Robert Edwards, are my own. I am merely giving my interpretation of market moves as I see them. I am sharing what I am doing in my own trading. Sometimes I am correct, while other times I am wrong. They are not trading recommendations, but just another opinion that one may consider as one does their own due diligence.
Disclosure: I have no positions in any stocks mentioned, but may initiate a long position in NUGT, JNUG over the next 72 hours.