If you want a great article that explains the fundamental challenges that Cliffs Natural Resources (NYSE:CLF) faces, click here. CLF is spending about twice as much as its competitors to get iron ore out of the ground. Add that to the fact that they are producing metallurgical coal at a sizeable loss, and the picture is anything but pretty. I had been successfully selling slightly out of the money naked puts in CLF recently, as it traded above and below $18. However, recently the fundamentals have deteriorated and I am now afraid to sell puts.
With the bleak and still weakening fundamental picture, no wonder the stock is trading in the $16 range now. Catching a falling knife, I did grab a few shares at $16.41 to collect the 15 cents dividend earlier this week, and was able to sell out of the position at $16.50 for a 9 cent profit not counting the 15 cent dividend. However, I am afraid to buy the stock again, and believe it is too soon to sell out of the money puts at this time. Even though CLF is trading at historically very depressed prices, it appears the stock could have a bit further to fall. Check out the weekly chart of CLF here: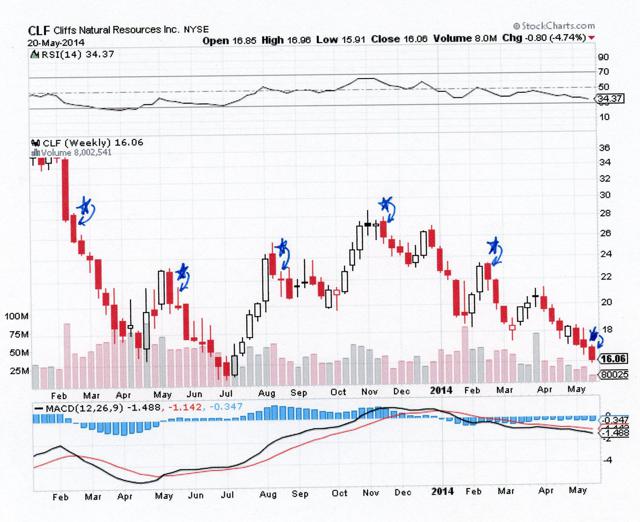 This week CLF declared a 15 cent dividend would be paid to holders of record on May 20, 2014, when the stock closed at $16.06. That is when I ran the above chart. Post dividend, the stock opened at $15.91 the next morning, and has since rallied a couple days, getting back to $16.52 on the close of May 22, 2014 (not shown on the chart). I ran to chart to see if I wanted to sell some naked puts for income, with the stock trading below $16. I marked with a blue star, every week where CLF paid out quarterly dividends, which of course is every 13 weeks. Looking at the chart, one can see that it is almost never a good time to buy CLF on the week the stock goes ex-dividend. Instead, one would do best to wait about 3 weeks later, to catch the low. It is amazing how CLF usually falls soon after paying a dividend. I believe it could be that certain traders are holding out to collect the dividend and then sell afterwords, further depressing the stock. In any case, I will probably not be buying CLF stock, nor will I be selling puts in the stock for at least 2-3 weeks, to allow time for the stock to stabilize. I will close out this article with a daily chart of CLF that shows how the stock has rebounded off the lows: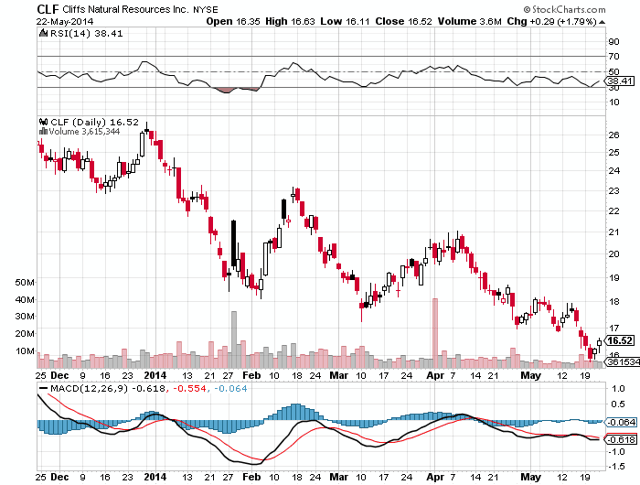 Disclaimer:
The thoughts and opinions in this article, along with all stock talk posts made by Robert Edwards, are my own. I am merely giving my interpretation of market moves as I see them. I am sharing what I am doing in my own trading. Sometimes I am correct, while other times I am wrong. They are not trading recommendations, but just another opinion that one may consider as one does their own due diligence.
Disclosure: I have no positions in any stocks mentioned, and no plans to initiate any positions within the next 72 hours.