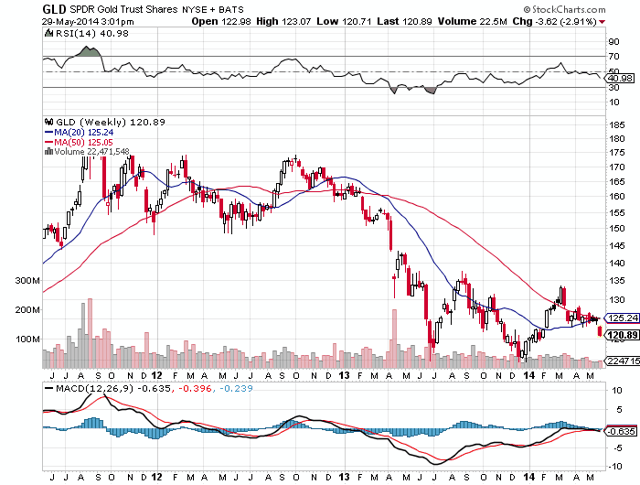 The above weekly chart of GLD, shows how we were in a descending triangle pattern recently, which ultimately was resolved to the downside. This is the false breakdown that I have been calling for. Lots of traders are now short gold and the GLD market, along with the miners. But since we are near pretty good long-term support levels, it would not be out of reason to expect a short-covering rally in the near-term, fueled by bears having to cover their short bets, and helped by bulls who like to bottom fish in the gold market, after selloffs.
If you look closely at the above chart you will see that in April 2012, GLD was in a similar descending wedge pattern as we have had recently. Back in the Spring of 2012, just two years ago, the wedge pattern also was resolved to the downside as has just occurred now. However, in the $148s, GLD found support and built a base that took about ten weeks and also became a triangle that ultimately was resolved to the upside beginning the middle of August 2012, and quickly hit a high of $174.07.
Now that we have broken down from the descending wedge pattern in GLD, I expect that within another week, we will base somewhere between 120 and $115. I would then expect to see a basing sideways pattern forming that could take a few weeks to form. Eventually, I am looking for a move higher in GLD, to the $135 to $140 area in GLD. The last weekly bar in the chart is updated to this afternoon's trading level of $120.88 but it may be a bit higher or lower when it closes on Friday. There would appear to be about $6 of risk to the downside in GLD and $14 to $19 of appreciation potential from here. This is a 2 to 1, to 3 to 1 gain to loss risk ratio, so I favor bullish plays in gold and the miners in the short-term.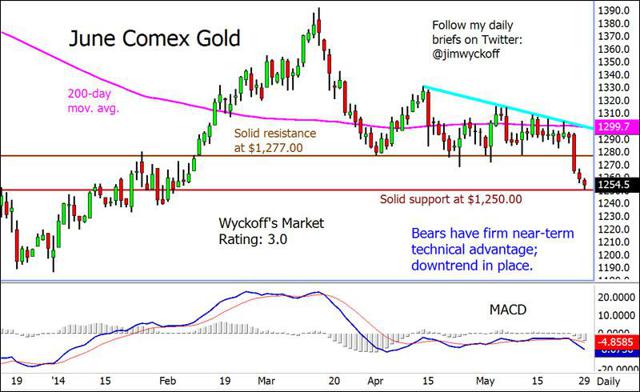 Jim Wyckoff at Kitco.com, provides the above daily chart of June gold futures. We have come down to solid support in June gold around $1250, with additional support at $1245 and $1233, more support at $1220 and of course $1200.
Thus, I am looking for gold to stop falling in the near term, and to bounce back towards the $1277 resistance level. $1277 was previously support, but now that we have broken down, that should now be formidable resistance as bulls who were buying in that area are now under water, and will be anxious to sell out of their longs should we return to that area again. When we do return to $1277, it should be a good place to short gold, or to buy DUST or JDST for a short-term bear play back down to support. If the support holds then we will bottom and begin a long-term rally to much higher levels. However, if we break down on the retest, I believe gold will hold the $1200 level, and that the gold mining ETF (NYSEARCA:GDX) will hold the low it established back in December 2013. Here is the daily chart of the gold mining ETF (GDX):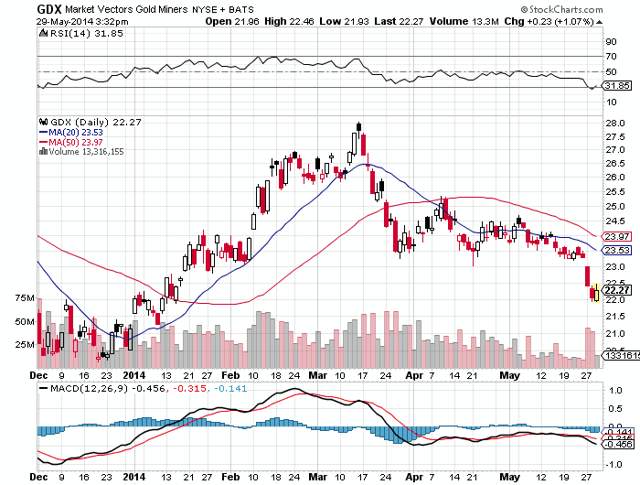 On December 19, 2013, GDX set a multi-year low of $20.18. I do not believe that low will be exceeded. If it would occur, then the bear market in gold miners that began in November 2011, will have continued for over 2 1/2 years, which is extremely long for a bear market. I am looking for strength in gold beginning in July 2014, the start of the second half. Citi Research came out with a story today, click here, where they agree that gold should move higher during the 2nd half of 2014. Citi Research likes gold but has nothing good to say about the miners. Citi believes that the easy cost cutting has already been done and the miners will underperform in the 2nd half. I do not share in this bearishness because higher gold prices in the 2nd half of 2014 and into early 2015, should have a very positive affect on the bottom lines of the miners.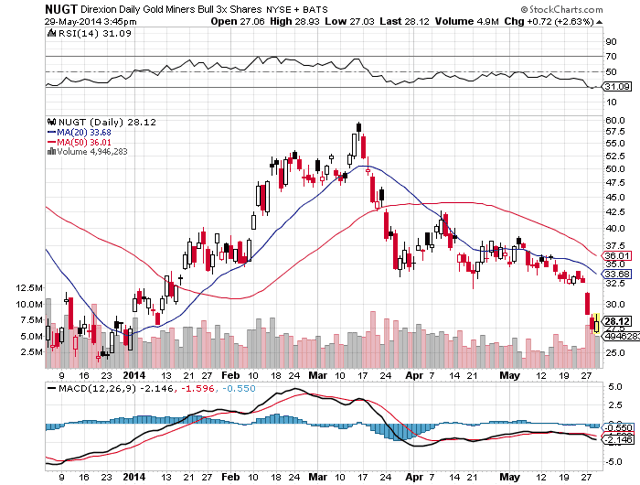 The above daily chart of the triple leveraged bullish gold mining ETF (NYSEARCA:NUGT) was just run this afternoon and so the last bar is not the closing price. If you look at the bar of March 27, 2014, you will see a similar bullish reversal as today. Back then, NUGT rallied one more day and then spent a couple days retesting the bottom before moving up. I would expect that we get some follow through buying on Friday May 30, 2014, and then could retest the lows on Monday and Tuesday of next week, where we could then bottom and start moving higher. When I checked at americanbulls.com, click here, NUGT has formed a bullish three gap downs candlestick pattern. To get a buy signal, NUGT needs to close in the upper half of the last red candle, which means that if it closes above $28 today, it should give a buy signal.
Although I am looking for a short-term bottom here, looking at the long-term picture, GDX could retest the $20.18 low struck back in December 2013. If that occurs, NUGT would fall to $20, so there is about $8 of risk in buying NUGT at $28, in my opinion. However, should NUGT hit $20 (I don't believe it will fall this low), it should then more than double in value back to $40 to $48. Thus from $28, looking long-term, there would appear to be about $8 of downside risk, and $12 to $20 of upside potential. This is a good reward to risk ratio so I favor playing the long side of NUGT and the other miners.
If NUGT should hit a low of $20, then the triple leveraged bullish Junior Miners ETF (NYSEARCA:JNUG) could hit a low of about $10.50. However, from that low, I would expect for JNUG to more than double and move to as high as $25 longer-term. Here is a look of the JNUG daily chart.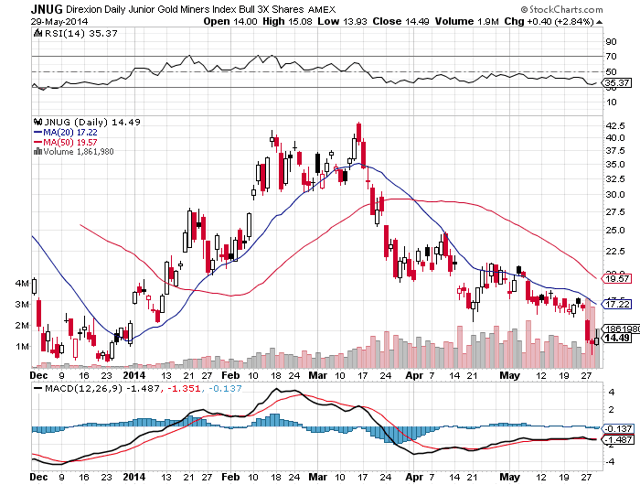 Although JNUG could potentially fall to $10.50 on a washout move in the miners, I see a lot of value where it now trades, and like scale buying JNUG on dips. Although I liquidated my NUGT and JNUG shares on today's pop, that I bought yesterday, I intend to buy more on dips early next week.
Disclaimer:
The thoughts and opinions in this article, along with all stock talk posts made by Robert Edwards, are my own. I am merely giving my interpretation of market moves as I see them. I am sharing what I am doing in my own trading. Sometimes I am correct, while other times I am wrong. They are not trading recommendations, but just another opinion that one may consider as one does their own due diligence.
Disclosure: I have no positions in any stocks mentioned, but may initiate a long position in NUGT, JNUG over the next 72 hours.