I spent the weekend researching the monthly futures charts to try and locate trading opportunities for the remainder of 2014. I will cover each market segment individually:
The Metals
My favorite metals trade going forward is not gold, but actually copper. For stock traders they can buy the Copper ETF (NYSEARCA:JJC). Today I ran across a bearish article on copper, you can read here. I don't agree with the article at all, as I believe China will turn accommodative if things slow down too much in the future. From a fundamental standpoint, copper inventories in London and elsewhere are dropping. Funds are positive and long copper.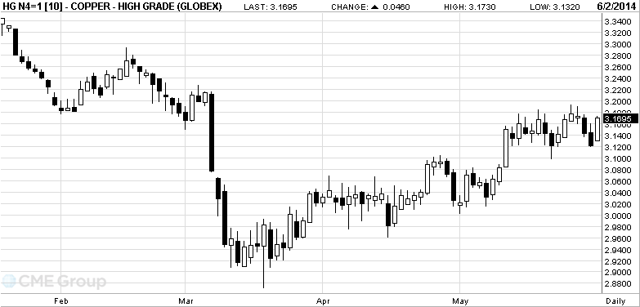 I tried to buy overnight but copper gapped up and has continue to climb today. I will find another spot to get long. When copper sold off in early May, major support at $3.00 was violated, but has now been repaired. Having successfully tested the bottom, copper is stronger now on a technical basis than it would have been if the $3.00 level had held. I can see copper rallying from $3.00 to as high as $4.00 by the end of the year. Every penny is $250 so that is $25,000 potential per contract.
I also do like the gold metal, especially in another month. I am looking for fireworks to begin in the gold market, soon after July 4th, if not sooner. Take a look at the gold daily chart: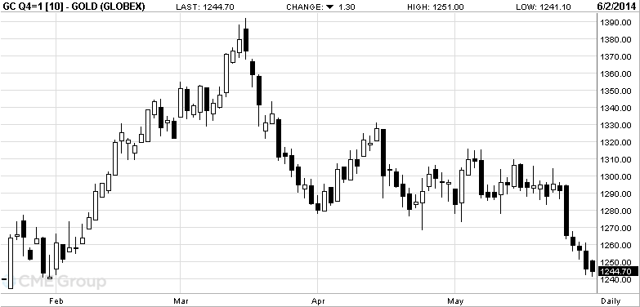 In late March, there was was a 7 day down move when August gold futures bottomed the first trading day of April around $1280. After rallying to $1330 in nine trading days, August gold futures bottomed again 7 days later just under $1270. The last 6 bars are all black, as gold has been in a 6 day downtrend. Well, Tuesday, June 3rd is the 7th day again, and I am looking for a bottom tomorrow. I don't see gold trading much under $1232 before rallying $30 to $40 on a short-covering rally. The rally I am looking for will be great for those long the leveraged miner ETFs of NUGT & JNUG.
Silver is at major long-term support below 19 cents. It should well be a great time to buy the silver mining ETF (NYSEARCA:SLV). Platinum has been helped by a strike and Palladium has great fundamentals, but both appear extended to the upside right now and are vulnerable for a selloff so I am leaving them alone. Platinum was trading $100 over the price of gold, but in the past couple months the Platinum price premium has increased to $200 over the price of gold. Large traders are long Platinum and short Gold. By early July I believe these trades will be unwound and that will help to depress Platinum prices but should help support gold prices.
The Currencies
Recently the US dollar has been strong, which has helped to depress prices of gold, as they tend to move in opposite directions. However, many of the currencies are trading near long-term support, and the US dollar has formidable resistance above the market. Long-term the US dollar (due to burgeoning debt) can only go lower, which will support the price of gold in the long-term. The recent dollar strength is merely the pause that refreshes. I see the dollar weakening later in the year as the stock market falters.
The Stock Indexes
I like to trade tech stocks so I favor trading the June E-mini Nasdaq 100 contract. Take a look at the daily chart: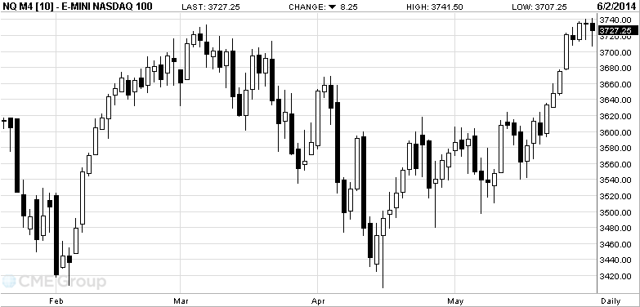 Back on the first trading day of February 2014, June E-mini Nasdaq futures had an extremely large black candle and closed around $3420. From that low the chart shows 9 of the next 10 candles as white candles, as the market exploded off the lows. It would take another 14 candles (trading days) to top out above $3730.
Recently the E-mini Nasdaq 100 bottomed around $3540 and then had 8 of the next 10 candles as white ones. The 11th candle (the last candle on the chart) is a black candle as the Nasdaq is a bit loer right now (Note: the market is not closed & things could change). Anyway, I am looking for 2-3 weeks of additional sideways topping action in the Nasdaq 100, similar to what occurred in late February and early March. I am looking for a top in the Nasdaq 100 in the 3rd week of June.
The Meats
Pork has been devastated by the PEDV virus, causing record lean hog prices. However, I see live cattle prices as the safest bullish bet in the meat markets. Feeder cattle prices are at record highs based on strong demand as farmers try to rebuild cattle herds with cattle on feed numbers the lowest they have been in 50 or 60 years. Take a look at the monthly live cattle chart: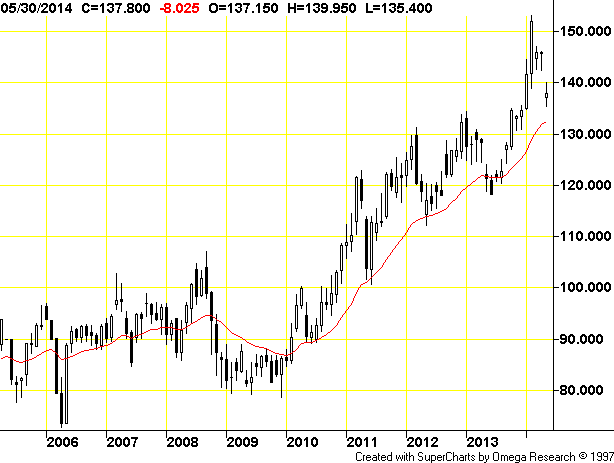 In 2013, Live Cattle bottomed in June, and then rallied strongly to new highs by the end of the year. I am looking for a similar pattern this year with a June Live Cattle bottom and a rally to new all-time highs by the end of the year to above $152 per pound. I look for a further extension by February 2015 towards $160 or maybe $175! Although the continuation monthly chart now is following the June contract that expires in a few weeks, August Live Cattle are today trading at $139. Every dollar move higher is $400. I am presently long August Live Cattle
Other Markets
I did not cover the grains but I like soybean oil below 40 cents, and noticed that rough rice is now under 15 cents and I like scalping from the long side in bean oil and rice. I see the wheat market bottoming about 75 cents lower in the $5.50 level and am short September $5.75 Wheat puts.
I also did not mention energy but will be putting out a bullish natural gas recommendation within the next 30 days likely, but it is too soon to call the turn.
Disclaimer:
The thoughts and opinions in this article, along with all stock talk posts made by Robert Edwards, are my own. I am merely giving my interpretation of market moves as I see them. I am sharing what I am doing in my own trading. Sometimes I am correct, while other times I am wrong. They are not trading recommendations, but just another opinion that one may consider as one does their own due diligence.