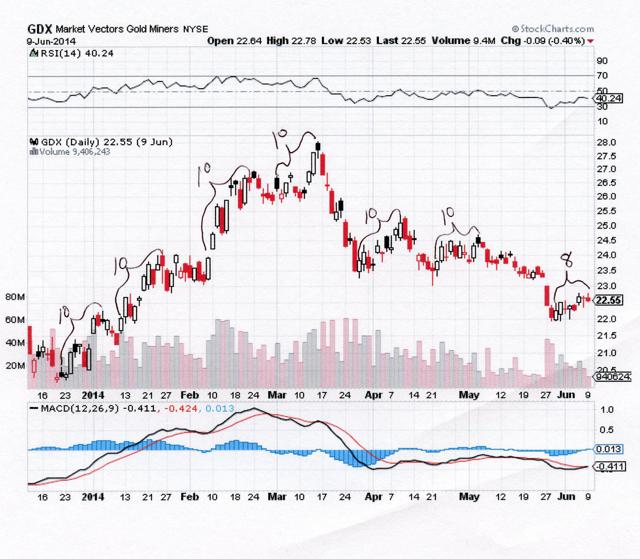 Gold Miners (NYSEARCA:GDX) Could Hit A Short Term High On Wednesday, June 11, 2014.
The above daily chart of the gold mining stock ETF (GDX) is only updated through Monday, June 9, 2014. It does not show today's pop up in the miners because the stockcharts.com servers are not updating today (site where I got the chart). You will see that 10 day rallies occurred 4 times on the way up from the December 2013 bottom, to the March high. Since we topped out, we have had two small 10 day rallies and GDX sold off beginning the 11th day. The reason I bring this up, is that the above chart now shows 8 days of movement off the recent bottom, with prices shown through Monday, June 9th. Today is the 9th trading day and GDX is up right now about 39 cents, just an hour before the close, at $22.93. Tomorrow, Wednesday June 11th, will be the 10th up day of the current move off the bottom and could mark a short-term top in GDX as well as the leveraged mining ETFs of NUGT and JNUG. It may be time to at least consider taking profits if one is able to, on up to half of your position, or selling some mining shares in anticipation of buying back lower in a few days. The 10 day rally cycle has been quite consistent over the past 6 months. There is no reason to believe that this time will be any different. Definitely it is something to watch.
There is still one day to register further gains on this 10-day rally phase, but it is discouraging that GDX has only been able to rally just under $1 off the $22.00 low area. The late April rally had a magnitude of nearly $1.75, and the 10-day rally just before that one, was for $2.00.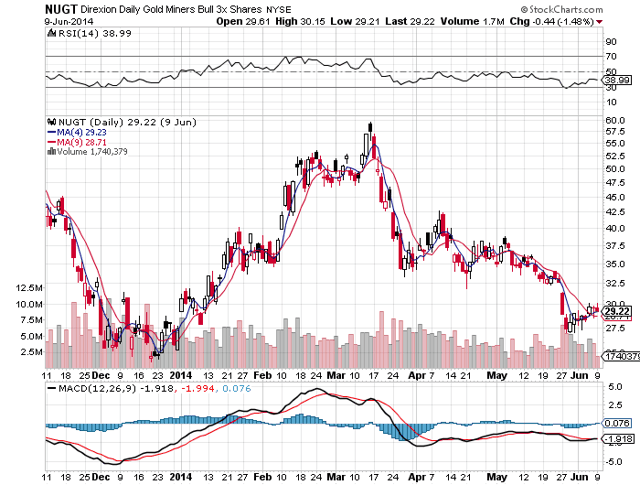 NUGT Needs To Retest The Bottom Before Moving Up For Good
The above chart on the triple leveraged bullish gold mining ETF (NYSEARCA:NUGT) is again only current through yesterday, so it does not show today's rally to $30.80. I would like you to focus on the previous major bottom in NUGT that occurred in December 2013. NUGT bottomed on December 3rd at $25.42, but then popped in 5 days to a high of $31.44. But 2 days later, a new low was struck at $24.71. This was followed 4 days later with a rally to $29.08 and then a new low the next day at $24.14. Then 4 days later NUGT rallied to $28.68 before one final retest down at $25.25, when NUGT bottomed for good. This whole process took 19 days of trading. Since we are only up 9 days out of the bottom in the current rally phase off the lows, one would expect at least one if not two or three retests of the lows, before NUGT bottoms for good.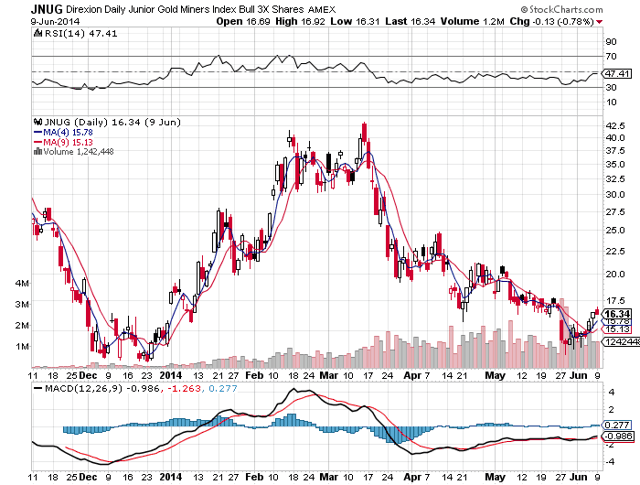 JNUG Could Stop Very Short-Term In The $18s
It is most unfortunate that the server at Stockcharts.com was not updating and the above chart does not show today's nice 9% rally to $17.84 in the triple leveraged Junior gold miner ETF (NYSEARCA:JNUG). Just like NUGT, I expect JNUG to have to retest the bottom before moving up for good, and so it is likely going to top out temporarily in the $18s on Wednesday, June 10th. If one wants to stay put in their positions in NUGT and/or JNUG and not try to time the retest move back towards the lows, one might want to buy some shares of the triple leveraged bearish gold mining ETF (NYSEARCA:DUST). Here is the daily chart of DUST through Monday, June 9th: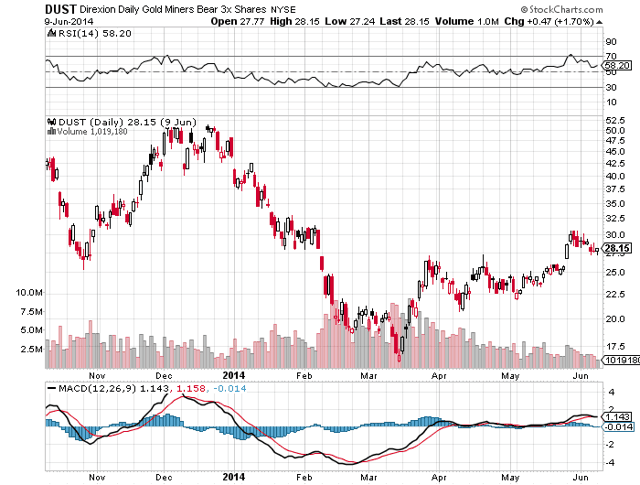 DUST May Be A Short-Term Buy For A Scalp At $26 & Below
The above chart does not show the $1.80 of weakness down to $26.35 that DUST is trading at near today's close. You can see on the above chart that just 2 1/2 weeks ago, DUST left a gap from $25.72 to $26.79. You should know that markets like to fill gaps. Today DUST partially filled the gap. If DUST would continue lower on Wednesday, it might be worth buying from $26 down to the bottom of the gap at $25.72. This gap could be filled tomorrow and then DUST should turn higher as the other miners start their retest of the lows.
Disclaimer:
The thoughts and opinions in this article, along with all stock talk posts made by Robert Edwards, are my own. I am merely giving my interpretation of market moves as I see them. I am sharing what I am doing in my own trading. Sometimes I am correct, while other times I am wrong. They are not trading recommendations, but just another opinion that one may consider as one does their own due diligence.