It always looks the darkest just before the dawn. Although virtually every news announcement related to Cliffs Natural Resources (NYSE:CLF) has been utterly negative, there could be daylight at the end of the tunnel. Casablanca will get two board members at the July 29th annual meeting, and should be able to influence company actions in the future, as described in this SA article, click here. Also, the iron ore price is presently below $100 per metric ton, but it is still above the breakeven price for the company to produce. What has been depressing the price is the assertion by Goldman Sachs that the price will work down to $80. Well, it was similar talk in the Spring and early Summer of 2013 that caused CLF to fall to a low of $16.17 in April, and $14.99 on July 5, 2013. From those lows, CLF rallied to over $28 in November when iron ore prices firmed up during the second half of the year, contrary to the assertions made by Goldman Sachs that prices were going to collapse. Well, Goldman Sachs was wrong about the impending collapse of prices in 2013, and they are probably wrong now, in both time and the ultimate magnitude of the drop. This negative talk has destroyed any shred of positive lingering sentiment towards the company. The short interest is extreme and with so many siding in the bear camp, my contrarian spirit makes me friendly towards CLF at $14 and below. Nonetheless, I am disappointed in the recent price action.
As I type, CLF has reversed to the upside and looks to close today around $14. The recent low is $13.60 and I have some shares purchased at $15.39. I have not added to the position recently to average down, as the poor stock action has given me little reason to add....for now at least. The chart action does give me some hope, when I see the current Relative Strength Index (RSI) of the weekly chart under 30. Below you will see the weekly chart of CLF: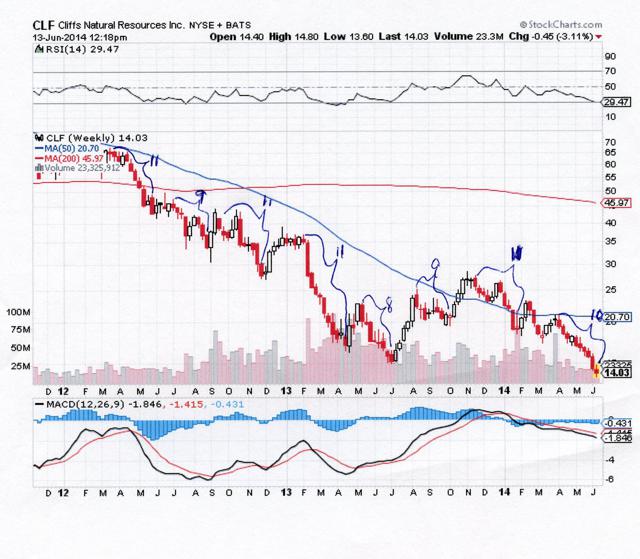 This week is the 10th week of the current down move. I have marked several similar down moves on the chart and one can easily see that these moves tend to last from 9 to 11 weeks. Thus, we are due for a short-term bounce lasting 3 to 5 weeks, and hopefully of a magnitude of as much as $4.50 to $5. I was hopeful that $14.50 would hold as support but after a few days, that level gave way and now we have fallen to $13.60 and are vulnerable to a drop to $13.
Even if I get my rally of as much as $5, it would not be out of the question for CLF to retest the lows and possibly fall to $12, with the worst conceivable low price in my mind, being $10.50. However, at $12 and below, it will surely become another Petrobras (NYSE:PBR) that traded with a $10 handle and then quickly recovered to $15.
Whatever the bottom in CLF turns out to be, it should gain 50% of its value over the next few months, based on past chart action. Thus, if $13 is the bottom, expect a $6.50 rally to $19.50. If $12 is the bottom, $18 would be your price target. And $10.50 projects a rally to $15.75. If CLF breaks down to $13, then I will add shares to average down to $14. Maybe there will be a surprise announcement that will spike the stock up several dollars and let me cash out. At its current valuation and as it continues falling, it should become more of a compelling value to VALE, RIO or some other mining company.
Disclaimer:
The thoughts and opinions in this article, along with all stock talk posts made by Robert Edwards, are my own. I am merely giving my interpretation of market moves as I see them. I am sharing what I am doing in my own trading. Sometimes I am correct, while other times I am wrong. They are not trading recommendations, but just another opinion that one may consider as one does their own due diligence.
Disclosure: The author is long CLF.