Two weeks ago, I posted an article found here, where I went through various charts and explaining where I thought prices were headed. In that article Crude Oil was trading just under $1.03 and I predicted it would start moving up in a day or so. The next trading day Crude Oil exploded higher and has been in a strong 2-week uptrend. The uprising by the Taliban in Iraq has helped rally crude oil, but crude was ready to move up without the news. I called for Natural Gas to top out in 3 and 9 days, but I should have taken the average of the two, because NG topped out 6 trading days later and has now closed down 6 straight days.
In the metals, two weeks ago I explained how I liked Copper and felt it would bounce from the $3.00 support area. It did. Copper bottomed just under $3.01 at $3.0085 on June 12th, and has now rallied for 6 straight days, up to $3.12. I also liked Silver. I said silver was due to bottom now and recommended buying the silver trust ETF (NYSEARCA:SLV). Take a look at the SLV chart: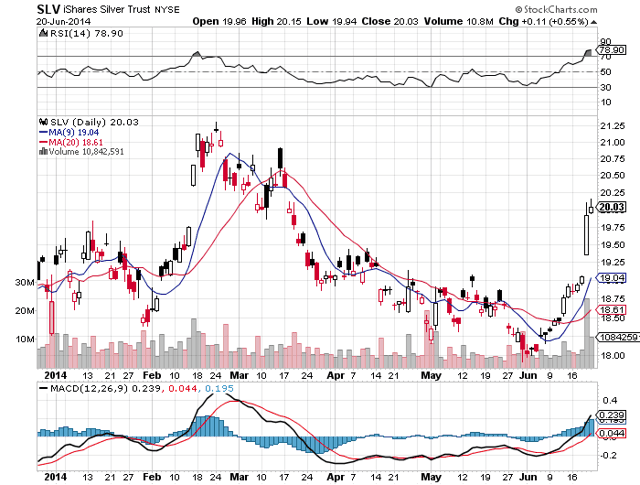 Two weeks ago, SLV was trading at $18.28, but has now rallied to $20.03, a gain of 9.6%. Silver has no resistance for another dollar, so SLV should approach $21 before suffering any real setback.
In the article I stated Gold should bottom within a couple days and then rally $50. Turns out Gold rallied nearly $70. Here is the chart of August gold futures: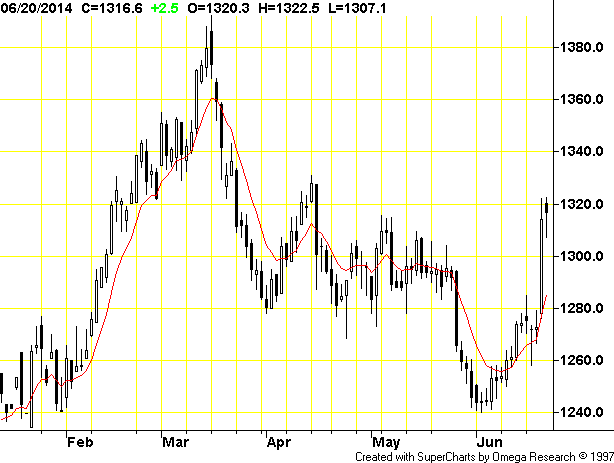 Gold has rallied for the past two weeks. And regarding Platinum, I stated that it had already bottomed and should rally further for 7 to 9 days. Well, Platinum rallied for 3 days, then had a significant selloff on the rumor that progress was being made in wage negotiations and a strike settlement was near. Platinum has since rallied and despite Friday's profit-taking, sits about $4 higher than when I published the article 2 weeks ago. (Note: The strike appears to be close to settling but has not yet settled. It is supposed to settle this coming week. Sine they sold off Platinum and rallied gold on the rumor of a strike settlement, I expect to see a Platinum rally and gold selloff when the actual announcement of a settlement is made). Here is the chart of July Platinum futures: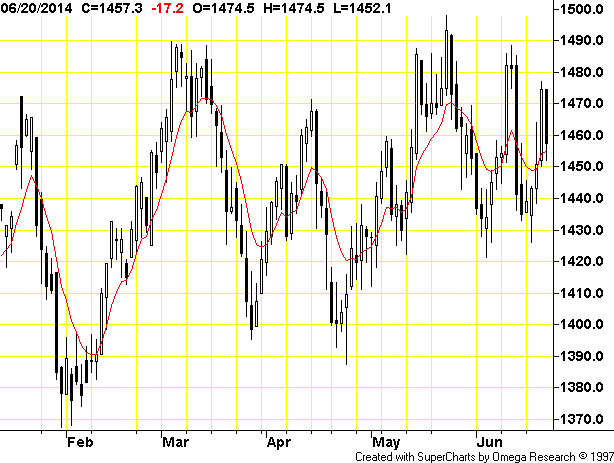 You can see from the chart Platinum has gone mostly sideways when gold has recently rallied. Platinum's underperformance is substantial when one looks at the following Platinum/Gold spread chart: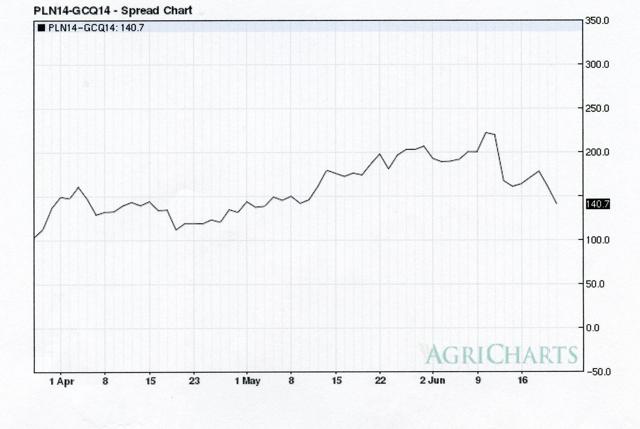 From the above chart, one can see that the premium that July Platinum trades above August Gold, has dropped $80 in the past 7 trading days, from about $220 to $140. That is a significant drop in less than 2 weeks. For the past 2 years the price of Platinum has very slowly gained on the price of gold. In late 2011 and early 2012, Platinum was trading at a discount to Gold, something not seen since 1982. Here is a look at the spread going back over 16 years: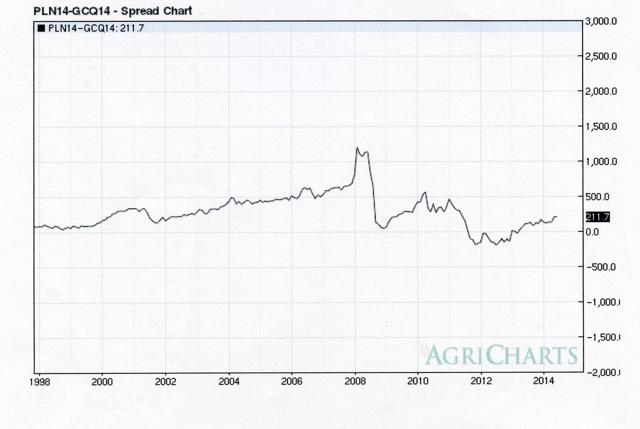 Looking at the chart one can notice how Platinum held less than a $100 premium to Gold from 1998 to 2000. Then the next couple years, Platinum held between a $150 to $325 premium. By early 2004 the premium increased to $500 and was steady at that level for a couple years. In 2006, the premium increased to nearly $700. However, at the beginning of 2008, there was a major short squeeze in Platinum and the premium to Gold increased to over $1200. In March 2008, Platinum reached its all-time high of $2251.10 when Gold was trading around $1,000. There was a speculative bubble formed as everyone was hoarding Platinum and convinced it was heading to $5,000 or higher. The bubble burst in March 2008 and after retesting the highs in May 2008 and failing to make a new high, profit-taking set in. Then beginning in July 2008, the price of Platinum plummeted from $2089 to $761.80 in just 4 months, Thanks to margin calls from overzealous bulls, the price snowballed lower in a total bloodbath. This was the heart of the Great Recession and cars sales dropped off the table (think catalytic converters), making things even worse!
Meanwhile Gold topped out at $1,014.60 in March 2008, and dropped to a low of $681.00 in October. At no time did Platinum trade below the price of gold but it was close, as seen on the chart. Things finally steadied, and by early 2010, Platinum briefly traded more than $500 above Gold again. During 2011, the $500+ premium was reduced to about a $180 discount to Gold. From late 2011 to late 2012, Platinum remained at a discount to Gold. However, in the last 20 months, Platinum has steadily climbed to trade at a premium of $220 before the recent plunge.
Buying Platinum and selling Gold has been a favorite of hedge funds, along with buying Palladium and selling Gold. Recently Palladium has been the star of the Platinum Group Metals (PGMs). But in the past 7 trading days, September Palladium has fallen from $860 to $810, before bouncing to $840 on Thursday's gold surge, and dropping to $822 on Friday. Here is the Palladium Chart.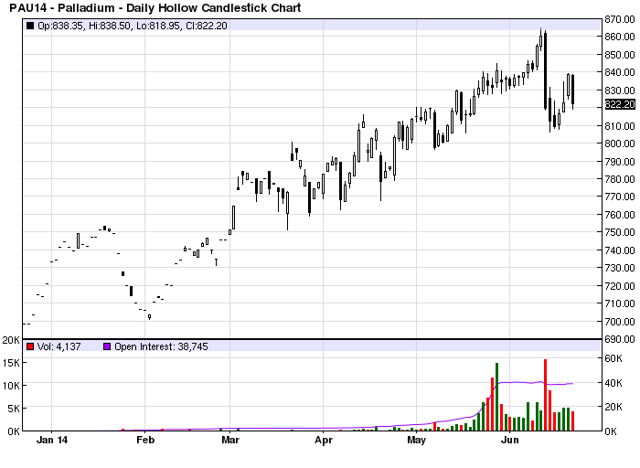 The Palladium chart is the most bullish of all the metals. I have decided that I will begin trading this 100 ounce contract from the long side and will look for a place to get long in the coming days, taking advantage of the current correction. I have heard some very bullish price projections on Palladium for 2015, where some are saying it could increase over 50% in value in less than a year. Palladium has the very best fundamental story of any of the metals. Along with Palladium, Silver has great potential of outshining Gold over the next few months and years. Despite the recent selloff, I expect for Platinum to gain on Gold over the next couple years, and could move to a $500 premium to Gold again.
What Do The Metal Spreads Say About The Future Price Of Gold?
Hedge funds, commodity trading funds and large commercial interests do not change directions very easily. For a couple years, the trade to be in, is long Platinum against Gold, and long Palladium against Gold. That should continue. In the future, Silver is expected to move by a much greater percentage than gold, and long Silver and short Gold should become quite a popular trade in the near future. The implications is that after the short-covering ends in a few days, those who sold to take profits in Platinum and Palladium, and bought Gold to unwind their spreads, will again start accumulating Platinum and Palladium and again will sell Gold against their position. That will tend to depress the price of gold and make rallies harder to come by. The consensus price to sell August Gold is now $1325, $1330, $1343 and $1350. I will be monitoring the Platinum/Gold and Palladium/Gold spreads closely for clues in calling turning points in Gold in the near future.
Since Gold Rallied On Mostly Short Covering, What Is Next?
Gold has been in a downtrend, and all rallies begin with short-covering. This one was no different. However, the momentum in this short-covering move was exceptionally great, and instead of total open interest dropping on Thursday as the metals spreads were unwound, the open interest actually increased by 6,000 contracts. This shows there was significant buying in the futures by new longs. How long the new bulls hold onto their positions is unknown. If India and China start buying the physical, that would help. Regardless, my momentum indicators flashed a very strong buy signal over the last couple days. On a setback to $1285 to $1300 in gold, my indicators are telling me to buy August gold with the exact trigger price not known until we get close. If we stop rallying this coming week at $1325 or $1330 or wherever, I will be buying into the next dip, and holding for a retest of the early week high. If gold continues to rally on up when it retests overhead resistance, then I will stay in and will indeed add to my position. If we cannot make new highs then I will liquidate my long positions and look for a way to get short.
Conclusion:
We should be in a trading range of $1285 to $1335 over the next week of two, as things look now. The middle of that range is $1310. Below $1310, one should be buying gold or adding to GDX, GDXJ, NUGT and JNUG positions while taking some partial profits on DUST and JDST, if you have any. On moves above $1310 in August gold, one should sell gold, or add to existing DUST and JDST positions, while taking partial profits on GDX, GDXJ, NUGT and JNUG positions. One should be 60/40 on the bullish side, holding more Up than Down leveraged ETF. However, on small rallies during the day, one can switch to 40/60 and on dips, switch back to 60/40. In any case, one needs to try and take some profits on their NUGT and JNUG positions on further strength, to raise capital to buy on the dip into the $1285 to $1300 area. For the time being, I favor bullish positions over bearish ones, at least till we hit the $1340 to $1350 area in August gold.
Disclaimer:
The thoughts and opinions in this article, along with all stock talk posts made by Robert Edwards, are my own. I am merely giving my interpretation of market moves as I see them. I am sharing what I am doing in my own trading. Sometimes I am correct, while other times I am wrong. They are not trading recommendations, but just another opinion that one may consider as one does their own due diligence.