When August Gold finally hit my $1325 initial target, topping out at $1326.60 and rolling over, I declared victory on the long gold/miner trade that I had been advocating for several days. I went flat gold and gave a "Warning" on the Stock Talk of $NUGT/$DUST etc. that it was time to take profits in NUGT, JNUG, GDX & GDXJ and to start buying the triple leveraged bearish miners DUST & JDST. Many traders made some nice trades in DUST & JDST today, especially those who got in on the early lows and/or caught the late day and aftermarket surge. Take a look at the daily chart of DUST: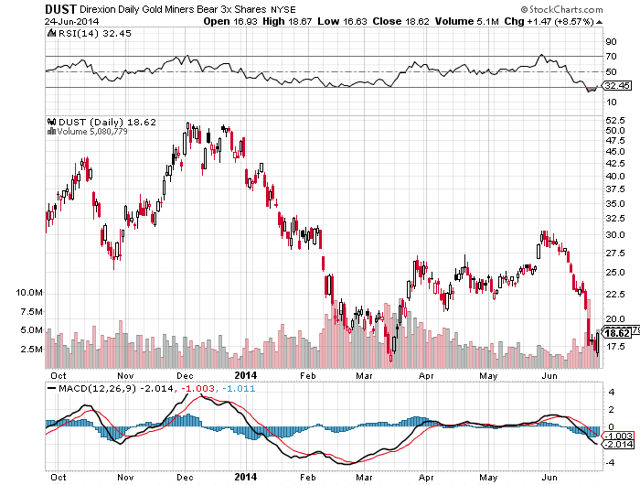 DUST halted its death spiral today to reverse higher and close up an impressive 8 1/2% today with further gains in the aftermarket. As impressive as today was, if you look closely at the above chart, you will see several selloffs in the recent past that were temporarily halted with a day like today, only to suffer further selling over the next 2 to 4 days. However, it is a very positive early warning sign that the trend is likely to change soon and one can now start buying DUST or JDST on dips. Now that DUST is again trading under $20, one should be able to buy lightly on dips, holding back some funds to add shares to average down should DUST fall a bit further. As GDX/NUGT top out, it is common that the process lasts 4 or 5 days or longer, with several fits and starts that fail to follow through. It is likely the same will occur now. So it is advisable to take profits when they are available and to quickly switch and buy whatever side is currently taking a dive. This is why I mentioned late today that if one took good profits on NUGT/JNUG today, one could lightly buy them back to sell out tomorrow with at least a small gain.
As gold tries to top out, it is time to employ the teeter/totter approach as named by our associate Lefty. Leadership passes from the bullish to bearish side and back, every other day, and sometimes several times in the same day. As gold hits against resistance, it initially is turned back as it was today, allowing DUST and JDST to rally off their lows. Once the momentum gets started, they will often swing further than you could hardly imagine in a single day. From the top of $30.63, DUST dropped in 4 weeks to $16.63 (46% loss) without a single significant up day, until today. Now that this day is achieved, all future dips in DUST should be better supported, and a few more up days like today should be repeated in DUST with an eventual rally back to $20 and possibly $25.
What makes me to continue to be cautious is that there was little follow-through to the selling in gold. Today gold still had a higher high, higher low and higher close than yesterday. Silver closed up today but about midrange. Palladium formed a bullish hammer pattern yesterday with strong follow through to the upside today. Gold closed up $2.90 today but Palladium closed up $7.75 and Platinum closed up $15.30. If Platinum continues to gain on gold on Wednesday, it is a sign funds are again buying July Platinum while selling August Gold, which will make it harder for gold to rally.
The miners often lead the metal and that occurred today. The miners were much weaker than the metals. You might be surprised the miners went down at all with the metals still closing up, but the funds were extremely anxious to sell out at the first possible sign of a temporary top in gold. That makes me believe the funds don't really believe in the miners (at least not until we successfully retest the bottom in gold) and the euphoria of last Thursday has about worn off. The bullish funds locked in profits by aggressively selling today.
An unwritten rule is that you can buy the first dip, after a high is scored. Thus, buying on today's close in NUGT/JNUG, even if Wednesday has further selling follow-through, usually is profitable if one holds for a Thursday and Friday rally back towards the recent highs. Here is a daily chart of JDST: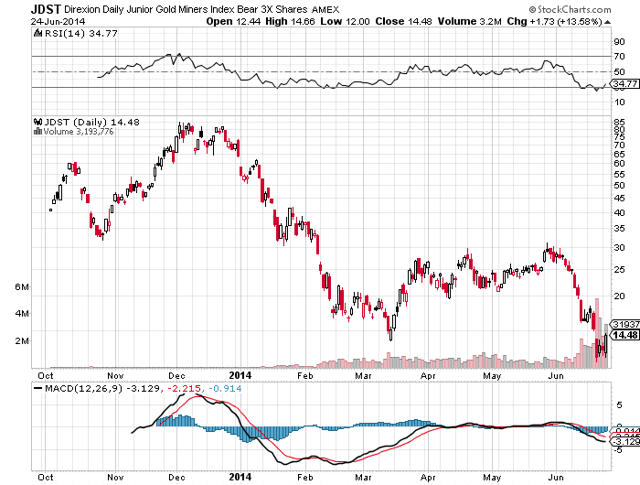 Being the more volatile triple leveraged bearish Junior Miner ETF, JDST fell recently from $31 to today's low of $12, before popping 13.5% to close at $14.48. I have stayed away from playing JNUG or JDST early on, while I waited for extreme low prices to get involved. I believe it is prudent to begin with NUGT and/or DUST and only play JNUG and JDST at the extremes. If you have stayed out of JDST until now, you can reward yourself with a small position in this high beta, highly speculative vehicle with violent short-covering rallies. Triple leveraged ETFs are designed for day traders and I especially think daytrading is advised for JNUG/JDST & I rarely ever hold JNUG or JDST over night if I am not carrying a profit. Everyone must decide for themselves but for me, I don't think it is prudent to hold a loss in JNUG or JDST for longer than a day or two with the slippage potential so great, If holding the position, it has to be a winner from the start. If one is losing on the trade and not taking any protection, one needs to switch into NUGT and/or DUST as they "only" suffer 5 to 10% monthly slippage, similar to an option losing time value. That 5 to 10% slippage works as a tax. It is a high hurdle to overcome. To fight the slippage inherent in JNUG and JDST is a recipe for disaster, unless one is an extremely nimble trader that balances themselves quickly with the opposite side, while keeping position size small. Again one does not want to hold these longer than a day or two if holding a loss. Salvage your cash to be able to fight for another day. If the trend is well established and you are trading with the trend, then it is fine. But if you are not trading with the trend, I have come to realize that it is too hard to play the Junior Miner leveraged ETFs while bucking the trend.
Having said this, I am not saying anyone in a losing position in JDST should throw it out tomorrow. For this is the very time you might want to own JDST, as it is very cheap. Most of the damage has already been done. Now to sell out near the bottom is likely the less prudent decision. I am just trying to warn others that it is not necessary to take outsized risk and allow themselves to get into difficult situations that require nerves of steel and a iron stomach. I try to only touch toxic JDST or JNUG when they are cheap, especially since I will be catching a falling knife while trying to time the turn in the trend. Now that JDST is cheap and JNUG is expensive, I would not touch JNUG other than for an intraday scalp or an overnight trade and never hold a loss over 24 hours.
The leveraged ETFs have a lot of profit potential, but it is like catching a tiger by the tail. You can grab the tiger by the tail and let it take you for a nice ride, but if the tiger stops, you cannot fight it. The tiger can and will tear you to shreds. Grab the tiger and take it for the ride of your life. But take cover the moment the tiger stops running (loss of momentum in the trend) and let go the moment the tiger changes direction against you (at least take protection by balancing shares going the opposite way or better yet, just get out). If you have not seen my article warning about the risks of leveraged ETFs, click here. Good luck all, it was a great day to play on the teeter totter. For now, it is teeter totter time!
Disclaimer:
The thoughts and opinions in this article, along with all stock talk posts made by Robert Edwards, are my own. I am merely giving my interpretation of market moves as I see them. I am sharing what I am doing in my own trading. Sometimes I am correct, while other times I am wrong. They are not trading recommendations, but just another opinion that one may consider as one does their own due diligence.