It has been awhile since I wrote an article on stocks. However, a lot has happened in the past few weeks. I will now make comments on the chart patterns of several stocks that I find interesting.
Cliffs Natural Resources (NYSE:CLF) Finally Did Bottom!
Back on June 13th, I wrote an article entitled, "Will Cliffs Natural Resources (CLF) Ever Stop Going Down?" click here. Well, it did indeed bottom the very day of my article. Here is the current daily chart of CLF: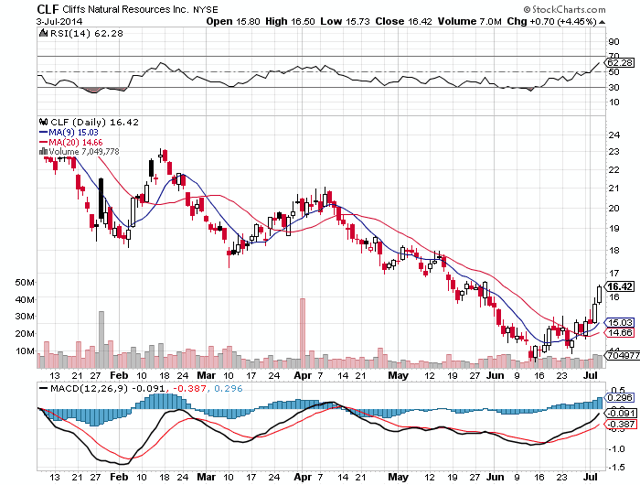 I have been recommending on Stock Talk to get long CLF $14.60 and lower and to add on a breakout above $15.25. Although CLF is a classic falling knife stock, all the bad news became priced in below $16 and it now should work back towards resistance at $18 and eventually trade to $20 or higher. If one is not yet in, I would be very comfortable buying $15.25 to $16 to play for the move to $18.
Twitter (NYSE:TWTR) Is Quickly Becoming A Market Leader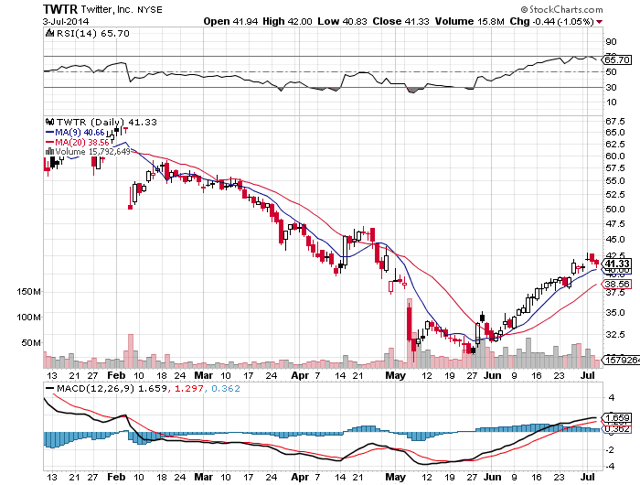 The social media stocks have been on fire! Just as Angie's List (NASDAQ:ANGI) bottomed at $10 and is now trading between $12 & $13, TWTR found good support in the $29 to $30 area, as noted in my previous articles, such as my May 23rd article, click here. Once TWTR took out resistance above $35, it has been a great stock to be long. Now TWTR is a buy on any dips below $40 and I do not see TWTR dropping below $35 anytime soon. If the stock market remains strong, TWTR should remain a market leader and move to $50 and eventually to $60 or possibly $75 within the next 12 months. I would use TWTR as a proxy for the Nasdaq 100 to signal when one might want to buy or sell Nasdaq 100 futures or play the triple leveraged small cap ETFs (TNA & TZA). Right now TZA is extremely cheap but there is no sign of a top in the Nasdaq or in small cap stocks. So I would hold off buying TZA since catching a leveraged falling knife could be quite painful.
Too Soon To Try And Short Netflix (NASDAQ:NFLX)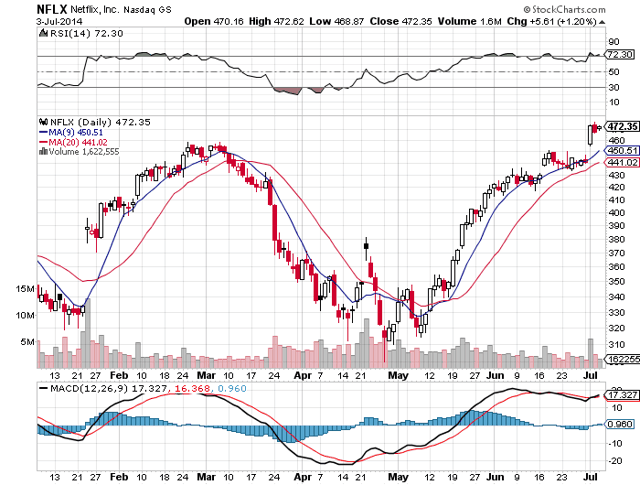 Back on June 18, 2014, right after NFLX topped out at $450.82, someone emailed me to ask about going short NFLX. I explained that although we were very near the yearly high of $458 and would likely struggle a bit to make new highs, we just gapped up a couple days ago and should find support against that gap. Buying into the gap was a better strategy than trying to pick a top. Well, although NFLX did fall for 4 consecutive trading days after I advised against the short, buying into the gap did support the stock and on Tuesday of this week, NFLX exploded to new highs.
Comparing the current rally to the one that occurred in January/February of this year, one can see that back then, NFLX kept touching the blue 9-day moving average line, and then would bounce. Only on a failed retest of the highs, followed by touching of the red 20 day moving average line, did NFLX roll over. NFLX just made a new high and has gapped up. Again I would say that one could buy into the gap and one should continue to buy on any retracement back to the blue 9-day moving average line. Only a retest of the highs that failed would I want to try and possibly pick a top, and even then I would wait until NFLX began trading below the red 20 day moving average line.
TSLA Could Be Rolling Over Shortly
If you followed my articles you will know how I was very bullish TSLA below $200 after topping out at $265. I quite accurately predicted it would bottom and turn up when trading in the $165 to $190 range. Well, TSLA has since rallied and topped out at $244.49 on June 30th. Here is a look at the daily chart of TSLA: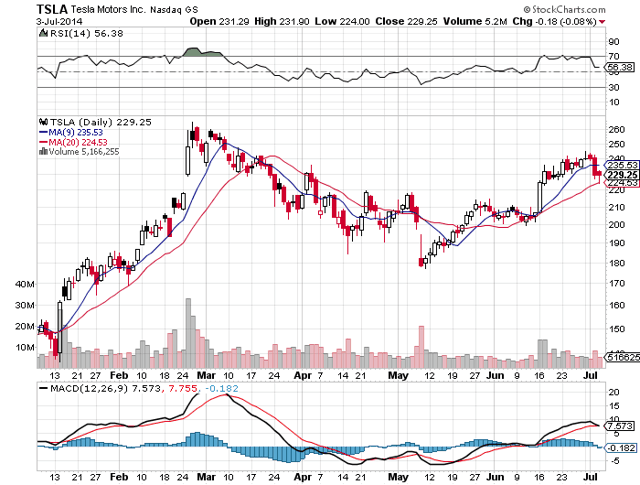 Tesla Motors (NASDAQ:TSLA) has recently turned down from just under $245 and has fallen through the blue 9 day moving average line, and touched the red 20 day moving average on Thursday, July 3rd. On a snapback rally from $236 to $240, one could entertain a short position if one believed that the recent tech rally is overdone and was looking for a way to short the stock market. If one does go short from $436 to $440, a tight stop at $445 would not risk a lot of money. One would be risking about $8 to make about $38 if TSLA retests support at $200. TSLA bottomed just below $180 on May 8, 2014, based on post earnings disappointment. Over the next 2 1/2 weeks, TSLA rallied to over $210. It then went sideways for 3 weeks trading from $200 to $210. TSLA then started another leg up, rallying a similar 2 1/2 weeks to the recent high, and should now go sideways to lower for about 3 weeks or longer if the chart maintains its symmetry. TSLA just looks like it wants to move lower from here.
UGAZ Is Near Significant Support And Should Bottom Shortly
Trading the bearish triple leveraged Natural Gas ETF (NYSEARCA:DGAZ) has been a favorite of traders in our Stock Talk group. Well, sometime between July to September, natural gas should make a seasonal low and begin moving higher into the winter and into next Spring. If Liquid Natural Gas (NYSEMKT:LNG) exports finally get going in 2015, the price of domestic natural gas in the U.S., should increase closer to the much higher world price (think Europe). Our prices should increase some while European prices should drop some, as both prices move closer to equilibrium. This process could potentially be extremely bullish for domestic natural gas prices. It makes me want to follow UGAZ closely over the next couple months to try and time a bottom. Trend followers should wait until there is better confirmation of a change in trend. However, bottom pickers who don't mind picking a bottom while committing a very small amount of equity to the trade, can begin buying now, with the intention of buying more on further weakness. Here is a daily chart of UGAZ: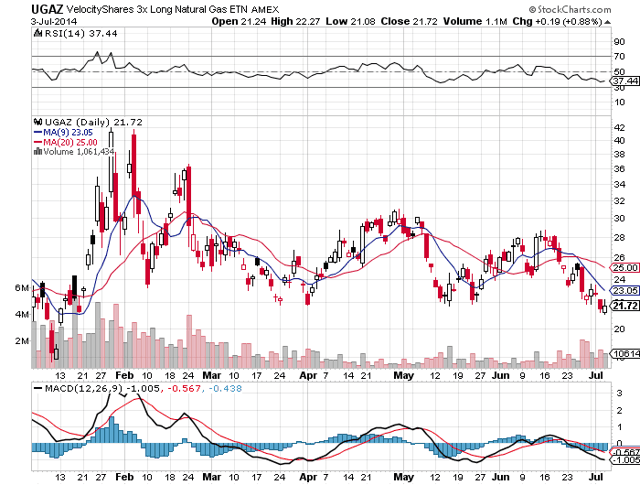 One can see from the chart that UGAZ has a lot of support just under $22 where it is currently trading. One can see even better how stable UGAZ is when looking at the weekly chart. Especially after the cold winter we just experienced that reduced excess inventories, the downside in natural gas prices is quite limited when compared to the upside potential. When trading triple leveraged ETFs long-term, one must always be concerned about slippage as well as prices falling 33% on the underlying benchmark, which can nearly wipe out the triple leveraged ETF holder going long. I would say the dynamics are such in natural gas presently, that if one buys UGAZ even now on dips, catching a falling knife, and adding more on further weakness, there is little chance of going bust, while waiting for a rally in underlying natural gas. Again, it is too soon for trend followers to buy UGAZ, but those who want to scale in buy, current prices are attractive to begin buying. Buying small and spacing the buys, one should be happy if UGAZ continues to slip a bit further down, as one can add more on weakness and make even more once the turn comes.
A good rule of thumb of trading triple leveraged ETFs, "Play small enough that you are happy or at worst neutral, if prices fall, so you can buy more to average down". If you are sad, or even worse, "petrified" when prices move against your position, then you are playing too big and should cut your position size in half---immediately. Now, for those now patiently holding DUST or JDST in hopes of catching a downdraft in gold and the miners, it is likely too late to sell. I am using the analogy as a warning to those now getting involved in UGAZ to buy small at first and increase position size on further weakness.
I will close the weekly chart of UGAZ: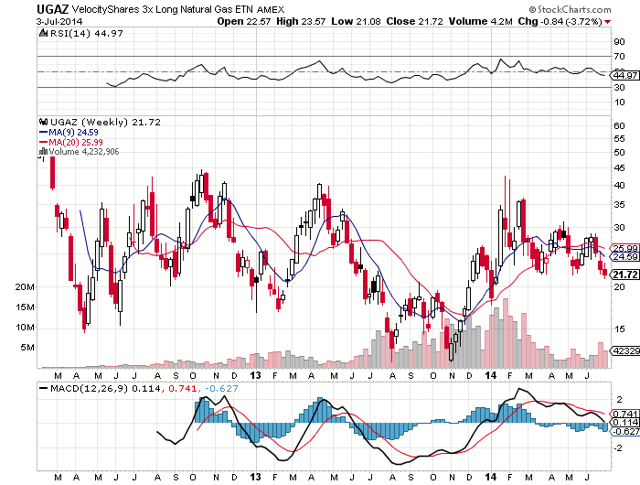 Disclaimer:
The thoughts and opinions in this article, along with all stock talk posts made by Robert Edwards, are my own. I am merely giving my interpretation of market moves as I see them. I am sharing what I am doing in my own trading. Sometimes I am correct, while other times I am wrong. They are not trading recommendations, but just another opinion that one may consider as one does their own due diligence.