GLD Looks To Top Out Within The Next Two Weeks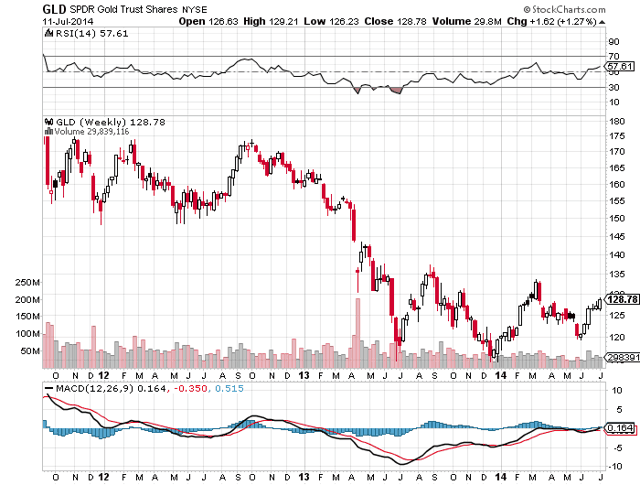 The above weekly chart of the Gold Trust ETF (NYSEARCA:GLD), shows how it has closed higher for 6 straight weeks. This ETF is unleveraged and tracks the price moves of gold and allows traders to trade gold without having to trade leveraged futures contracts. To try to predict when this rally could end, we can look at past trading action of GLD.
At the far left of the chart, beginning October 2011, GLD rallied for 6 weeks and then rolled over to make a minor new low. Then beginning January 2012, GLD rallied for 8 weeks before topping out around $174. Then again beginning the week of August 20, 2012, GLD rallied for 7 weeks to double top at $174. From there GLD was in a death spiral and did not bottom again until the first week of July 2013, at a low of just under $115. Then GLD rallied for 8 weeks to a high of $137.55 before rolling again to the downside. Finally in mid December 2013, GLD bottomed at $114.50 and began a strong rally for 8 weeks to $127.38, but then got a 4 week extension on the rally to $133.69. From there it feel to a low of just under $120 just 7 weeks ago.
From this study it is apparent that GLD continues in a long-term downtrend, but is currently in a counter-trend rally that has progressed for the past 6 weeks. Most such rallies exhaust themselves by the 8th week in most cases, so it is likely GLD will top out within the next couple weeks and then roll over, pulling the gold miners down with it. Another prognosticator also looking for a near-term top in GLD is Avi Gilburt in his latest article found here. I strongly urge readers to read his latest article.
October Platinum Is Starting To Lose Ground To August Gold
I have recently determined that the primary catalyst of the current rally in gold, is not news events in Ukraine or in Iraq. Ukraine is old news. Regarding the sectarian violence in Iraq, they worried about oil supplies being disrupted but no such thing occurred. Crude Oil has been in a downtrend for the past 14 trading days. Gold has been going the other direction. If things get worse in Iraq or elsewhere and it starts to negatively impact the stock markets of the world, it would depress the economic outlook of the world and depress Platinum and Palladium used in automobile catalytic converters and it would thereby also depress industrial metal Silver as well as Gold. Severe unrest is bearish and not bullish for gold, IMHO.
What is confirming a short-term top can be seen from the October Platinum and August Gold charts. August Gold made a short-term high of $1334.90 on July 1st, closing at $1326.60. Over the next 7 trading days, August Gold has rallied another $10.80 to close Friday, July 11th at $1337.40 as shown in the following daily chart: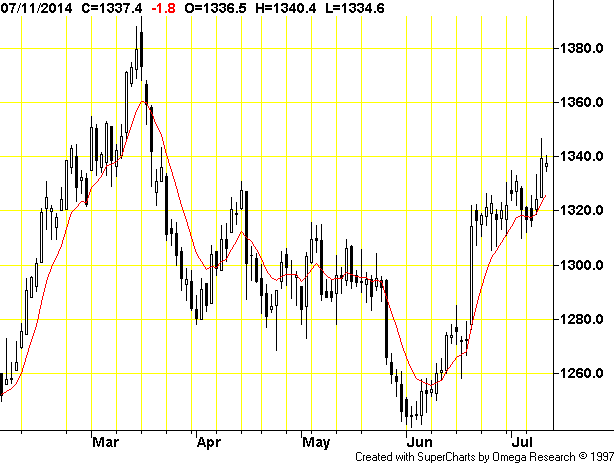 The gold chart contrasts with October Platinum that closed at $1515 on July 1st. On Friday, July 11th, October Platinum closed at $1513.80 so it has actually fallen $1.20 while August Gold has rallied $10.80. Take a look at the daily chart of October Platinum: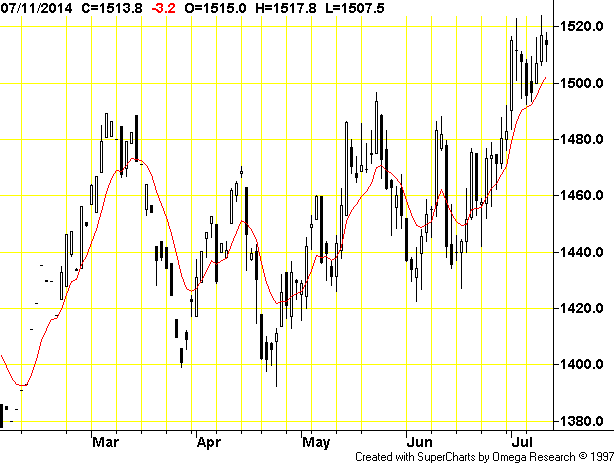 Traders are starting to take profits in October Platinum and in September Palladium.
September Palladium has come back the last couple days to close up for 14 straight days, but only after dipping down $15 on Thursday and $10 on Friday, before staging a rally to marginal new highs. Here is a daily chart of September Palladium: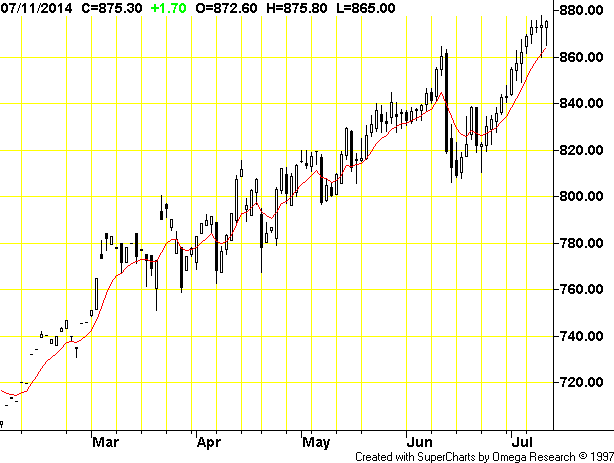 How Bad Could It Get?
In my personal trading, I declared victory on going long gold when August Gold first hit my $1325 initial target on June 24th, when it topped out at $1326.60. However, over the next few days, August Gold stopped falling when it hit $1305.40 and $1306.80, and kept closing far off the lows, making long bullish tails on the daily Japanese candles. When August Gold topped at $1334.90 on July 1st, it would fall two days later to $1310 on Fed taper day, but again bounce and close above $1320. It was apparent August Gold would need to challenge higher prices before rolling over. On July 10th, August Gold topped at $1346.80 and fell back just a bit on Friday.
August Gold now has resistance at $1350, again at $1370 to $1375, and finally at $1388 to $1400. I would expect to see August Gold end the current up move at one of these points. The current rally in Gold has been so labored, I suspect it will stop the up move between $1350 and $1370. If it should rally all the way to $1400, August Gold should soon see a Fibonacci retracement of 38.2%, 50% or 61.80% from the recent low of $1240, to the high of $1400. The retracement should occur even if August Gold has bottomed and has begun a new bull market. The retracement would be down to $1339, $1320 or $1301. This would offer little relief for those already short the miners by being long DUST and JDST.
A Lesson From The Copper Market
This is a good lesson to show why it is not ever good to hold too strongly to an opinion. One wants to remove all bias from their trading and not be bullish or bearish, but rather, let the markets and the charts decide which way they are going and then get in for the ride. A good example is how I recently was long July Copper when it bottomed just below $3.01. I was correct to be bullish, believing it would bottom between $3.02 and $2.98. It did. The sentiment was extremely bearish at the time and it looked like I was catching a falling knife. But I bought and July Copper up towards resistance at $3.15. At that point, I was sure July Copper should roll over and retest the $3.00 support level, and went short September Copper when the July Copper was trading at $3.14 and again at $3.175. However, it surged on up and I had to then buy December Copper against my short September position. When Copper rallied above $3.20, it was apparent we were now going to test $3.25 to $3.30 and I switched back to the long side and have been scalping from the long side ever since. September Copper is now trading around $3.27. I will soon short it again against the $3.30 resistance, but if it should break on up, I will reverse to the bullish side again above $1330. I can and must do something similar to this when playing commodities or the triple ETFs. To be successful, one must employ a similar strategy.
When August Gold did not break down below $1260 on the Fed tapering announcement in June, I declared that one must now be 60% bullish in NUGT/JNUG and 40% in DUST/JDST. I remained more bullish than bearish until the first time we hit $1325 in August gold. When it did not sell off much after that and continued higher, I have again been playing the long side over the short side. I did lightly go short the first time above $1330, and again above $1340, but when there was no follow-thru to the downside, I have liquidated the short positions and am now flat.
Where Could DUST Trade In The Near Term?
Hopefully August Gold will top out at $1350 and that is where I will calculate where DUST should trade over the next few weeks. Topping out at $1350 means August Gold rallied $110 from the $1240 low. The Fibonacci retracements of 38.2%, 50% and 61.8% would translate to correction back down to $1308, $1295 or $1282. On Friday, DUST closed at $14.85. Here is a look at the daily chart of the triple leveraged bearish gold mining ETF (NYSEARCA:DUST):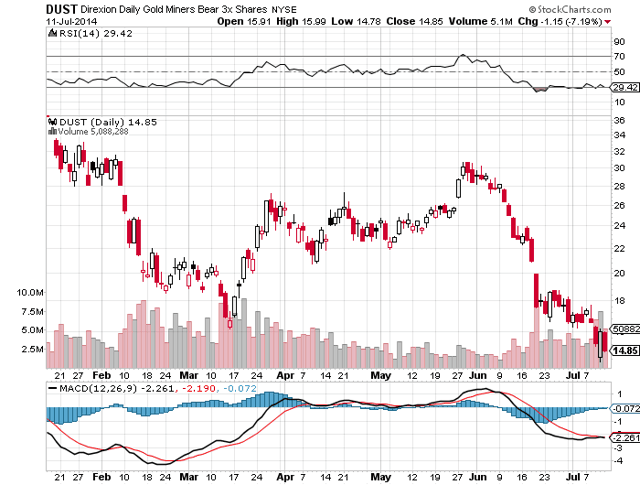 If August Gold rallies another percent higher to $1350 area, then GDX should rally 2% and DUST should drop 6% to $13.96. If August Gold falls to $1282, that is a drop of 5% from $1350. That translates to a 10% drop in GDX, or a 30% pop in DUST ($4.19). Adding $4.19 to $13.96, one gets $18.15 in DUST, still under recent resistance of $18.85.
If we look at the worst case scenario, August Gold could rally all the way to $1400, a pop of about 4.6%, GDX could rally about 9% and DUST could fall 27% from Friday's close, down to $10.85. If DUST would fall to $10.85, the gold metal should retrace about 7%, back to $1300 pretty quickly, causing GDX to retrace 14% and DUST to rally 42% to $15.40.
Where Might JDST Trade In The Near-Term?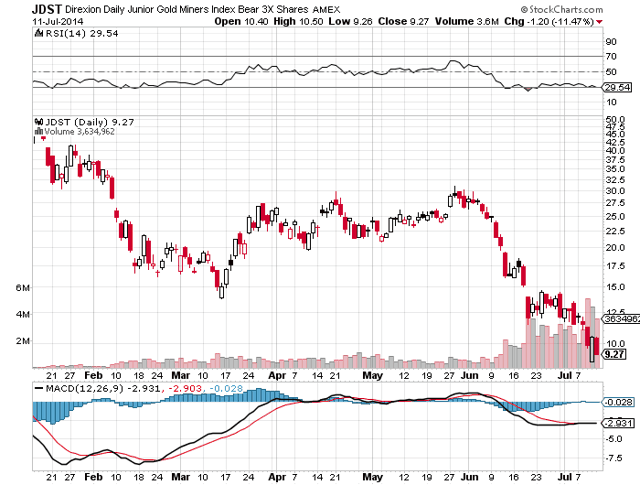 With just a 1% rally in August Gold to $1350, GDXJ could rally 2 1/2% or a drop of 7 1/2% in JDST from $9.27 down to $8.57 which I will round down to $8.50. Now if August Gold should then fall 5%, GDXJ should fall 12.5% and JDST should rally 37.5% to $11.69. Now you can see why I prefer DUST or JDST. The moves in the Junior Miners are devastating if one is wrong in picking the direction.
Just suppose August Gold rallies 4.6% to $1400, then JDST should rally 11.5% and JDST should drop 34.5% from Friday's $9.27 down to a low of $6.07 which I will round off to $6.00. From that low, if August Gold drops 7%, GDXJ should fall 17.5%, and JDST would rally 52.5% from $6.00 to $9.15. That is a tad lower than the $9.27 close we are seeing now. One definitely does not want to see $1400 in August Gold if heavily invested in JDST.
Conclusion:
If one is fully invested in DUST and/or JDST, the sooner one sells out 50%, the better. As long as one is marginally prudent and has only 25 to 50% of their account in DUST/JDST, if I was in that boat (thank goodness I am not) I would hold tight for now in hopes that $1350 in August Gold offers resistance and DUST/JDST rally to higher levels on a correction down towards $1300 or lower in August Gold. From the $1240 low to the $1346.60 recent high in August Gold, it has already rallied over $100 from the bottom and will likely top out without rallying more than $15, $35 or $60 more. Gold is in the top 1/3 of its trading range so one must be cautious to not get caught in NUGT and ride it back down. I am not bullish NUGT above $50 and would not want to play NUGT above $50 except for a quick scalp. If I wanted to add NUGT to balance out my DUST shares, I would prefer buying in the $47 to $42 area and not at these extreme highs. We are probably in the blow-off phase of the current rally and the next downturn in NUGT could be severe.
For those who are not in DUST or NUGT, there are exciting trading possibilities ahead. To be properly capitalized to be able to take advantage of these great opportunities, you might want to read and try to implement a strategy similar to what I described in my last article, click here.
Disclaimer:
The thoughts and opinions in this article, along with all stock talk posts made by Robert Edwards, are my own. I am merely giving my interpretation of market moves as I see them. I am sharing what I am doing in my own trading. Sometimes I am correct, while other times I am wrong. They are not trading recommendations, but just another opinion that one may consider as one does their own due diligence.