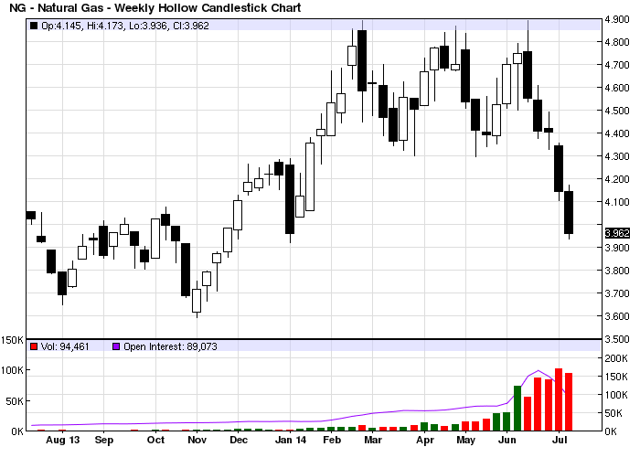 Looking at the above weekly chart of the August 2014 Natural Gas Futures price going back a year, I would like to bring your attention to look at the white candle that was made at the beginning of November 2013. That candle has a low of about $3.60. From that low, natural gas rallied for 9 straight weeks, to top out at $4.29, a gain of 69 cents. With every cent representing $100, it totals $6,900 per contract, profit potential. But in the 10th week, August Natural Gas was clobbered back down to $3.921 the second week of January 2014. August Natural Gas then rallied for 6 straight weeks, but topped out in the 7th week at $4.891, a gain of 97 cents. Then after trading in a sideways pattern from $4.30 to $4.90 for 16 weeks, five weeks ago August Natural Gas topped out at $4.893 and then has fallen to today's low of $3.936 as shown in the chart. In the past 5 weeks, we have fallen back to within 1.5 cents from the January low of $3.9210. As we approach $3.90, there is significant support near the January low. Also, looking back previously, in 2013 one can see from the chart that $3.80 is support, $3.70, as well as $3.60. With the drawdown in inventories experienced over this recent winter, it would be absurd to think that August Natural Gas or any other contract month, would return to as low as $3.60, the lowest price hit in the last 12 months in August Natural Gas, even though the nearby trading month scored a low of $3.379 at that time.
Also, it is apparent we are going to close down for 5 straight weeks and that is an extreme amount of time for Natural Gas to move straight down. Markets take the escalator on the way up, but the elevator on the way down. We have fallen slightly over 95 cents off the recent high. The greatest selloff in 2013, was $1.31 in Natural gas, from $4.44 to $3.13 in May to August, and it took 16 weeks and was not straight down. The 95 cent selloff in the past 5 weeks is extreme! Natural gas has lost over 20% of its value in only 5 weeks!
UGAZ Hit A Low Of $15.77 Today!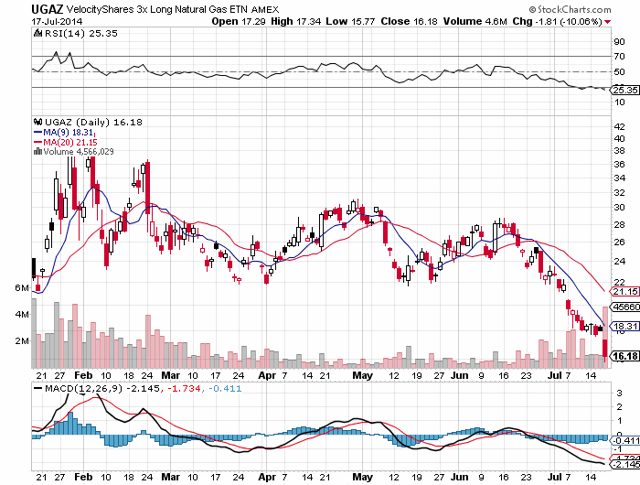 UGAZ was forming a shelf of support around $18, but today's nearly 4% drop in natural gas, caused a low to be struck of $15.77 in the triple leveraged bullish natural gas ETN (NYSEARCA:UGAZ). If natural gas falls another 10%, from the $3.90s to the $3.50s, UGAZ could suffer another 30% drop from today's close, down to $13.33. Space your buys accordingly and be happy when UGAZ bottoms at $14 or $15.
If one is accumulating UGAZ, one way to keep from getting too many shares at too high of a price, is to use the $4.00 price of Natural Gas as a pivot. Instead of adding on more weakness, just sit aside and wait for natural gas to bottom. Then when the price moves back above $4, UGAZ will move above $17. Using a stop limit buy order to initiate a position, buy when UGAZ hits $17 and leave the cheap prices alone. However, if UGAZ moves into the low $14s or into the $13s, then one will have cash available to buy in cheap. Nothing wrong with waiting though for UGAZ to begin a rebound off of the bottom, and complete your buy with a buy stop limit order placed at $17. In this way, instead of catching a falling knife, one can wait until natural gas has bottomed and is trending back up.
Long-term, one wants natural gas to trade above $4 as UGAZ will then be the play. If natural gas makes its home below $4 then DGAZ will be the play.
A Caveat
At the First Entercast Financial website I saw an article, click here, by Breanne Dougherty, who is calling for no relief to cheap natural gas prices for over two years. Since producers can make a profit on natural gas at $3.00/mmBtu, he sees no reason for natural gas prices to trade any higher than $3 for the foreseeable future, as producers will produce as much as they can possibly produce with no restraint on supply. Natural gas is a byproduct of oil production, along with production of methane, butane, propane, etc. So if producers can make money off of the oil or other hydrocarbon they are going after, anything they get for the natural gas is just a bonus. Well, I don't agree with this scenario because if natural gas prices stay around $3 for over 2 years, truck fleets, taxis, and many a new car purchased by misers, would start running on natural gas instead of crude oil. The cure for cheap prices is cheap prices. Natural gas prices in the world is priced at $8, $10, or higher! We have been spoiled since the U.S. is the Saudi Arabia of Natural Gas. We are not there yet of course, but eventually the only play will be in UGAZ as the price of natural gas will work higher and higher. My father was an oil producer, and growing up, I can remember $3 for a barrel of crude, as a high price. Then came the 1970s oil embargo and crude jumped to $30. Today it is $100 or higher. In my lifetime, I foresee a similar increase in natural gas prices at some point, to $25/mmBtu or higher. Industries in the U.S. are aware that natural gas is a cheap energy source and they will capitalize and use up the excess supplies sooner than many think, IMHO.
Disclaimer:
The thoughts and opinions in this article, along with all stock talk posts made by Robert Edwards, are my own. I am merely giving my interpretation of market moves as I see them. I am sharing what I am doing in my own trading. Sometimes I am correct, while other times I am wrong. They are not trading recommendations, but just another opinion that one may consider as one does their own due diligence.
Disclosure: The author has no positions in any stocks mentioned, but may initiate a long position in UGAZ over the next 72 hours.