Copper
I am skipping the metals other than copper since I already addressed the other metals in yesterday's article you can find here. We will begin by looking at the daily chart of September Copper: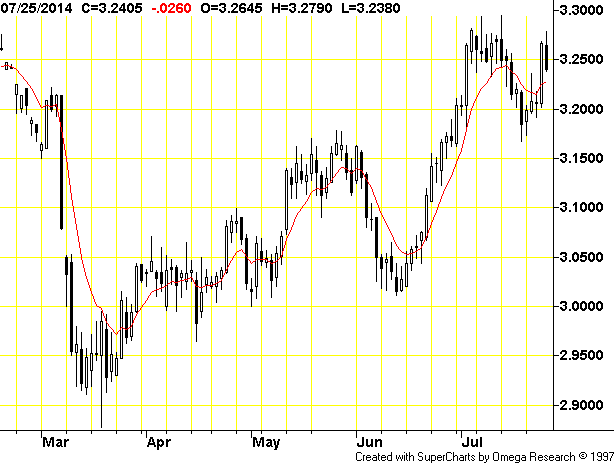 If you have been following my recommendations, I have been playing copper about as well as you can play a commodity market. In early June, I began buying just above the $3.00 bottom, and took profits on the rally towards $3.15. I went short at $3.14 and $3.174 as I was then looking for a retest of the lows. However, when we rallied to $3.20, I reversed and went long, quickly recouping my loss and making money on the rally to the $3.29s. I then called for shorting copper against the $3.30 resistance which worked out perfectly. In the low $3.20s, I took profits on my short positions and began playing the long side, believing we would bottom between $3.18 and $3.15. The actual low was $3.1675. I rode copper back as it topped on Friday at $3.2790, but bought back long just under $3.24. The large white candle of Thursday, 7/24/14 should continue to cause traders to buy copper on dips until the $3.30 level can be retested. I do not know if $3.30 can be taken out, or not, but I would get out of longs on a move into $3.30 resistance and then try to catch a move on a breakout above $3.30, or get short if we cannot overcome $3.30 and begin falling back down. When copper approaches significant support or resistance points, it tends to go sideways for several days so I suspect September Copper will trade for several days now back and forth between about $3.24 and $3.30, marking time before the next big move. For those who trade stocks instead of futures, one can follow along in the Copper ETN (NYSEARCA:JJC). The base metals started out 2014 looking very bleak, but nickel and zinc bottomed early on, and have well established up trends. Aluminum and copper are showing some life, but have not yet given strong buy signals. Copper needs to move above $3.30 to prove that the bottom is in. They say copper has a doctorate degree in Economics, and should be leading the stock market higher. So far copper has been more of a follower than a leader, but that needs to change if the stock market is going to continue to move higher.
Equities
It has been awhile since I have commented on the stock market, as I feel the market continues to be overbought and like my chances better playing elsewhere. Without a sizable correction over the last couple years, it is getting more and more dangerous staying long. However, we have yet to see any indication we are near a top. Take a look at the daily chart of the September E-mini Dow Jones: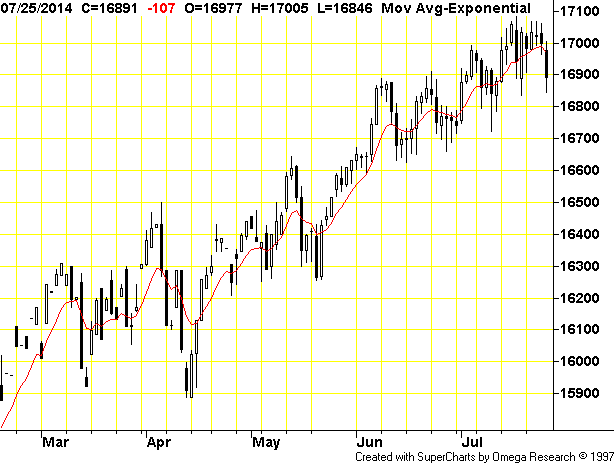 The Dow has closed down for three straight days, but made very little progress to the downside until Friday. For the last 7 weeks, the Japanese candles have long tails. One of the reasons that I like to look at Japanese candlestick charts is to identify patterns and to look to see if there are long tails on black candles (markets closing far off the lows on down days) or long wicks on white candles (markets closing far off the highs on up days). For several weeks, traders have come in and bought stocks on very minor dips, causing the E-mini Dow Jones chart to display the long tails that you see on the chart. This is extremely bullish action which leads me to believe that we will continue moving sideways to higher for the time being. In fact, after 3 down days, I would be inclined to go long the E-mini Dow Jones Futures on Monday, especially if I can buy it around 16800, nearly 100 points down. Recently the E-mini Dow Jones Futures does not like to correct more than 250 to 275 points, and thus 16800 or a bit lower, should be excellent support, for a few days anyway.
The market has been steadily moving higher for so long, it would be very difficult to imagine a scenario where the market suddenly plummets down. A more likely scenario is for a final blow-off top, where we rally straight up for maybe a week, causing all the bears to be forced out. At that point, it would be a great time to finally go short the market. Until that occurs, buying the 2% dips remains the only trade to be doing. As we approach the 2% drop level early this coming week, I plan to scalp from the long side in either the September E-mini Dow Jones or the September E-mini Nasdaq 100. We can look at that chart now: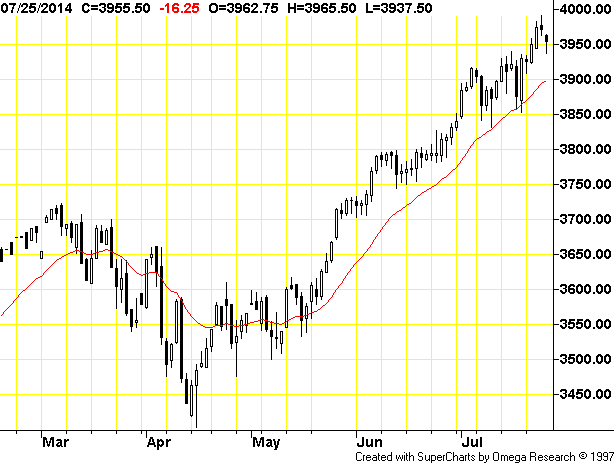 You can see that the Nasdaq 100 chart is more bullish than the Dow Jones chart. Corrections have been shorter and shallower. The red line on the chart is the 18 day moving average and rarely do we correct down to that line, and when we do traders buy again and move the chart to higher and higher levels. Whereas the Dow Jones chart looks a bit toppy, the Nasdaq 100 made a new high just on Thursday. If one wants to get long, the Nasdaq 100 is the place to do it, as it is showing the most relative strength. When I want to go short in anticipation of a short-term drop, I favor selling the E-mini Dow Jones, and when I see a short-term rally coming, I favor buying the E-mini Nasdaq 100. The trend is straight up with new highs being made almost daily. Nothing better than buying the first dip from a new high!
Energies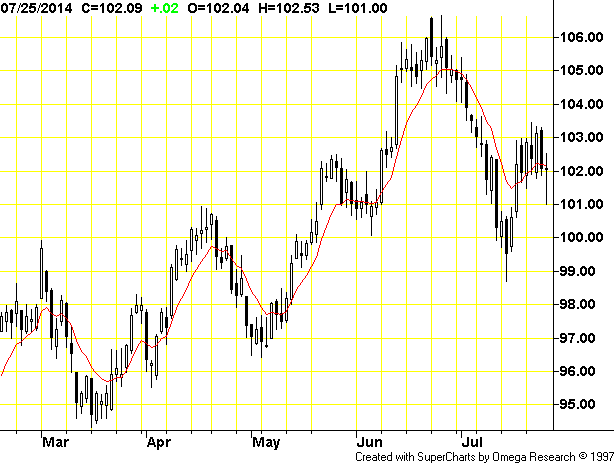 The chart action in the September Crude Futures of the last two days, reminds me of the action of June 23rd and June 24th, when crude oil was topping. On June 25th crude oil made a marginal new high of $106.64 and then rolled over to eventually trade just below $99 about 2 1/2 weeks later. I now see crude oil vulnerable to forming a topping pattern and rolling over again, down to support around $96.50, or at least a retest of $99. In late June, crude oil went sideways for 9 days. On the 9th day the top was made and crude began the fall. At present we have only been going sideways for 6 trading days. If we do not top out on Monday, then definitely by Wednesday (the 9th day), I would expect to see a move lower in crude developing. Now we can take a look at Natural Gas!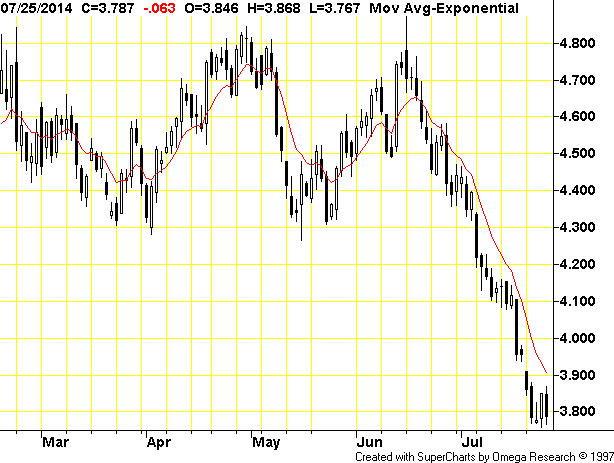 The above daily chart of September Natural Gas is quite interesting. On Wednesday of this week, the market tried to bottom and rallied, but lost almost all of the strength by the end of the day, forming a gravestone doji candlestick pattern. (Note: It is a doji because the opening and close are about the same price, forming a very small real body). This is a bullish pattern but must be confirmed by a strong up move (white candle) the following day. That was achieved when the Thursday inventory report showed a smaller increase than expected. On Friday, we made an inside day (trading within the high and low of the previous day) closing down. An inside day down is bullish, and I bought Natural Gas on Friday in anticipation of an up day on Monday. It is critical that Natural Gas rallies beginning on Monday, and if it does, it could potentially be a significant move of 35 to 40 cents or more.
Natural Gas has fallen for 6 straight weeks, and it is unlikely the streak will continue much longer. The drop of over 20%, puts us into bear market territory (if it was the stock market) and shows how brutal the drop has been in the past 6 weeks. It is time for a 2-3 week respite while the bears take profits and some new longs get a chance to get established. If a rally does not develop almost immediately, then the September Natural Gas contract is vulnerable for a further drop of 30 cents, down to $3.45. From $3.45, I would look for a bounce back rally of about 70 cents, to $4.15. Right now, I see either a bounce of maybe 40 cents from $3.75 to $4.15, or a bounce of 70 cents from $3.45 to $4.15. Either way, I am targeting that $4.15 price. When Natural Gas falls through the $4.00 support level as it did recently, there is almost a magnetic pull to recover back to a price back above the $4.00 level. At $3.90 and lower, switching from coal to natural gas by power plants should accelerate. I do not expect to see the nearby Natural Gas contract trading below $4.00 for very long, especially with the tight supplies we still have, despite the large recent injections. We will likely get enough gas into storage by winter, but it is not a fait accompli.
Currencies:
I am not showing charts of the currencies as I believe there are better trades to be made in the markets I already covered. The Euro has been in a 4 week downtrend which I see lasting another couple weeks. At that point I see the Euro trying to bottom and the U.S. dollar turning lower. Most of the down move in the Euro has occurred but it could still fall another 50 to 100 pips before bottoming. The British Pound topped out at a high and has now fallen for 9 straight days, a fall of about 200 pips. I would be a buyer of the BP if I could buy September GBP at 1.6900, which is about 70 pips lower than Friday's close. On Friday the Canadian Dollar broke support and fell to .9235 in the September CAD contract. One could be a buyer of the CAD around .9200 and lower, with .9125 the worst case scenario for now, to the downside, as it would be a 50% correction of the rally from March to July 2014. I see the Australian Dollar continuing sideways with the Sept AUD continuing to find support around .9300, a drop of 63 pips from Friday's close.
Disclaimer:
The thoughts and opinions in this article, along with all stock talk posts made by Robert Edwards, are my own. I am merely giving my interpretation of market moves as I see them. I am sharing what I am doing in my own trading. Sometimes I am correct, while other times I am wrong. They are not trading recommendations, but just another opinion that one may consider as one does their own due diligence.