The Big Picture
As gold remains caught in a trading range and has not been strongly trending, it has been advisable for some time to not be partial to either the bullish triple leveraged gold mining stock ETFs (NUGT & JNUG) or the bearish triple leveraged gold mining stock ETFs (DUST & JDST). Gold continues to swing back and forth and not make a lot of headway. I see that pattern now continuing for maybe the next two weeks, but as we approach the end of August we could get a lift in prices that could carry into September. I have come to this conclusion based on my interpretation of the following monthly chart of gold as follows: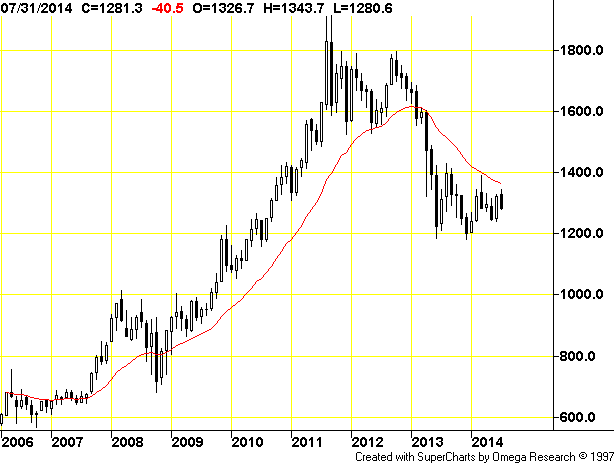 During the last candlestick on the above chart, that represents the price action of gold during the month of July 2014, one can see how we broke the June high of $1338.70 and rallied to $1343.70, only to fail at higher prices and close by the end of July at $1281.30, a monthly drop of $40.50. The action reminds me of a similar negative reversal that occurred in March 2014, at a very similar monthly closing price of $1283.40. What happened then in April? Gold scored a minor new low of $1272.40 and a high of $1330, but by the end of the month the close was $1295.60. As we start the month of August, I see gold trading in a very similar range this month, that it traded back in April. I see support in December 2014 gold at $1273, initial significant resistance at $1330, and if gold fails to launch, by the end of August, a close around the same $1295 area, or possibly $1300. If gold ever does launch, all bets are off. No threat of that yet of course.
A bullish seasonal does kick in beginning in August and can extend into September. Looking backwards on the chart, in 2013, June 2013 ended very weak, just above $1200, having fallen for 9 months from a high of $1800. During the month of July and August, a countertrend rally to $1428 was achieved before gold rolled over and closed back towards $1200 by the end of the year. With the end of the year weakness predicted by Goldman Sachs and some other banks, they must be thinking that 2014 will play out like a repeat of 2013.
I can see where GS came up with a weak 4th quarter 2014 scenario because the same thing happened in 2011 and 2012. We all remember how in July and August 2011, gold rallied from about $1500 to all time highs over $1900. In September 2011, gold began falling and the December 2011 low was $1525 and the ending price for 2011 was $1565.80. But by February 2012, gold rallied to $1790.40, to watch it slip back towards the $1600 area by July 2012. Again we got a strong August and September in 2012, with gold rallying from $1600 to just a tad under $1800. Gold then fell into the end of the year and beyond.
Since topping out in early September 2011, gold has dropped going into December for the past three years. It is too early to calculate the odds of a similar pattern for 2014 and I am not going to venture a guess. Right now I am concentrating on August 2014, which has seasonally been a very good month to be long gold. The only exception was during the heart of the financial crisis in 2008, when gold fell from a July high of $986.20, to an October 2008 low of $681.00. Compare that with January 2007, when gold hit a low of $607.50 and then by March 2008 rallying to just over $1000. The financial crisis caused gold to correct and give back most of the recent gains. In 2014 we have not had recent strong gains to give back. Instead of rallying like 2007, in 2013 gold crashed from $1800 to $1200. And in 2008 we were in a severe financial crisis, weak auto sales and employment losses, whereas in 2014 we are in a recovery mode, with strong car sales and the economy bringing back jobs.
Seasonally there is a tendency for gold to rally somewhere between January to March and somewhere from July to September. If one is bearish, one needs to be careful to balance out DUST and JDST positions with purchases of NUGT and JNUG to take advantage of any rallies we happen to get during August 2014. Also, one needs to be more selective about the price one accepts in buying DUST and JDST and be quick to take profits when they become available.
The Little Picture
Now I will cover what I see happening in gold and the miners over the next couple weeks, beginning Monday, August 4, 2014. One of the greatest depressants to the price of gold over the last few weeks, is the recent strength in the U.S. Dollar. Instead of fleeing to gold as a safe haven during times of turmoil in the world, the safe haven of choice has recently been the U.S. Dollar. The up move in the U.S. Dollar has been exaggerated by the recent weakness of the Euro. Sanctions against Russia, will hurt their European trading partners severely, and thus has depressed the Euro. Take a look of the daily chart of the September 2014 Euro contract: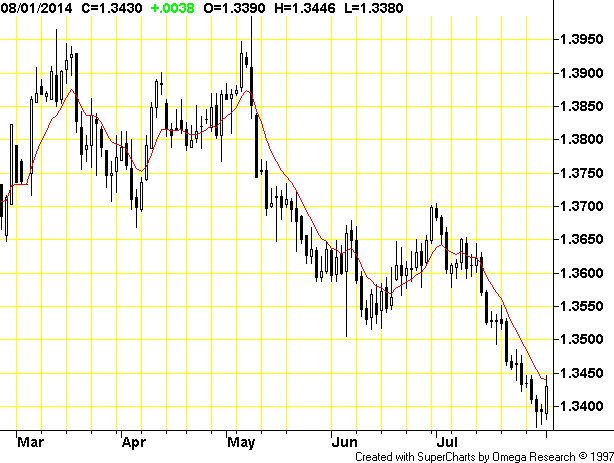 You will notice how for nearly 3 weeks, the Euro has traded under the 18 day moving average, shown as the red line on the chart. I believe this is what Ira Epstein (now with Lind-Waldock) would call an embedded stochastic. A market locks into an up or down move and just keeps going and going. Until the big white candle of Friday, the previous 13 candles were all black ones with a total inability of the Euro to close up. Now that we have an up day, is the bottom in? No, not at all. In fact, there is a very high probability that Monday is another down day in the Euro. However, Tuesday should be another up day in the Euro, and we should now move back and forth between up and down days next week. For next week, I am looking for some US Dollar strength on Monday and US Dollar weakness on Tuesday. So on Monday, gold could sell off a bit on the US Dollar strength, but recapture the losses and more come Tuesday. If gold is up on Monday, I see it still struggling to overcome $1301.50 to $1303 in December Gold futures, and will likely fall back and barely close up, maybe at $1297.
How did I conclude the Euro should be down on Monday, by looking at what happens in past charts where there was a negative embedded stochastic. In fact, looking again at this same September Euro chart, you can see that on May 8th, the Euro popped strongly to 1.3986 and sold off hard. For about 15 trading days, you will see the Euro closing down or just barely up for those 3 weeks and unable to overcome the 18 day moving average (red line). Finally on May 30, 2014, the Euro got a large white candle and touched the red line, signaling an end to the negative embedded stochastic. Then you will see that for a few days the Euro flipped back and forth between up and down, and eventually fell some more a week later. I see a similar pattern beginning now in the Euro and expect to see stabilization and sideways movement with maybe a small dip the following week.
Charts of Triple Leveraged Mining ETFs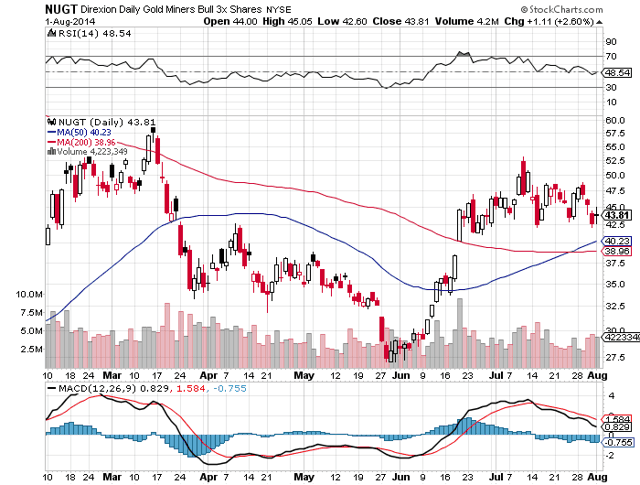 Looking at the triple leveraged bullish mining stock ETF (NYSEARCA:NUGT) one can see how that recently the blue 50 day moving average line has crossed over the red 200 day moving average line. This is called the golden cross and should be bullish for mining stocks long-term. However in the short-term it can mean the move is nearly exhausted to the upside and could have a short-term setback. When NUGT made its high recently, I recommended buying between $42 and $47. We have and continue to get support at the $42 area and I would continue recommending this as a buy area, along with averaging down if we should fall below $42.
I am showing JDST as this triple leverage bearish Junior Mining ETF appears to be more popular to trade than DUST. One will notice from this chart that in late June, JDST found support at $12 and rallied back to $14 for awhile. Then support gave way and reappeared at $9.50. For the past 3 weeks, it has been profitable buying dips below $10, with the expectation of selling on small rallies to $12, or at least towards $11. If we do not take out resistance in December Gold at $1330 and trade sideways to lower, buying JDST just below $10 and getting out at $10.50 to $11 or higher will continue to be a good trade. However, if and when gold starts rallying, be prepared for a further drop towards $8 in JDST with rallies struggling to overcome the $10 range. One can swing trade JDST but will have to be nimble if gold exhibits seasonal strength during August and September 2014.
Conclusion:
What are the implications for gold? With the Euro no longer falling precipitously, some pressure should get relieved on gold so that bullish seasonal influences can now begin to influence the price. For now, I am not looking for a large move to the upside, and in fact, with the expected drop in the Euro on Monday, I will be surprised if December Gold can rally more than $8.20 and overcome resistance at $1303 and may struggle to close up at all. If instead gold slips, I see the $1280 support holding in December 2014 gold on Monday. But on Tuesday, I am looking for more strength to show up in gold and am staying open for the possibility that we see a bit more strength. For the time being, I agree with Gary Wagner that $1280 remains a significant level, click here. Gary fudges a bit and does allow for a slight dip below $1280, but a hard drop below $1280 would not be a good thing. I am not as concerned as Gary about a breach of $1280, with a drop down in December Gold to $1273, as I am pretty confident that August 2014 should hold support at $1260. Above $1260 I favor scalping from the long side.
Disclaimer:
The thoughts and opinions in this article, along with all stock talk posts made by Robert Edwards, are my own. I am merely giving my interpretation of market moves as I see them. I am sharing what I am doing in my own trading. Sometimes I am correct, while other times I am wrong. They are not trading recommendations, but just another opinion that one may consider as one does their own due diligence.