The Chinese 25 Stock Dow Jones type ETF (NYSEARCA:FXI)
Today I found a couple very interesting articles related to the Chinese Stock Market. First I found an article explaining how China is a safe haven due to the recent world turmoil, click here. Instead of buying gold as a safe haven, or even the U.S. Dollar, turns out buying Chinese stocks was the play to make!
Then I saw an article from Invester's Business Daily, click here, where they explain how various stocks like BitAuto (NYSE:BITA) are overextended and maybe it was time to take profits. (Note: I was invested in BITA during the recent correction and should have stuck with it). That article explains how the iShares China Large Cap ETF (FXI) rallied 9.3% in July and 15.9% since April 30th. However, the article warns how this fund tends to be volatile and there are accounting scandals, etc. Well, we can take a look at the FXI weekly chart going back 3 years, as follows: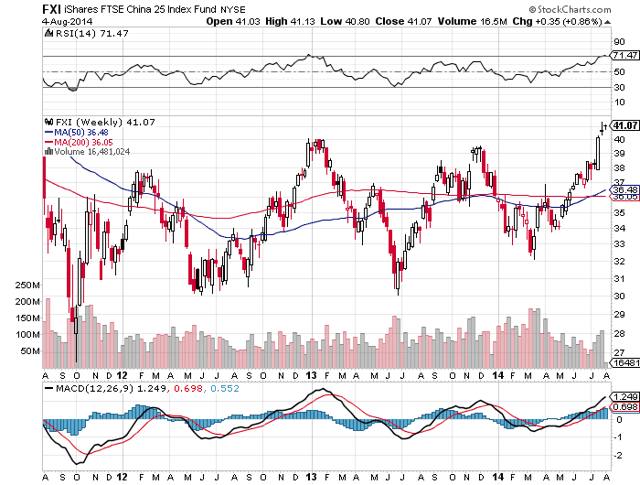 The last candle only includes one day (Monday of this week), rather than an entire week like all the other candles on this Japanese Candlestick chart. You can quickly see how 38, 39 and 40 have been major points of resistance in the last 3 years, and we closed today at 41.07. We are looking very extended for sure.
I thought to myself that maybe instead of taking profits in BITA or in FXI, maybe it was time to short the Chinese market. I did a search on Bloomberg, and my pal Tom DeMark just happened to publish an article where he is calling for a top in the next few days, in the Chinese stock market, click here. I deeply respect DeMark's opinion and predictions as he has a fabulous track record on his calls.
Double Leveraged Bearish China ETF (NYSEARCA:FXP)
Instead of shorting the U.S. stock market, or trying to pick a bottom because we finally had a 4% correction, maybe I will buy shares in the 2X leveraged ProShares UltraShort (Bearish) China ETF (FXP). That chart is as follows: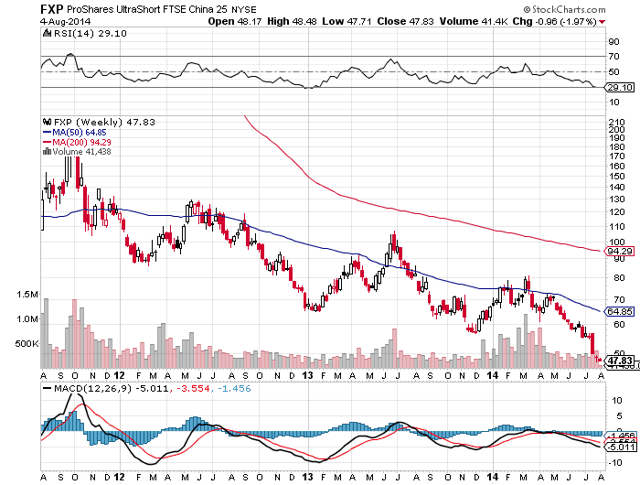 Being leveraged, FXP has slippage, but being 2X instead of 3X, it is not too bad. In the first couple months of 2012, had one bought FXP when it makes a new price low by $10, one would have bought at $100, when the stock market in China began a rally in January 2012. Then when FXP fell to $90, one could have bought more to average down, leaving the average price of $95. By March 2012, FXP rallied to $130, making for a nice profit opportunity. The next time one should buy is on a new low of $10, which would now be at $80 in December 2012. One would add more shares at $70 in late December 2012, giving an average of $75. Then FXP stopped falling on a dip just below $65, so the price of $60 was never hit to buy a third tranche. Well, with an average price of $75, one could have taken profits on a rally to the $92.70 area, and after a correction back to the $72s, FXP hit a high of $106.84 in June 2013. That was another great profit opportunity in FXP. Well, the next time you can buy is on a dip to a new low being $60. In the fall of 2013, FXP kept trading between $62 and just above $70, but finally in mid November 2013, one could buy at $60 when FXP dipped to $56.72. You would not have been able to add at $50, so you would have carried your shares back to a top at $80 in March 2014. Well, recently FXP has fallen to $50 where my system again says to buy and we are presently at $47.83. One cannot buy again unless $40 is seen and that is unlikely.
Well, when I started and FXP was bought at $100, then I was buying every $10 (10% of starting point of $100). Now that we are below $50, we should buy every $5 so the next buy should not be $45. If we would ever get to $25, then the buy increments would become $2.50.
My demonstration shows how playing long-term in FXP would not have caused any losses and in fact provided some good gains, over the past 3 years, if one followed the method just outlined of only buying at a new low at a price increment of 10% of the starting point.
Again, with current price levels half what they were when we started, one should now switch and buy every $5 lower rather than $10, so if one bought at $50, one would buy again at $45 and again at $40 etc.
Triple Leveraged China ETFs
One can play the bullish triple leveraged ETF (NYSEARCA:YINN) or the bearish triple leveraged ETF (NYSEARCA:YANG). Since I am now looking for the bearish trade, I would use YANG. Take a look at the weekly chart going back 3 years as we did with FXP: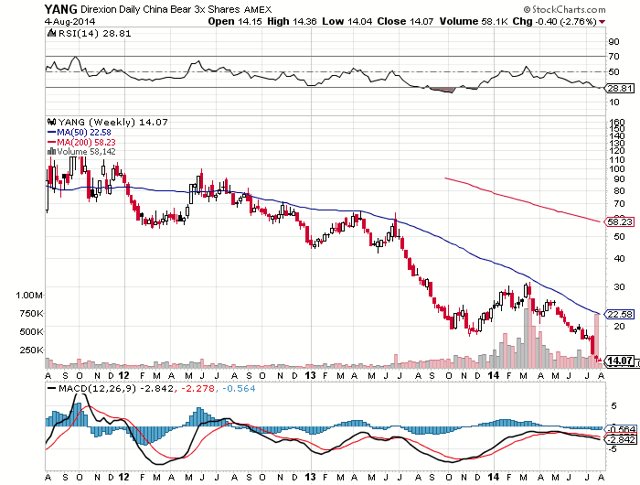 In late 2011, YANG found support just above $70. However, in February 2012, $60 was reached where one would buy and ride YANG back to $100 by the beginning of June 2012. The next key level to buy would be $50 which was hit in late December 2012. In the middle of January 2013, the actual bottom was $44.05, but with the prices below $50, we would have added every $5, and would have been long from $50 and $45 for an average price of $47.50. By April 2013, YANG rallied to $64. Then in May 2013, YANG made a marginal new low at $42.37 where one could have bought and rode back to $63.69 a month later. From that high, one would have waited less than a month to be able to buy at $40. One would have bought at $40, $35, $30, $25, and $20 before YANG bottomed at just under $20 in October and November 2013. The average price for 5 tranche buys with average price of $30 would have been quite scary while trading just under $20. Fortunately there was a rally in February 2014 to $30.06, allowing you out at breakeven (whew!), a dip to $23.50, and then high of $31.42 in March 2014.
In the last couple weeks, YANG has fallen to under $15. So I would be long at $15, and at these low prices, instead of buying every $5, I can buy in increments 10% of my $15 starting point, which works out to $1.50. So if I bought at $15, then I would buy again at $13.50 and again at $12. So far the low is $13.81 so the 2nd purchase would not have been made.
This is an illustration to show that long-term buying of triple leveraged ETFs going against the trend do not spell utter disaster. In fact, one can do so profitably. However, one must be patient and wait for new lows, 10% below the last buy point and then one can add on a dip 10% below that last purchase.
Disclaimer:
The thoughts and opinions in this article, along with all stock talk posts made by Robert Edwards, are my own. I am merely giving my interpretation of market moves as I see them. I am sharing what I am doing in my own trading. Sometimes I am correct, while other times I am wrong. They are not trading recommendations, but just another opinion that one may consider as one does their own due diligence.