SeaWorld Entertainment, Inc. (NYSE:SEAS) Looking Great!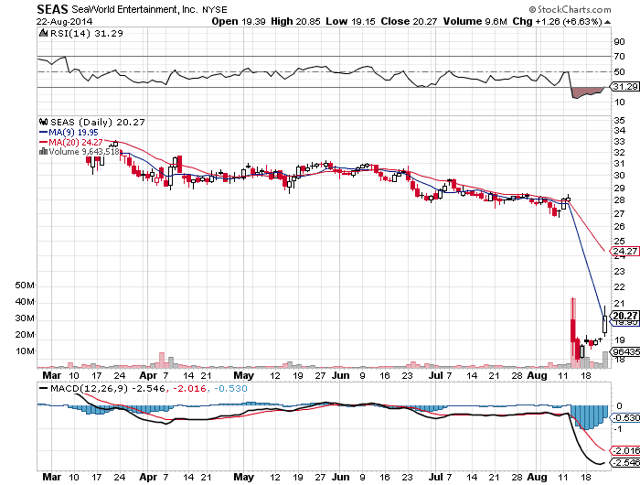 When SEAS gapped down hard on August 13, 2014, after posting disappointing earnings, I felt the selloff was overdone and recommended buying in the $18s, click here. Thanks to the upgrade by FBR Capital Markets on Friday, click here, the stock moved strongly to the upside and nearly reached my $21 short term target. I got out of the stock on Thursday when SEAS would not move strongly above $19, but got back in on Friday at $19.46 when $19.50 was taken out. I added additional shares going into the close. Early next week I am looking for a move to above $21 to try and partially fill the wide gap. Should we dip under $20, I will be adding more shares as a major bottom should have been made and I am raising my near-term price target from $21 to $24.
I Like Scalping Cliffs Natural Resources (NYSE:CLF) From The Long Side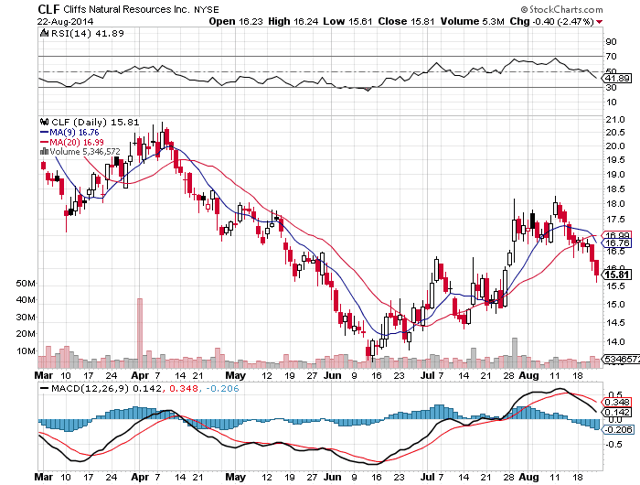 Casablanca took over the board of Cliffs Natural Resources (CLF) and caused the stock to move from the $14s to $18. For the past two weeks, the stock has fallen back as shorts have resold into recent strength. On Friday, CLF reported various upcoming one-time expenses, click here, that caused the stock to fall under $16. I like the stock under $15 now, and would back up the truck in the $14s. However, since the stock has been in a 2-week downtrend, one needs to show some caution and buy small so one can add more shares on weakness. This stock should be an excellent candidate for naked weekly put selling using $15.50 and $15 strikes. If CLF falls some more, one will be exercised at a low strike price and the premium received reduces the effective purchase price even further.
GRPN Is Still A Buy Under $6, Trying To Overtake $6.30 resistance
Groupon (NASDAQ:GRPN) Is Another Stock I recommended buying following bad earnings. This catching-a-falling-knife stock was a great buy from $5.75 to $6, but has been unable to overtake resistance at $6.30. Eventually it should bounce to $6.50 and ultimately fill the gap left from $7.07. The stock trades a bit slow for me, but I like owning it below $6, as well as on a breakout above $6.30 and $6.50.
KING Gapped Up On Friday On Bullish China News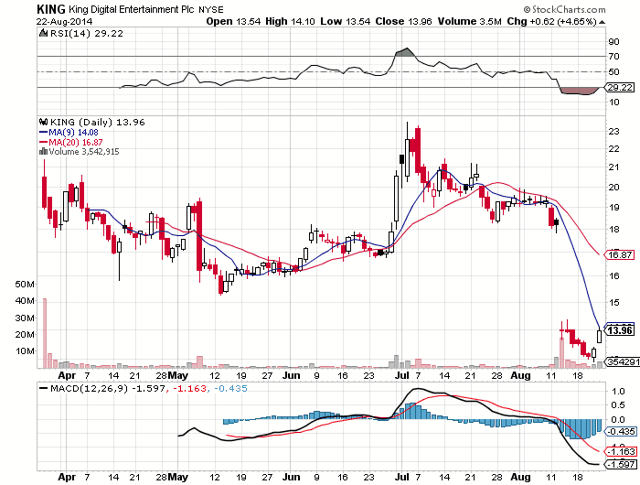 Thanks to a partnering deal with a Chinese company, KING gapped up on Friday. This vindicates me getting into the stock following recent disappointing earnings. I anticipated getting the Chinese news soon, and felt it would pop the stock. However, I like the chart pattern of SEAS much better, and will probably not buy KING unless I can get the $13.50s. Working into the gap area left on Friday's pop, should support the stock should KING dip some early next week.
Looking For Outperformance Of Junior Miners To Continue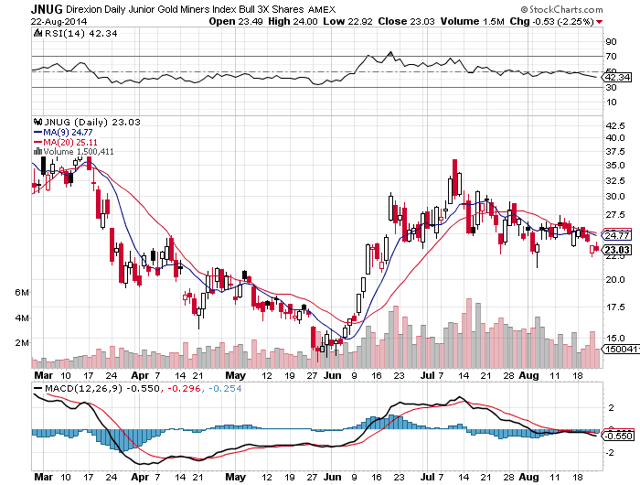 Despite recent weakness in the gold metal, the triple leveraged Junior Mining Stock ETF (NYSEARCA:JNUG) has been a great instrument to scalp from on the long side. What makes it so good, is the fact that when one buys on dips, JNUG pops back up to let you out with some nice scalping gains. But being in a downtrend, JNUG does not get away from you. It falls back to let you buy it again and again. A slow fading entity like the current action in JNUG is my bread and butter trading play that I thrive on! I expect gold to stabilize soon, and to move up some with more global unrest, along with profit-taking in the US Dollar. Although JNUG could fall to $20 or even $18, all dips should remain a buy with my short-term target of $26. I will be aggressively scalping from the long side in JNUG next week!
UGAZ Is A Buy On All Dips!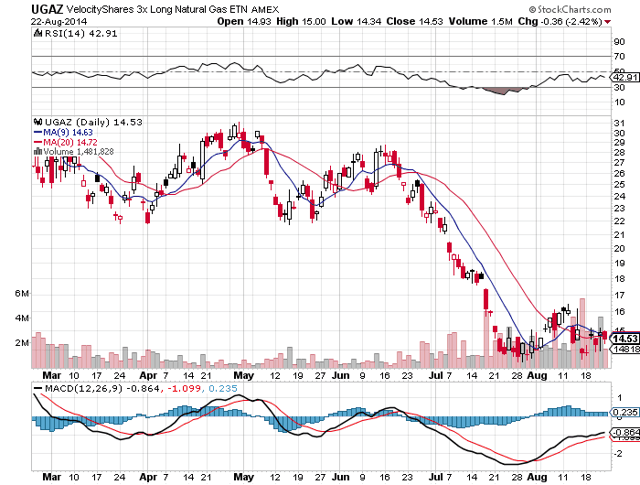 Natural gas has been trading in a narrow range from the low $3.70s, to just above $4.00 recently, allowing one to scalp from the long side in UGAZ on dips. Buying in the low $14s and selling out at $15 and $16 has been the money trade for the past 5 weeks. I expect this to continue with an eventual move higher towards $18, $20 and beyond by next winter. Although I don't like holding the triple leveraged mining ETFs of NUGT/DUST and JNUG/JDST for longer than a day or two at a time, I feel very comfortable holding triple leveraged UGAZ long-term as I feel the downside is quite limited. While trading all triple leveraged ETFs, one must space out buying, and diversify so one can take advantage when the triple ETFs get extremely cheap.
Disclaimer:
The thoughts and opinions in this article, along with all stock talk posts made by Robert Edwards, are my own. I am merely giving my interpretation of market moves as I see them. I am sharing what I am doing in my own trading. Sometimes I am correct, while other times I am wrong. They are not trading recommendations, but just another opinion that one may consider as one does their own due diligence.