Background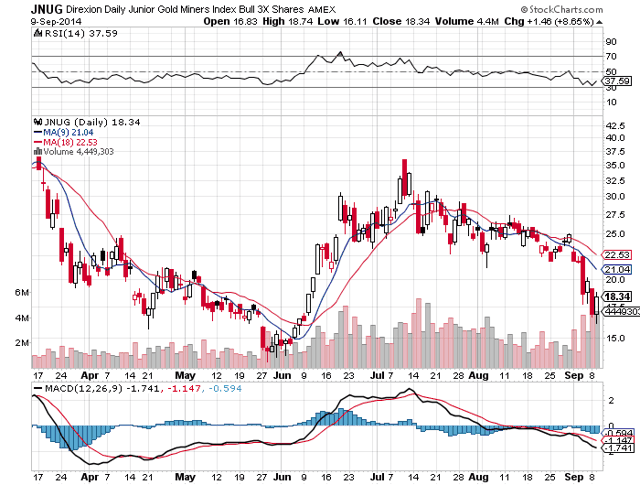 If you have not read my two most recent game plan articles in trading the triple leveraged bullish Junior Mining ETF (NYSEARCA:JNUG) you can find them here and here. When the first article was written on the evening of August 25th, JNUG had closed under $22 for the first time in over 9 weeks. That buy was very timely, as JNUG would immediately turn higher for 4 trading days, hitting a top at $25. The 2nd article was written the evening of Sept. 24th, when JNUG traded to a low of $17.70 and closed down hard. The next day, JNUG would pop back to score a high of $20.20 and closed $19.81. However, it was an inside day, closing up, which is a bearish pattern, and the higher close occurred on a Friday which also made me suspicious of the strength.
It was not surprising then that on Monday, September 8th, gold would open the week lower as has been typical lately, and JNUG was pulled to a new low of $16.60 and closed below $17, at $16.88. If buying in the $17s brought us back to $20.20 last Friday, buying under $17 should be even more rewarding for scalpers, I thought. So today, for those who are following my progress on Stocktalk, you know how I reported in real time, how I bought JNUG at $16.82 and again at $16.20. The low of the day was $16.11, but a late day oversold gold short-covering rally brought JNUG back to a high of $18.74 and $18.34 close, making many in our group quite happy. Because JNUG made a new low, running stops and then reversing higher, this was a real reversal pattern and I decided to not take profits this time and am holding overnight in hopes of selling at $20 if gold would happen to rally more over night. But even if gold is not strong in the morning and JNUG opens down a bit, one should get a rally to at least $19.50 and I will look to unload there if $20 is not reached early on Wednesday.
Plan Going Forward
I have calculated that there is better than a 2 out of 3 chance that JNUG trades above $20 in the next 1-2 days. But, depending what gold does, JNUG could easily slip back towards $16, and is vulnerable to make lower lows for the foreseeable future, down to 15, to $13 and possibly even lower. In fact, before JNUG turns up for good, I have calculated that JNUG could fall to a low of $7, based on the gold metal falling possibly to the $1180 to $1200 support level over the next few months. However, neither gold nor the miners will move straight down, and I will venture to say that all dips below $17 should continue to be excellent buys, as JNUG dips like a coiled spring, only to snap back. I plan to continue to buy these dips while taking profits on the snap back rallies. At some point, the bottom will be in and the Junior Gold Mining ETF (NYSEARCA:GDXJ) will bottom and a rally of 35% to 50% will follow, causing JNUG to rally 100% to 150% off the bottom.
The reason that I like buying JNUG under $17, is that even a dip to $7, should cause JNUG to spring quickly back to a price above $17 where one should be able to get out at a profit. The lower price that one buys JNUG, the greater chances one has to make money on the trade, and the percentage gains will do nothing but increase the lower price JNUG falls to.
If you have followed my blog postings over the past year and a half, you know that I normally prefer the leveraged big miner NUGT over the Junior Mining JNUG. However, at extreme lows like we are currently experiencing, thanks to the extreme negative sentiment towards gold and the miners, buying JNUG is extremely compelling and more compelling than owning NUGT. Think of it as a Texas Hold'em poker game. Sometimes the pot is so large, it pays to gamble on a weak hand, and to stick around and even call, with hands that normally, one would throw away. When you win, the win is so big, it makes up for your losses and you end up a net winner. In a similar fashion, the odds are in favor of buyers of JNUG right now, IMHO.
Right now, buying JNUG on every new low, becomes a safer and safer bet, with bigger and bigger payoffs, the lower JNUG drops to. With every new low in JNUG, the same amount invested will provide greater and greater payoffs.
But remember, the secret is to use any and all rallies to lighten up and to scalp only, and not hold onto a trade for longer than 3 days at a time. Owning JNUG above $17 is not nearly as attractive, and for now, one wants to sell out on all rallies to $20 and higher as JNUG tries over and over to bottom and fails.
December Gold Is In The Sweet Spot Below $1255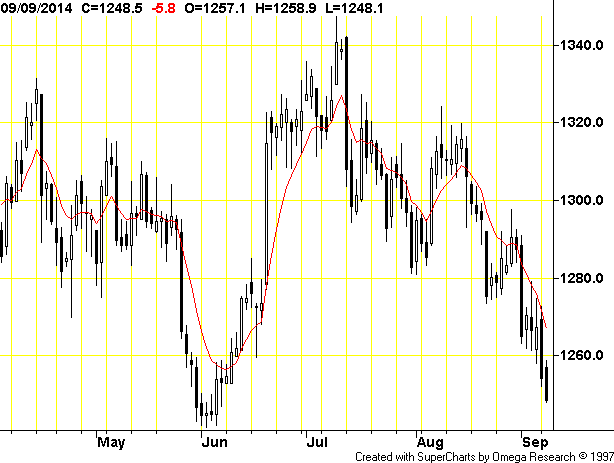 Back in early June, December Gold bottomed at $1241.70 and rallied five weeks later to a high of $1347.50. Then December Gold futures was a buy at $1295 (bottom of $1294.40) for a $32 pop, a buy a 2nd time at $1290 (bottom at $1289.40) with a pop of $25, and a 3rd bottom at $1285 and below (bottom at $1281), with pop of over $43 to $1324.30. After consolidating for a week, we have begun another 3 dip pattern. The first dip was a buy at $1275 (bottom at $1273.40) with pop of $24, 2nd dip a buy at $1265 (bottom at $1263.10) with pop of $16, and 3rd dip a buy at $1255 (bottom so far of $1248.10) and late day rally of about $10 off the bottom so far. During this last group of 3 dips in gold, the market is slipping further down and rallies are weaker. Since we are so close to major support at $1241, I expect to see December Gold stop around $1245, with a rally to follow of up to $40 or more to match the previous 3rd pop of $43 that occurred in early August.
Disclaimer:
The thoughts and opinions in this article, along with all stock talk posts made by Robert Edwards, are my own. I am merely giving my interpretation of market moves as I see them. I am sharing what I am doing in my own trading. Sometimes I am correct, while other times I am wrong. They are not trading recommendations, but just another opinion that one may consider as one does their own due diligence.
Disclosure: The author is long JNUG.