That is right! Cheaper than dirt! Take a look at the chart of these four gold stocks and you will be amazed at how cheaply they are trading. The Wall Street herd mentality that rejects all things golden, has thrown out these babies along with the bath water. To get a list of the twenty five mining stocks that make up the GDX ETF, check out the following link here. Save the link in your favorites and you can review on a daily basis, what stocks went up and down to change the daily price of the index.
In this article, I am going to cover 4 of the 25 stocks found in the GDX, that are absolutely dirt cheap. AUY is the 9th largest holding in the GDX (4%) while KGC is thirteenth largest (3%) of GDX. IMG is the 22nd and HMY is the 25th, both under 1% of the GDX holdings. Sentiment is so negative right now, they may get a little cheaper before they bottom, but all four should make a long-term and possibly generational bottom, within the next few weeks. You may look back in dismay and regret, that you had the opportunity to pick up stocks priced so low, and passed on the opportunity.
Yamana Gold, Inc. (NYSE:AUY)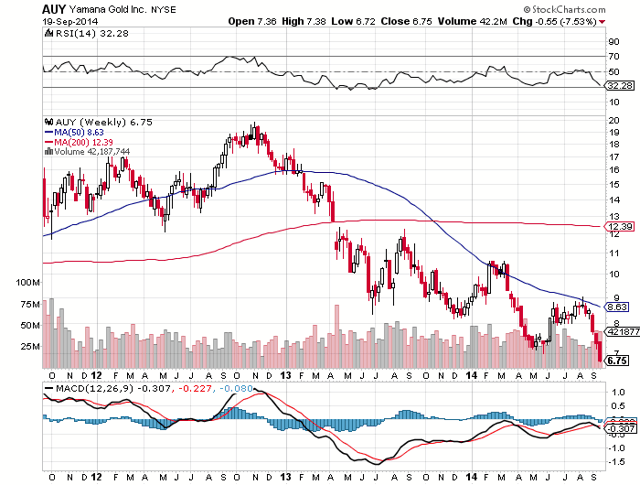 The weekly chart of Yamana Gold Inc. is trading below the $7 hit last December when GDX was trading at its multi-year low of $20.00. The stock started trading in 2004 at just above $2 and climbed to a high of $19.39 in March 2008. During the financial crisis, just 7 months later, in October 2008, the low of $4.03 was hit. In early November 2012 the stock scored its all-time high of $20.13. In less than 2 years, it has now fallen to a new multi-year low on Friday, of $6.72. The stock spent no time trading under $7 in 2008 and will likely spend almost no time trading below $7 now.
The above weekly chart shows a June 2013 low in AUY of $8.36. When this low was broken in December 2013, it only fell a few cents to $8.18 and then rallied back to $10.63. During the recent May 2014 dip, the $8.18 low was broken and a low of $6.99 was scored. From there the stock would rally to just under $9, three weeks later. A top of $9.04 was scored just 5 weeks ago, and now the $6.99 low has been broken this past week. I expect that somewhere between $6.00 and $6.72, AUY will again score a bottom, with a quick rally back of over $2.
Revenues are expected to grow 10% this year, and 25% in 2015. Book value is $9.26/share. Total debt is 2 billion and debt/equity is 24.93 (anything under 50 is excellent). Market cap is just under 6 Billion. The company earned 21 cents over the last 4 quarters. The forward P/E ratio is 19.29. The company pays a 1.8% dividend. If the gold price would recover, this stock should soar!
Morgan Stanley has set a lowered price target of $10.70 on AUY, click here. The company has mines in Brazil, Chile, Argentina, Peru & Quebec.
Kinross Gold Corp. (NYSE:KGC)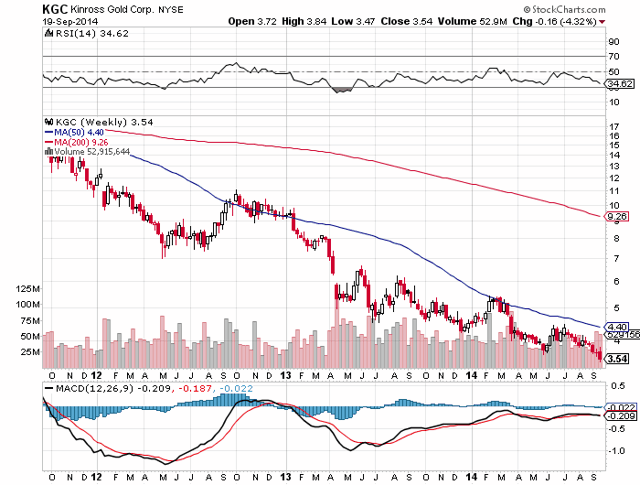 On Friday, Kinross Gold Corp. (KGC) made a multi-year low of $3.54. For the sake of history, this stock started trading October 1994 at $16.55. It would fall to $12.00 in January 1995. From there it made an all-time high in January 1996, at $27.75. It then began a 4 3/4 year bear market drop to a low of $1.22 which turns out to be the stock's all-time low in October 2000. Over the next 7 years, the stock made a steady rally to a high of $24.80 in February 2008, at the beginning of the financial crisis. By October 2008, the stock had fallen to $10.43. By September 2009, nearly a year later, KGC had recovered to trade to $21.70. The stock has been in a death spiral for the past 5 years.
The above 3 year weekly chart, shows how the stock bottomed at $6.98 in early May 2012. It would then rally over $4 to $11.08 in October 2012. In April 2013, the $6.98 low was taken out, and just 2 weeks later a bottom at $4.97 was struck. This allowed time for a 2 month rally back to $6.65. The $4.97 low would then be taken out and a low of $4.53 hit the following week. This was followed by a 2 month rally to $6.23. KGC retested the $4.53 low and it held for several weeks. Ultimately in December 2013, a new low of $4.24 was made. This allowed for a 2 month recovery to $5.44. In March 2014, KGC fell to a low of $4.01, and over the next couple months, the stock fought valiantly to hold on to support around $4.00. However, in late May 2014, the support gave way and the stock fell to a low of $3.66. The stock would immediately begin a rally to $4.45 and 3 weeks later, to $4.47 before falling again. Two weeks ago a new low of $3.62 was struck, and this week the low was extended to $3.47. Within the next 10 or 20 cents, and over the next few days, KGC should again find its footing and start a rally of over $1.00 to the mid to upper $4s. A casual observer will notice that within 1 to 3 weeks of making a new low, the stock tends to bottom and then rally substantially. Next week would be the third week of a new low and I expect the stock to bottom this coming week.
KGC has a 4 Billion market cap, and a forward P/E of 16.09. It is only trading for 2/3rds of its $5.36 book value. Total debt is 2 Billion and KGC has a deblt/equity ratio of 33.6 times.
RBC recommends KGC along with the Barrick (NYSE:ABX), Goldcorp (NYSE:GG) and Agnico Eagle Mines (NYSE:AEM), click here. RBC gives the stock a price target of $5.50, which would be a gain of 50%.
IAMGOLD Corp (NYSE:IAG)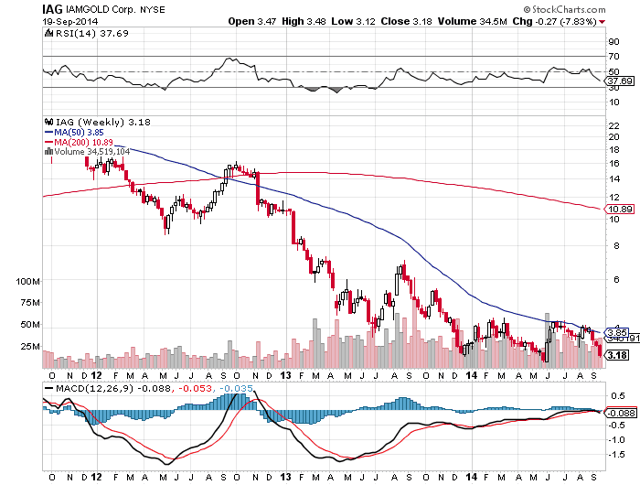 For history, IAMGOLD (IAM) started trading in July 2003, at a price of $5.25. This makes Friday's close of $3.18 the punch line of a bad joke. An early high for IAM was scored at $11.33 in August 2006. In January 2008 it was trading at $9.72 when the financial crisis was about to kick in. The all-time low followed at $2.66 in October 2008. From that low, the stock exploded to an all-time high of $23.10 in April 2011. When the current gold stock bear market kicked in beginning October 2011, IAG was still just under $23. You can then follow the stock on the above chart weekly chart since it goes back 3 years. Notable prices are the $8.74 low in May 2012, followed by a high of $16.21 in October 2012. But my April 2013, just 6 months later, IAG had fallen to $4.47. It quickly bounced back to $6, but would again break to a new low of $3.70 in June 2013. That was a major low for all gold mining shares, including IAG. A rally to $7.08 by August 2013, just 2 months later. IAG would not make a new low until December 2013, at $3.15. It would quickly recover over $1 and trade in a range for several months before breaking down to a new low of $3.00 in late May 2014. The next week the stock immediately rallied and hit $4.25 within a month. With Friday's dip to $3.12, we are very near the recent $3.00 low. Whether IAG falls to $3.00 or retests the low of $2.66 of 2008, we are at extreme lows and anyone buying now should get a $1 rally shortly. I predict the bottom is somewhere between $2.85 and Friday's low of $3.12.
The market cap is a very small 1.2 Billion and the forward P/E a mere 14.45. It is trading for less than half of the $7.51 book value. The debt/equity ratio is extremely low at 22.33. Of the three stocks that I have covered so far, this stock is most definitely the most underpriced based on fundamental factors. The stock averaged 6 million shares traded per day and Friday nearly 10.5 million shares were traded. Somebody else must have figured out this stock is cheap and is accumulating on dips.
Harmony Gold Mining Co., Ltd. (NYSE:HMY)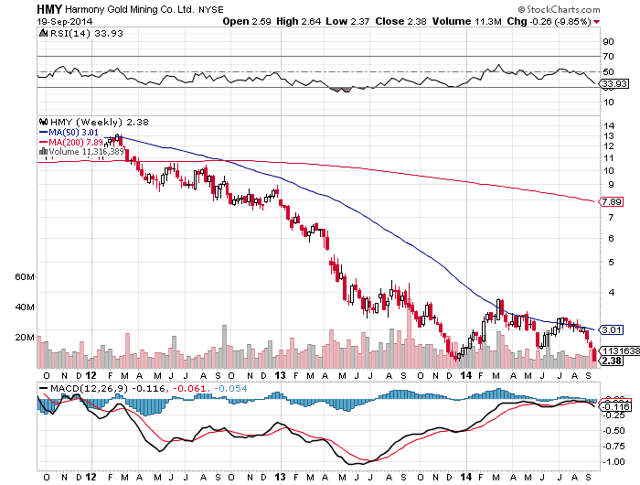 For history, HMY began trading September 1996 at $8.25. By December 1997, the stock had fallen to $2.25, the all-time low (Note: Friday's close of $2.38 is just 13 cents from the all-time low!). By December 2002, HMY hit a high of $16.81, (7 times higher). But by April 2005, HMY had fallen to $6.27. From there it hit the all-time high of $18.63 in January 2006. But by August 2007, the stock had fallen to $8.95. But by January 2008, it had regained ground back to $12.25. The financial crisis dropped the stock to $7.31 in October 2008. But by April 2011, the stock had rallied to $15.57, more than a double. Then the big slide began. First HMY fell to $10, then $9 and $8, but the stock could not get any footing. The $7.40 area was support for a few months, but when it gave away the stock fell quickly to below $4. In January 2013, the stock scored a low of $3.29 and would rally over $1 to $4.35 by August 2013. However, the stock would soon fall to $3.06 and ultimately a major low in December 2013 of $2.35, the same time GDX was making its major low of $20. From the $2.35 low, HMY would rally in 3 months to $3.80, a gain of 62%. The stock then fell back to the $3.00 which was support for a couple months. However, in late May 2014, HMY fell below the $3 support area, and hit $2.60 in one horrific weak. Harmony Gold would immediately start a rally lasting 2 months, to $3.28. The $2.90 to $3 again was good support until the smackdown of the last 3 weeks in gold mining stocks. Friday's low of $2.37 is just 2 cents above the December 2013 low. It could turn around and immediately start rallying on Monday, or we might see a marginal new low. However, within the week I would expect to see a bottom of substantial consequences and rally that could extend 40 to 60% higher within a couple months.
I have left the best for last. Zacks Equity Research has the HMY rated at a #2 (Buy), click here. The article explains how estimates have been raised 68% on the stock recently, yet the stock price has plummeted.
HMY has a market cap of just 1 Billion. Forward P/E is a mere 5.80, making the stock so undervalued it is absurd. With a book value of $6.48, Harmony Gold is hardly 1/3 of book value. Total cash of $165 million covers over half of their total debt of $258 million. The debt/equity ratio is a laughably puny 9.21 for a miner. If this is not a $5 stock trading for less than half value, I have never seen such a thing! I challenge anyone to find a sub $5 stock trading with these kinds of fundamentals. This stock is a buyout candidate if there ever was one, IMHO!
Summary
After researching all 25 stocks that make up the GDX, I am convinced more than ever that nearly all the bad news related to gold miners has been factored in and virtually none of the good news has been recognized. The current selloff will likely be resolved with the formation of a major low between now and the end of the year, assuming the low was not already made on Friday. I would not be surprised to see a major rally starting next week. After gold recovers at least $50 back to $1265 in the December futures contract, there is a good possibility gold will roll over and retest and possibly break under $1200. If the ultimate bottom in gold turns out to be $1180, or $1150, or even $1125, I do not see gold dropping to $1100, and expect a rally to begin in early 2015 that could go on for years, until gold works towards the next target of $2,500 and eventually $5,000 or higher. The low of late 2014 could be a generational low in gold. The age of fiat money will not last forever. Only tangible gold is real and lasting. Not so long ago, gold had a 10 year rally and climbed from under $300 to over $1900, more than a 6 fold gain. Even if gold does not bottom at $1200, and hits $1100 or even $1000, from $1000 the next 6-fold rally projects a high of $6,000 within the next 10 years.
Disclaimer:
The thoughts and opinions in this article, along with all stock talk posts made by Robert Edwards, are my own. I am merely giving my interpretation of market moves as I see them. I am sharing what I am doing in my own trading. Sometimes I am correct, while other times I am wrong. They are not trading recommendations, but just another opinion that one may consider as one does their own due diligence.