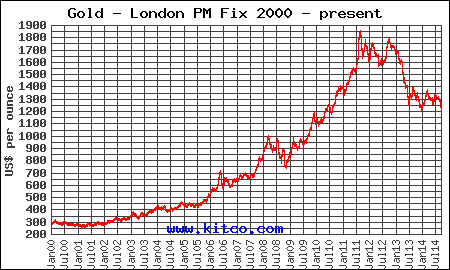 In times like these, it is good to take a step back and look at the big picture, the really big picture. The above London gold fix, going back to the year 2000, shows how from the 2000 low, to the September 2011 high, gold was in a major uptrend. Then we topped and started the bear correction phase that we have now been in for the past 3 years. However, even with the current correction down that could get a bit worse before it gets better, if I was to draw a linear regression line that describes the above chart, the line would run from the bottom left hand corner and reach upward towards the right hand top corner, cutting through about the $1350 level in the Spring of 2013, and would continue rising out to infinity. Just as we were trading above the linear regression line beginning in the summer of 2009 through the peak and down to the Spring of 2013, we have since been trading below the linear regression line, and could continue to trade below the line for some time to come. However, eventually gold will at least hit and more likely exceed this line sometime in the future. At some future time, gold will surely again trade above this line. That tells me that eventually buying gold will pay off, and pay off in a very big way. I am very confident that $1900 should again be tested and we have likely not seen the ultimate high in gold. In fact, the most likely scenario is that we hit $2,500 within the next 5 years. Now, should we get a parabolic blowoff, the rally could extend for as long as 10 years, and the gold price could easily move up in multiples of $2,500 at a time, to $5,000, $10,000, $20,000 or even $40,000. The sky is the limit for gold bugs.
By the same token, even the gold bears must be aware that even if the $1920s hit in 2011 is the ultimate high we will ever see in gold in our lifetime (something approaching zero probability thanks to inflation), we should at some point bottom and then rally back up in a Fibonacci retracement of 38%, 50% or 62% off the bottom. This means that should we bottom at $1100, then we should rally back to either the $1412, $1510, or $1608 level. All three price levels are far above the current price just below $1200. Now, suppose the bottom is $1000, then we rally back to $1350, $1460, or $1570. But even if we drop all the way down to $700 like Yoni Jacobs is predicting, click here, then we still will see $1164, $1310 or $1456 after that.
What this all tells me is that despite the weakness we have seen recently, culminating in Friday's bloodletting, gold and the gold miners will recover at some point, and odds favor buying rather than selling going forward. The lower gold drops, one should be getting more bullish, rather than getting more bearish, as the bottom is ever closer and better times are closer to being realized.
Black Friday, October 3, 2014, Was Very Devastating For Gold Bulls, Causing Heavy Capitulation Selling
Thanks to the plunge under $1200 in gold on Friday, gold has now turned negative for the year. Not to be outdone, January Platinum closed at $1226.90, a 5 year low on Friday. (Note: Platinum is trading only about $30 above the price of gold and rarely trades below the price of gold, so the bottom could be near). Palladium is just above good support of $750, having dropped nearly $160 in just 5 weeks when Palladium was the metals darling and was sitting at multiyear highs! Silver on Friday hit a 4 1/2 year low, now trading below $17 a troy ounce.
Doing research Friday night, I read one bearish article after another. Several articles were explaining how there was not a single factor now working in gold's favor. One article in particular, covering about 20 factors in a 6 or 7 article series, explained all the reasons to shun gold. What I found to be laughable, if it was not so sad, was when the author tried to explain away the U.S. trade deficits and the ever increasing debt. The author felt that because we are producing more of our own oil thanks to the oil sands and fracking, resulting in the import of less crude oil, the trade deficit was improving and that was just fine. The fact that our trade deficits are still quite negative was ignored. And then came the debt argument. The author explained how we are increasing our debt load at a slower pace more recently, and that it was quite manageable and of no concern. Well, wake up! Our debt load is not manageable and not sustainable long-term and will ultimately lead to a devaluation of the dollar. When you take someone's most positive arguments and make them into negatives to prove your point, it is a sign of desperation. I feel that now the bears are speaking from desperation, not the bulls. When everyone is convinced in future dollar strength and gold weakness, that is the very time the tide is about to turn. It always looks the worse at the bottom.
Iamgold (NYSE:IAG) Sold Non-Gold Assets for $530 Million But Instead of Rallying on Friday, The Stock Sold Off
If you needed a good example of how ridiculously bearish traders and pundits have become on the gold market, look no further than IAG. Iamgold sold their rare earth metals mine for $530 million, which should have popped the stock up 10 to 20% on Friday. But instead, IAG closed down 4.4%. IAG sold out the part that was over 50% of their market cap but only produced 15% of their revenues. Normally this should make traders realize that the remaining gold assets are undervalued and raise the price level of the stock. With this cash infusion, the company can now endure any long protracted gold price slump. IAG also has a $750 credit line they are not using. With the sale, the stock looks cash and asset rich and should extremely attractive for a buyout. But the reason given for the selloff was that the S&P is threatening to downgrade their debt. With all this cash shouldn't the company be on stronger footing and instead of a downgrade, S&P should be improving their debt rating? Well the S&P debt raters have concluded that IAG will likely waste the money by purchasing more worthless overpriced gold assets and would have been better served by holding on to anything not tied to gold. This backward thinking is so absurd it is laughable! Who needs rating agencies anyway. They tend to be more wrong than right, based on recent history.
The Contrarian In Me Is Turning Me More Bullish
Not many pundits are now predicting gold will stop falling at the major double bottom just above the $1180 level in gold. With the $1200 level taken out Friday, they are convinced we will either fall to $1100 or $1000 in short order. Well, remember that just because the door is open to lower prices, that does not mean we are forced to go through that door, and if we do step into the room of lower prices, nothing is to stop us from quickly leaving. Gold may surprise everyone and refuse to walk through the door to these lower prices than the $1180 level. But being realistic, although I do not see gold falling all the way down to $1100 in the near future, I realize that now it is a very distinct possibility and probably most likely outcome, that December Gold futures trades down to the $1130 to $1150 level. A breach of $1180 would really get the bears' juices flowing, hyped by the media's call for the pending death of the gold market, forever. Even the most diehard bulls will give up at that point. And that should be the bottom.
I am also reminded of Mark Hulbert's article, dated Sept 24, 2014, where he cites the extreme bearishness of the gold market, click here. After Friday, gold and the miners are even more oversold than back in late September when Mark Hulbert last reported them. When the gold market was this oversold in the past, gold did not turn around immediately, but 2-3 months later, prices were much, much higher. I expect the same thing to be true now.
Another article I like is found here, written by Jordan Roy-Byrne. He shows the gold bear chart showing the current 3-year bear market in gold, being the second longest on record. There is only one bear market that lasted longer than 2 years, prior to this one. And that bear market lasted about 3 years and 5 months, from 1996 to 1999. The two bear markets that would project a fall in gold to either $1100 or $1000, ended in less than 2 years. Lasting this long, over 3 years, we should not fall a greater percentage than we did in the 1996 to 1999 bear market, which projects a low of around $1150.
GDXJ Should Bottom Between $5.50 to $6.50, Worst Case Scenario
I remember how GDX liked to bottom around $22, but ultimately dropped to $20.18 in December 2013, even though gold double bottomed. In December 2013, the gold miners were weaker than the metal. Well, now I feel that although GDX has not yet made a new low, it is vulnerable to a similar further drop of $1.82 below the $20.18 support, which projects a worst case possible bottom at $18.36. If that low would be seen in GDX, a drop of about 11% from Friday's $20.63 close, the Junior Miner ETF (NYSEARCA:GDXJ) could fall to just under $28. That would put the leveraged Junior Miner gold stock ETF (NYSEARCA:JNUG) over 30% lower from the Friday close of $9.40. Thus JNUG should bottom with a low between $5.50 to $6.50, in this worst case scenario.
I Plan To Add To My JNUG Position If It Falls To $6.50
My plans right now, are to wait until JNUG hits $6.50 and there add as much money as what I already have invested in JNUG with an average price of just over $13. I will get more than twice as many shares at $6.50 than I could at $13, which will greatly reduce my breakeven. A 150% rally off the bottom in JNUG based on a $6.50 low, projects a pop back to $16.25. If JNUG stops falling at $5.50, then JNUG should pop back towards $13.75. In either case, it would appear to be too late to sell under $10, unless one is sure to buy back lower. I plan on hold for now and just wait for $6.50 to add. If $6.50 is never hit, and we bottom at say $9.00, then JNUG should quickly return to $22.50 and I will be quite happy. If we fall to $7.50, I will just wait for the rally back to $18.75 to get out at a nice profit. I do not plan to buy more JNUG unless I can buy $6.50 or lower, and once I do, my average price will be lowered to the high $8 area. A very small bounce back of just 12% off the bottom in GDXJ, should get me a 36% pop in JNUG from $6.50 to over $8.75 and a chance to sell out at a profit.
Disclaimer:
The thoughts and opinions in this article, along with all stock talk posts made by Robert Edwards, are my own. I am merely giving my interpretation of market moves as I see them. I am sharing what I am doing in my own trading. Sometimes I am correct, while other times I am wrong. They are not trading recommendations, but just another opinion that one may consider as one does their own due diligence.
Disclosure: The author is long GDX, GDXJ, JNUG.