The Stock market is very oversold right now, on a short-term basis. They have pounded the markets relentlessly the last few days, thanks to Ebola and other fears. But that could soon change. Patti Domm on the CNBC website, just wrote an excellent article explaining how we might be close to a bottom, click here.
Everyone keeps talking about whether or not the Dow and S&P will make a 10% correction, or if we can rally from here with only a 6 or 7% correction. We can take a look at both of these possibilities using triple leveraged ETFs. I googled "leveraged stock market ETFs and found this page here. I would probably not want to trade an ETF with the volume less than 1 million shares per day, and would stick with the large volume funds on this list. That means that the triple leveraged Dow Jones ETF (NYSEARCA:UDOW) should not be traded. Instead, if I was looking for large cap stock exposure, I would trade SPXL. For small cap exposure, TNA is the ticket. We can now take a look at both of these charts starting with the weekly chart of SPXL.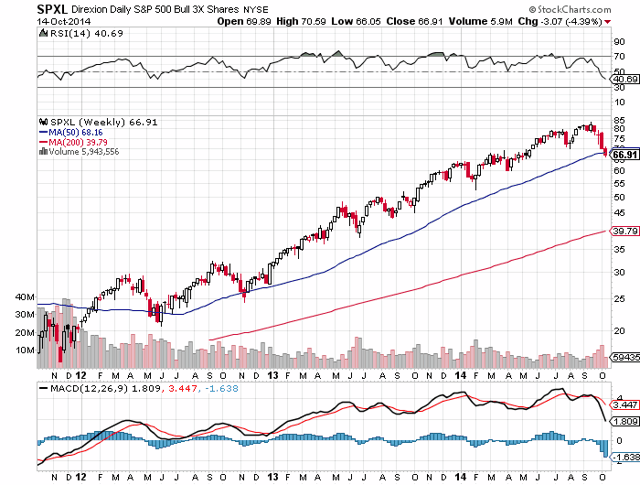 The triple leveraged Direxion Bull S&P 500 ETF (NYSEARCA:SPXL) has been in a solid uptrend for the past three years, as shown on the weekly chart above. But recently SPXL has topped out at $83.59 and has fallen for the past 4 weeks. For the past 3 years, corrections have lasted about 4 to 6 weeks, so it is likely SPXL will bottom within the next couple weeks and head higher. This is only the third time that the correction has been severe enough to hit the 50 week moving average "blue" line on the chart. The last time this occurred was back in November 2012. If the S&P corrects 10%, then the SPXL could fall 30% from the recent high of $83.59, which would take us down to around $58.50. There is support at $60 from April 2014, shown on the chart. Thus it would appear that the bottom should occur within the next 10 to 12% drop from here. This might be a good time to begin buying SPXL on dips and selling out on rallies, with the intention to buy more aggressively if we approach the $60 level. We can now look at the weekly chart of the triple leveraged bull small cap fund (NYSEARCA:TNA):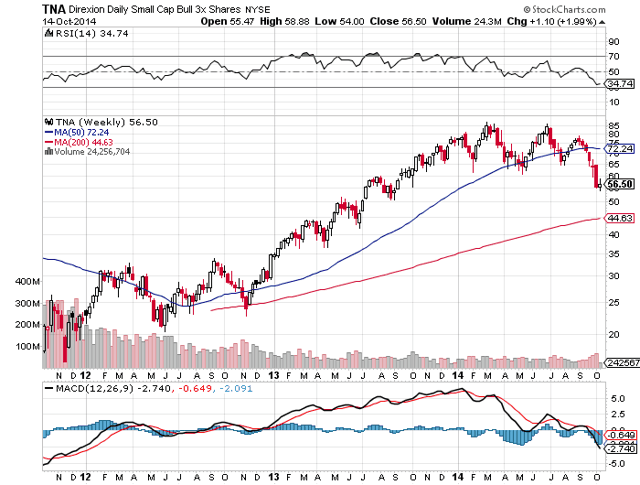 The small caps chart is not nearly as bullish looking as the SPXL. In this chart, one will see that we have broken far below the 50 week moving average and are shooting for the 200 week moving average below. The April/May 2014 support levels have been taken out long ago. Instead of bottoming after 4-6 weeks, the TNA tends to fall for 8 to 10 weeks before bottoming. We are now on the 7th week, and so far, we are slightly higher for the week after just two days. Support looks solid around $50 which was last seen in August/September of 2013. Because the TNA has already made lower highs and lower lows a couple times already, and appears to be in a downtrend, I prefer trading SPXL and will begin buying into SPXL on dips. I will end with a daily chart of SPXL: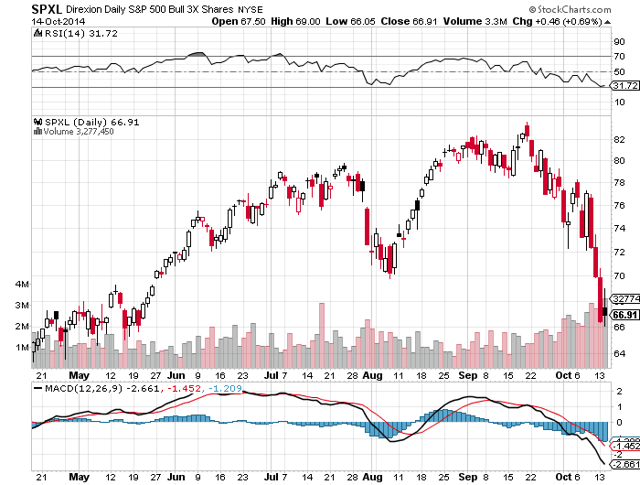 As we start trading today, we are starting out the day, down over 100 points in the Dow Jones Industrial average. If we don't recover today, the SPXL will suffer a five day down draft. It is rare for the SPXL or the Dow Jones Industrial Average to fall more than 4 or 5 days in a row without having a corrective rally. I would anticipate that by the end of this week, we will be trading higher than we are at present.
Disclaimer:
The thoughts and opinions in this article, along with all stock talk posts made by Robert Edwards, are my own. I am merely giving my interpretation of market moves as I see them. I am sharing what I am doing in my own trading. Sometimes I am correct, while other times I am wrong. They are not trading recommendations, but just another opinion that one may consider as one does their own due diligence.