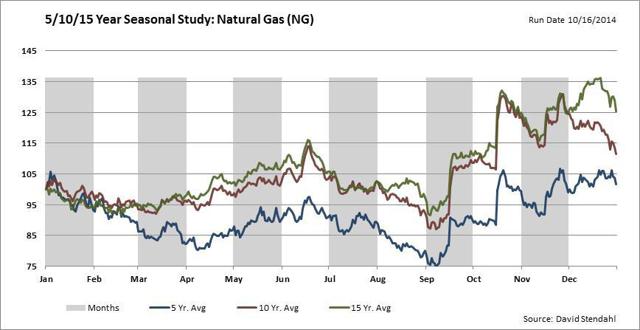 The above seasonal chart of natural gas is courtesy of David Stendahl of Signal Trading Group, click here. The blue line shows the seasonal tendencies over the previous 5 years, the brown line is 10 years and the green line 15 years. What is apparent from the chart is that every year natural gas has a spring low in about April, as well as a lower low in the fall in September. From the September low, one can expect natural gas to begin rallying with a large spike hitting about the middle of October, as colder weather begins to appear on the radar screen.
We can now look at the weekly chart going back a couple years as follows: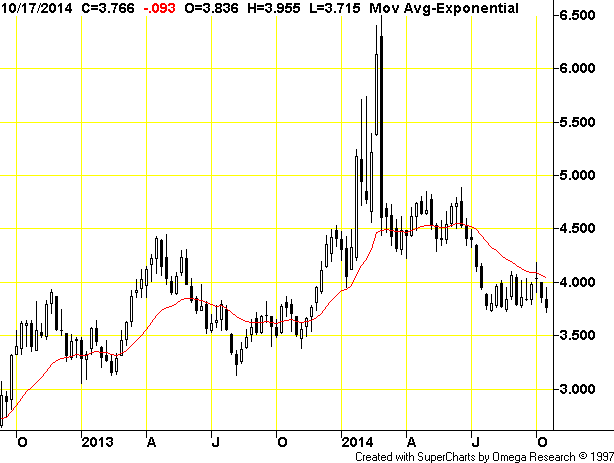 At the left of the chart, the 4th week of October in 2012, was a down week. However, natural gas would rally over 50 cents higher in the next 4 weeks, to top just under $4.00. A year ago, in 2013, natural gas topped at $3.83 during the 3rd week of October, and then fell for 2 1/2 weeks, to strike a low 70 cents lower, at $3.13. From that low, natural gas would begin a rally that would take it to $6.493 by February 2014, thanks to an extremely cold winter.
In 2014, the nearby natural gas futures contract topped at $4.184 the first week of October. Natural gas has now fallen back from that high. The current week is the 4th week of October, and one would anticipate a bottom in natural gas either this week, or during the next couple weeks. A similar drop of 70 cents from the recent high of $4.184 would project a bottom in natural gas around $3.484, which I have rounded off at $3.50. Today, October 21, 2014, the nearby November Natural Gas contract hit an 11th month low of $3.631, before rebounding to close up 4.1 cents at $3.711. The November Natural Gas Contract will stop trading in a few days. If natural gas bottoms with the November contract still trading, we will have fallen within 15 cents of our target low. If natural gas continues to fall for a couple more weeks and December Natural Gas is the nearby contract at the low, it closed today at $3.800 and is vulnerable to another 30 cent drop from here. On a full contract, every penny is $100 so a 30 cent drop if one bought December Natural Gas here, would involve holding a loss of $3,000.
Although I successfully scalped Natural Gas from the long side today, the market has not yet shown a confirmation of a bottom. We can now look at a daily chart of December Natural Gas: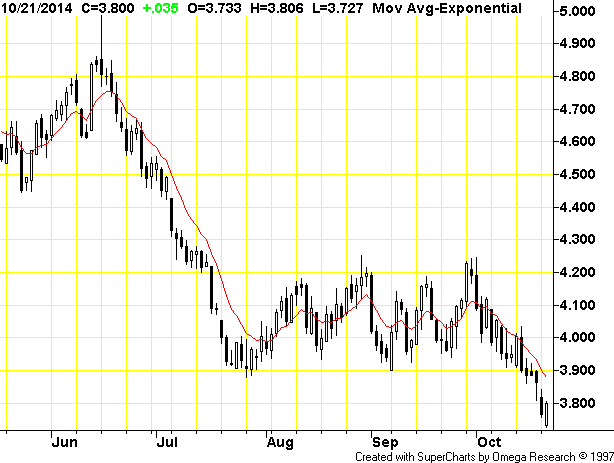 The December Natural Gas contract held support at around $3.90 MMBtu for nearly 3 months, before giving way the last few days. Regardless of today's reversal, December Natural Gas may not bottom for good, without dropping a bit further down. My best guess is that $3.50 should be tremendous support based on previous trading action of previous years, but there is a very small outside chance that December Natural Gas falls to an extreme low of $3.12 to $3.35. To see what that translates to UGAZ, please consider the following daily chart: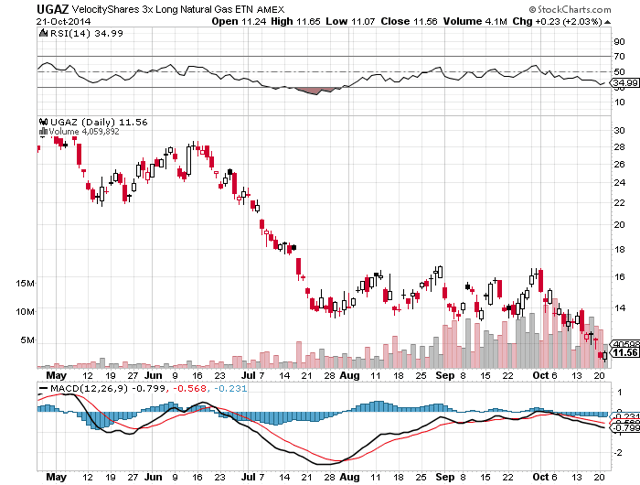 The triple leveraged Long Natural Gas ETN (UGAZ) closed today at $11.56. If December natural gas should fall another 30 cents (a drop of 7.9%), then UGAZ could fall 23.7% to $8.82. If December Natural Gas made an extreme bottom of $3.20, then UGAZ could fall to as low as $6.55.
I have determined that odds favor a most likely low of $3.60 in December Natural Gas. If correct, UGAZ should trade no lower than $9.75. From a low of $3.60, natural gas should rally 40% with a mild winter, and 100% with another cold winter similar to last year. If $9.75 is the low in UGAZ, one could expect a bounce of 120% to 300% depending on the severity of the winter, projecting a winter high of $21.45 to $39.00. If Natural Gas bottoms at $3.50, UGAZ should bottom around $8.82, and rally to $19.40 to $35.38. But if Natural Gas bottoms at $3.20 and UGAZ falls to $6.55, then UGAZ should recover to between $14.41 to $26.20.
For those nimble enough to buy on dips and partially sell on rallies, one can scale in buy at present levels. For those who are cautious and do not want to risk a great deal of capital, they can hold off buying UGAZ until it hits bottom and starts moving out of the hole. One could maybe buy on a stop at $12 or $12.50 after it has bottomed and started moving higher. In any case, natural gas is expected seasonally to bottom between now and the first or second week of November 2014. We won't have to wait long to see what happens as we prepare for what should be a very cold winter, click here.
Disclaimer:
The thoughts and opinions in this article, along with all stock talk posts made by Robert Edwards, are my own. I am merely giving my interpretation of market moves as I see them. I am sharing what I am doing in my own trading. Sometimes I am correct, while other times I am wrong. They are not trading recommendations, but just another opinion that one may consider as one does their own due diligence.