Gold Needs To Hold Above $1200 & Hopefully $1220
Where gold is heading right now, no one knows. If we cannot hold above $1220 in December Gold futures, we will need to retest $1200 and likely $1180. If those support levels fail, we could slip down to as low as $1050 if you believe Avi Gilbert, click here. Personally, I don't see gold falling below $1150 anytime soon.
Recently, gold rebounded over $70 off the bottom, but it did little to help gold mining stocks. The miners are back to their lows. Thus, it is critical that December Gold holds $1220 support and then rebounds to take out resistance above $1255, $1275 and finally $1300. Otherwise things could get really ugly.
Gold Miners Are Cheap & Getting Cheaper!
I saw an article, click here, where it was stated that the gold mining stocks are the lowest prices they have been when compared to the price of the gold metal, than at anytime in the past 30 years, and maybe longer.
I was trying to find an article that summed up what has happened recently in gold mining stocks. One article I ran across was written by Jordan Roy-Byrne at TheDailyGold, click here. In the article there is a warning that GDX could fall another 20% from current prices before bottoming. I concur with that assessment. I feel 10% further selloff in GDX is more likely if GDX breaks below $20, but one cannot rule out GDX falling to $16, vs. bottoming at $18 where I see the most likely lowest price.
Gold Mining Charts Look Horrific
Newmont Mining fell to a multiyear low of $20.61 in early February 2014. Today it hit a low of $21.49 so it has not yet made a new low. Barrick Gold Corp (NYSE:ABX) hit a multiyear low of $13.25 in July 2013. The December 2013 low was only $15.13, so ABX was outperforming other gold mining stocks and was building a nice premium. The late May 2014 low of $15.43 was still a bit higher, further building a base. However, last Thursday, Oct. 23, 2014, a low of $13.16 was hit, losing all the premium and taking out the June 2013 low of $13.25, by 9 cents. Today ABX closed at $13.30, a drop of $6 from the recent highs scored in August just 11 weeks ago.
Just take a look at the weekly chart of Goldcorp, Inc. (NYSE:GG):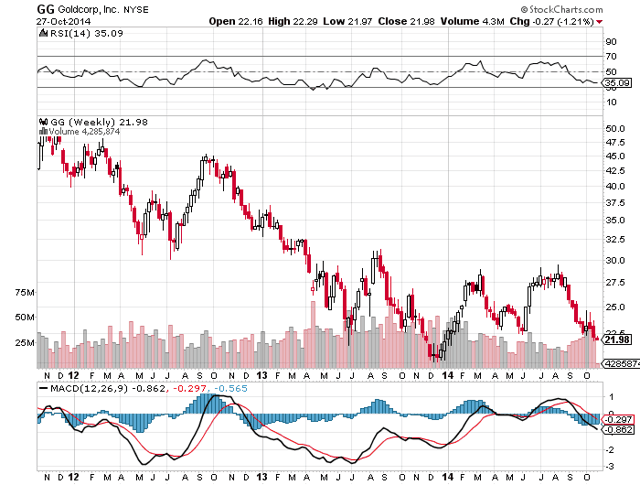 Looking at the weekly chart of GG, the June 2013 low was $21.53, which was exceeded on the downside in December 2013, when $20.14 was reached. In June 2014, GG only fell to $22.46, and even now Goldcorp is trading just under $22, which is 9% above the $20.14 low of December 2013. I am hopeful GG bottoms shortly and does not give back the remaining 9% it gained off the low hit 10 months ago. GG is the largest position at 14% of the GDX, while ABX is second at 12.6%. Newmont Mining is 8.4%.
Other miners are not faring as well. Look at the daily chart of another member of the GDX family, Kinross Gold Corp. (NYSE:KGC):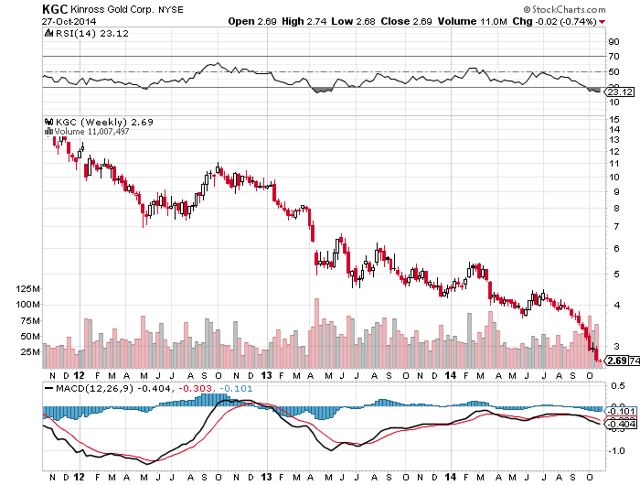 Kinross Gold Corp. (KGC) has been totally obliterated. Recently it has been caught in a death spiral under $4, and now trades for only $2.69.
However, some stocks do look like they are trying to bottom, like Yamana Gold Inc. (NYSE:AUY). Here is the weekly AUY chart: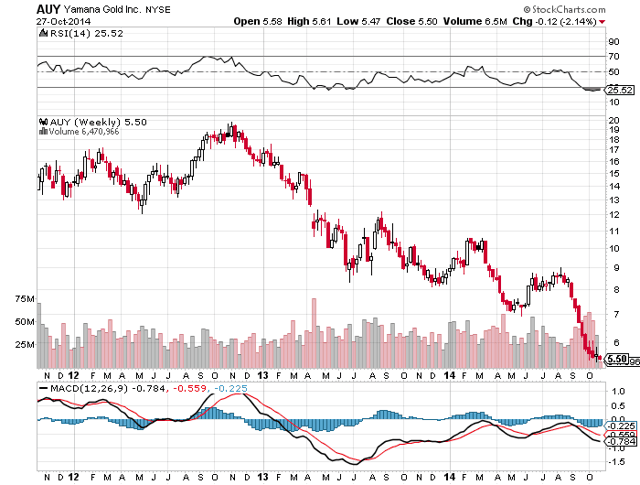 Yamana Gold (AUY) was holding above $8 during 2013, but slipped to just above $7 in the May/June 2014 timeframe. After hitting almost $9 ($8.99) in August, it has fallen in 10 weeks to the $5.50 area. Surely AUY will bottom between here and $5, as the downward momentum is waning. It should then rally back to the $7 to $7.50 area in the near future.
I was going to finish this segment by looking at a 25 year chart of Iamgold Corp (NYSE:IAG), but I could not get the chart to load. I will just note that this stock hit a high of $11.83 in the 3rd quarter of 2006 and $10.43 in the 4th quarter of 2007. But in the 4th quarter of 2008, it fell to $2.22. However, just a year later, in the 4th quarter of 2009, IAG hit a high of $21.00. The all-time high during the 3rd quarter of 2011, was $23.88, which corresponds to the all-time high in gold. Well, a few days ago, IAG again hit a low of $2.22. This stock has lost over 90% of its value. But if gold would bottom, and begin rallying strongly, there is no reason why IAG could not again hit $21.00, just 4 quarters after bottoming. There will come a day when gold stocks are not hated and despised. They will again rise from the ashes. Gains in stocks like IAG could be ten-fold within as little as one year.
Holding Leveraged Mining ETFs Like NUGT & JNUG Has Been Financial Suicide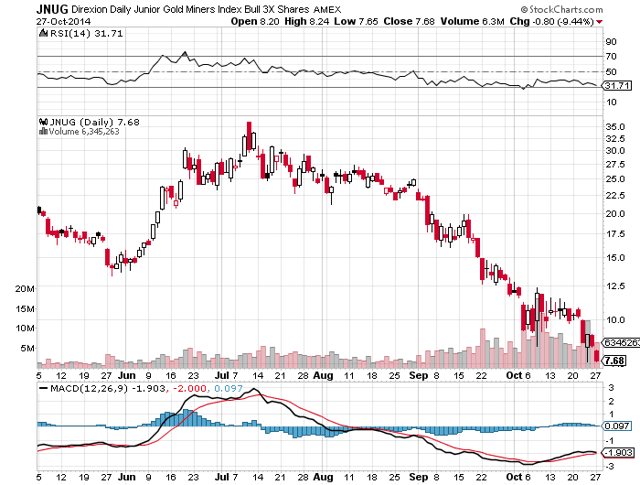 The recent action in the triple leveraged bullish Junior Mining ETF (NYSEARCA:JNUG) has convinced me that it is imprudent to every hold the leveraged mining ETFs longer than 2-3 days when one is carrying a loss. If carrying a gain, then one is going with the trend and should be fine, even with slippage. But if one is carrying a loss, those losses must be stopped before they get out of control. JNUG recently hit a high of $36 in July 2014. Today it closed at $7.68. That is a drop of 78.7% in 3 1/2 months. If GDXJ falls 10% further down, JNUG could hit 30% lower, or $5.37. A rebound of 40% in GDXJ should then bring JNUG back 120% off the lows, to $11.81. To break even if one was long from $15, one would need a rally in GDXJ of 60% off the lows, to cause JNUG to rally 180% to reach $15.03.
If we should fall another 20% lower in GDXJ, then JNUG would fall to $3.07. Then a rally of 40% or 60% in GDXJ, would cause JNUG to rally only back to $6.75 or $8.60. No one wants to see JNUG drop to the $3 area.
When JNUG was trading in the $8s recently, I recommended to someone that they take off 20% of their position in the $9s, another 20% in the $10s, 20% in the $11s, 20% in the $12s and finally 20% in the $13s. However, JNUG has offered little opportunity the last few days to sell on strength. It would appear to be too late to panic and sell now, even in the $7s, as there is a good chance one can get a better price than this. Panic selling by diehard bulls has exacerbated the current selloff. However, one should lighten up on all rallies, especially when they only last a single day!
For the past couple months, if one had sold out 50% of their JNUG position, every time JNUG had an up day, and bought back on weakness the following day, one would have done quite well at repositioning to a lower average price.
Conclusion:
JNUG can hardly get just 2 up days going in a row, over the past 8 weeks. Where would JNUG be in gold had not rallied $70 off the recent lows?! If gold does break down in the future, one can expect for the miners to break down further as well. When the miners are truly bottoming, they will outperform gold and start rallying even before gold does. Right now, the miners are telling us gold is likely heading down and not up. That has to change. When the miners start outperforming the gold metal, that is your first clue that we are about to bottom.
Disclaimer:
The thoughts and opinions in this article, along with all stock talk posts made by Robert Edwards, are my own. I am merely giving my interpretation of market moves as I see them. I am sharing what I am doing in my own trading. Sometimes I am correct, while other times I am wrong. They are not trading recommendations, but just another opinion that one may consider as one does their own due diligence.
Disclosure: The author has no positions in any stocks mentioned, and no plans to initiate any positions within the next 72 hours.