What price is natural gas expected to trade over the next few months? Check out www.forecasts.org by clicking here. In December 2014, the average spot price should be $4.30. In January the price moves up to $4.88 and February projects a price of $5.60. By adding or subtracting the number of cents at the 50% or 80% confidence levels, one can project an expected range where natural gas should trade. The 50% level is a tighter range, but there is only a 50/50 chance the true average price falls within the expected range. The 80% confidence level is a much wider range because there is an 80% chance natural gas will in fact end up at an average price in that range.
Being a cold winter last year with high prices probably plays some part in the current high forecasts. Many prognosticators are calling for a similar cold winter this year. Others are not. However, with January Natural Gas closing today at $3.874, you would expect to see a bottom soon, to be followed by many rallies (Note: If one correctly scale in buys into UGAZ at the current trading prices, it shouldn't really matter much if we don't boom much). A cold winter rally in UGAZ is just gravy.
Hard to believe that just 7 trading days ago, January Nat Gas hit a high of $4.689. From that peak (created when November had a very early cold spell), natural gas has now fallen 17.4% and so triple leveraged UGAZ should have fallen 52% off its high (Note: Big money must have been shorting into UGAZ on the highs as UGAZ underperformed at the top and therefore has only fallen about 44% so far). Just another reminder that triple leveraged ETNs (and ETFs) should not be held longer than a few days at a time, when following the trend. It is challenging trying to recover from a 50% drawdown. When the trend changes (which in nat gas is about every 4 to 7 days), one should get out and look to go the other way.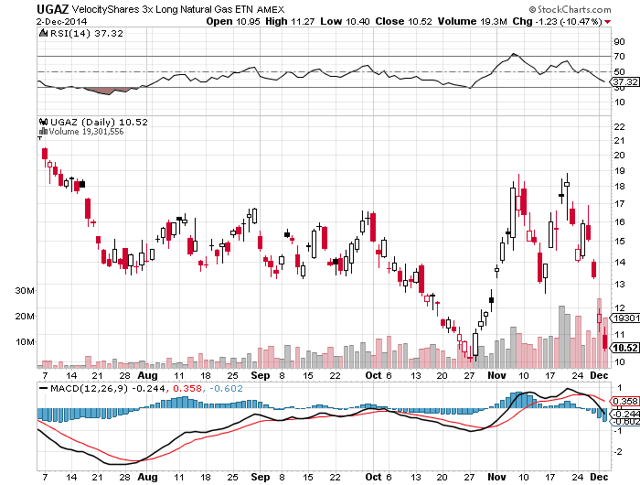 The above daily chart is of the triple leveraged bullish natural gas ETN (UGAZ). One can see that in late July 2014, UGAZ started basing around $14. For over two months, UGAZ traded quite orderly between $14 or a bit lower maybe to $13.30 and as high as the mid $16s. There were numerous 3 to 5 day swings up (where UGAZ would have done well) and then down moves for 3 to 5 days (where DGAZ would have made money). But then in the middle of October, the $13.30 support gave way and UGAZ fell to $10. However, it was not a problem because in just 8 trading days off the bottom, UGAZ traded above $18. Then as expected, UGAZ fell back to support at $13 before making another 5 day swing back to nearly $19. On Friday, November 28, 2014, UGAZ traded to the $13.25 support area where many got back long. However, a warmer than normal weather forecast for the last half of December over the weekend, knocked natural gas down hard this week, and in just two days, UGAZ has fallen from $13.25 to $10.50. We know that $10 should be good support and even if UGAZ should overshoot to the downside to $9 or lower, one can anticipate a $3 rally back up off any low with a $6 or $9 pop if and when the weather turns cold again.
For those traders who failed to take profits in UGAZ when it traded above $16 recently, the recent selloff has been quite painful. However, with winter just beginning, there are lots of opportunities for rallies where a trader can unload. Let this nasty selloff be a lesson not to hold your position for longer than a few days at a time. Repeat after me, "I will sell out 50% or more of my position in 2 to 3 days and be out completely in 5 days". Learn to balance by buying some DGAZ in a teeter/totter fashion.
Short-term or teeter/totter or lose most of your money. Those are your only 3 choices. Don't pick the last one!
Buy in gradually on the way down, and sell out gradually on any and all strength. Buy low. Sell high. I repeat, this is not a trade to hold for an entire winter season. For anyone not already in, the $10.50 and lower price range in UGAZ is quite inviting. If one scale in buys at $10.50 and adds some shares every 50 cents lower, one should do well, especially if one holds back some cash to be able to buy on a break to as low as $7.50. Remember, when $13.30 was support, UGAZ dropped to $10 (25% drop). If $10 support gives way now, adjust your buying so you can still buy shares 25% lower, down to $7.50. By planning ahead for lower prices, one will not be shocked when natural gas turns skanky and makes a new low for no good reason (which it loves to do). By planning ahead, one will remain calm and confident and not panic and sell out at the bottom!
Wherever UGAZ bottoms between $10 and $7.50, expect to see a minimum $3 rally off any low in short order as UGAZ swings up and down. On strength, take partial profits. On three days up, sell out maybe half, with the remainder cashed in on the 4th or 5th up day. If you don't want to lightly start buying DGAZ to play for the next selloff, then just sit in cash or trade elsewhere and wait for great prices to buy. Look for times when UGAZ has fallen 4 or 5 days in a row to get in cheap and play for an oversold bounce.
Winners are slow and steady getting in, but snatch profits quick when offered!
Losers buy early and big, run out of money with nothing to add at lower prices, then hold for weeks or months while suffering slippage and decay.
When December Natural Gas failed to move above $4.50 on the recent retest of the highs, I got out and have not been in since. In fact, I sold nearly all of my position in the low $16s, a couple days from the high. I have not traded since, because I checked out firstenercastfinancial.com and saw some early projections for warmer weather coming up in the future. They will use any excuse to knock natural gas and UGAZ down so it is better to sell out too soon, than to sell too late. Right now, anything above $16 is gravy and one should cash out when trading at lofty levels. Buying $13 to $14 is just getting value and will make minimal money with lots of frustration and pain. However, buying $10.50 and lower is extreme value. I like to buy when extreme value is being offered...like now.
I will be playing UGAZ again starting on Wednesday, December 3, 2014, and posting comments in Stocktalk. Happy trading.
Disclaimer:
The thoughts and opinions in this article, along with all Stocktalk posts made by Robert Edwards, are my own. I am merely giving my interpretation of market moves as I see them. I am sharing what I am doing in my own trading. Sometimes I am correct, while other times I am wrong. They are not trading recommendations, but just another opinion that one may consider as one does their own due diligence.