Background
For a couple timely articles on the current state of natural gas prices, check out an article from Andrew Heght here, as well as an older article from Lior Cohen, found here. I agree with Andrew Heght that natural gas tends to rally and top out seasonally around the middle of February. That means we have a 6 to 7 week window to get a decent rally in natural gas. We are extremely oversold and due for a correction higher, and cold weather could still bail out the leveraged natural gas UGAZ ETN bulls. However, since it was warmer than normal last week, the inventory report to be announced on December 31st could cause a selloff later this week, so I am going to wait until after the report to get long natural gas futures. If we do get a selloff in UGAZ following this week's inventory report announcement, that should be a great place for a bullish scalp.
UGAZ vs. FCG
Instead of owning the very volatile triple leveraged UGAZ ETN that is quite volatile and subject to slippage, making it a poor investment unless one trades it very, very short term, there is a very good way to play natural gas from the long side without suffering as much volatility and slippage. By buying the natural gas resource stocks through purchase of the First Trust ISE Revere Natural Gas Fund (NYSEARCA:FCG), one can get bullish exposure in a vehicle that one can hold long-term. Buying FCG is much easier to hold through the bottom than UGAZ is since it is not leveraged. For an excellent Zachs research article that provides some fundamental information on FCG, click here. For the technical perspective, here is a long-term monthly chart of FCG: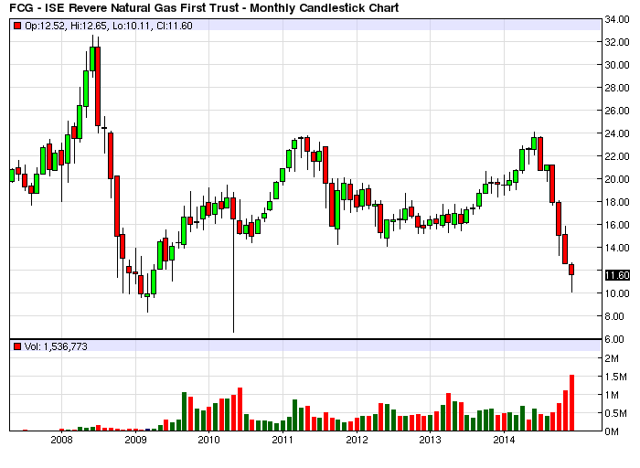 The FCG ETF began trading in the middle of 2007. Initially the $18 area was support and by June 2008, FCG had traded above $32. However when the price of oil tanked in late 2008 as we suffered through the financial crisis, FCG dropped to the low $8 area where it bottomed. Since then, $24 has capped rallies. Presently FCG is trading off recent lows of $10.11, while the natural gas futures price is near its lows. It is apparent that under $12, FCG has tremendous long-term value and when natural gas prices recover, which they will sooner than later, one should be able to more than double their money in FCG if they purchase below $12 and ride it back up to the $24 resistance level. Although FCG tracks natural gas producers, it appears to follow the price of oil more than the price of natural gas, and when crude oil prices stabilize and begin their recovery, FCG should recover as well.
Before I end this brief instablog article, I would like to take a quick look at the daily chart of the triple leveraged UGAZ ETN: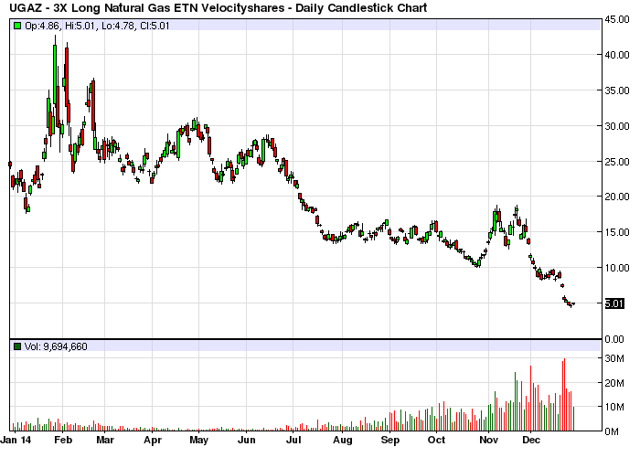 UGAZ hit a low of $4.78 today, but has now rallied back above $5.00 and is presently on the high of the day at $5.01. Natural gas prices are struggling in here just below or above the $3.00 level. Despite the current weakness, it is not unreasonable to expect to see natural gas prices return to the November highs above $4.50, if we should get some cold weather. That would be a 50% rise in natural gas prices, and a 150% increase in UGAZ to the $12.50 level. Even if natural gas prices do not bottom in here based on a cold winter, we could get a late spring/early summer rally on extreme heat when air conditioning season rolls in. If you check out the long-term chart of natural gas, you will find that natural gas prices under $3 has only occurred twice in the last several years, in 2009 when a $2.409 low was struck in September, and in 2012 when a $1.902 low was struck in April of that year.
A Caveat
It is possible that they will keep overproducing natural gas at the current torrid pace and we don't get a cold winter bailout. In that case, 2015 could repeat the 2012 pattern. Back in December 2011, the low in natural gas was $2.957 which is similar to the present December 2014 low, just under $3.00. It is possible that natural gas prices continue to fall to the $2.40 or even the $2.00 level. If we do continue to fall, most of the damage will occur in January 2015. Back in January 2012, a low of $2.231 was made, and natural gas prices bounced for a couple months before ultimately falling below $2.00 in April. By July 2012, prices had rebounded back to the $3.277 level. Anyone long UGAZ who rides through the bottom, will be wiped out in UGAZ. Anyone now holding UGAZ must be careful to bail out of UGAZ if cold weather does not soon rally natural gas prices strongly above $3.00. Bulls do not want natural gas prices to start trading below $2.90, slipping much lower than where we have recently been. If natural gas prices should break $2.70, then $2.00 would be the next target. We are presently approaching some critical long-term support prices. I don't currently own any UGAZ and don't want to be a hero. I want to wait to see if prices in natural gas can stabilize. I do want to eventually buy natural gas futures aggressively, but for now I am patiently waiting for signs of a bottom. Right now, nothing bullish to report.
Disclaimer:
The thoughts and opinions in this article, along with all Stocktalk posts made by Robert Edwards, are my own. I am merely giving my interpretation of market moves as I see them. I am sharing what I am doing in my own trading. Sometimes I am correct, while other times I am wrong. They are not trading recommendations, but just another opinion that one may consider as one does their own due diligence.