Twitter (NYSE:TWTR) Needs To Close Up This Week To Establish A Bottom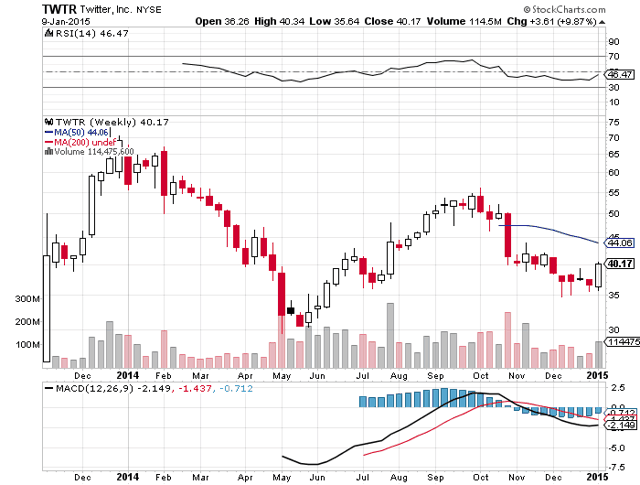 The above weekly chart of Twitter (TWTR) shows that we ended a 13 week downtrend this past week, with finally a strong up week. Will the strength last? Who knows. Throughout the 13+ months that TWTR has traded, it has had two major down drafts. During the down drafts there were several times that TWTR would close up one week and form a nice white Japanese Candlestick candle, but then would fall the next week forming another red candle. Only when there were 2 consecutive white candles was the up move sustainable.
So in review, the good news is that TWTR finally did close up this week, but it is important for the bulls that TWTR continues to gain this coming week. If it does then there is a good chance a bottom was formed at the $35 level. If we instead close down this coming week, then last week's rally was nothing more than a short-covering bounce and TWTR is probably headed to $35 again, and possibly major support at $30.
Too Soon To Buy Transocean (NYSE:RIG) Or Other Drillers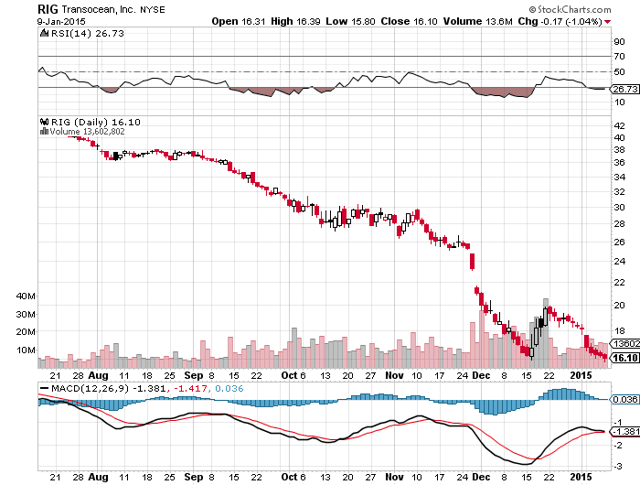 You can see from the above daily chart in Transocean, Inc. (RIG) that the selling has been absolutely devastating. However, in the middle of December, RIG found support at the $16 level and then rallied back towards $20 in a week. It has taken 3 weeks to then fall back towards support at $16. Despite lower oil prices week after week, RIG has held support at $16 for 4 weeks. It tells me that most if not nearly all of the bad news has already been factored in. Crude oil will likely continue lower and will probably not bottom for at least the next 3 to 6 months, so I have not yet picked up RIG in the $16s or Seadrill (NYSE:SDRL) which is now below $10! However, if crude oil can find some stability in the next couple weeks around $40, we could get another nice bounce in the deep water oil drillers and one may be able to start nibbling on these soon. Long-term, I am more constructive on the energy sector than about any other sector out there, and I definitely want to get involved when I see some signs we are bottoming.
Cliffs Natural Resources Inc. (NYSE:CLF) Is Trying To Form A Base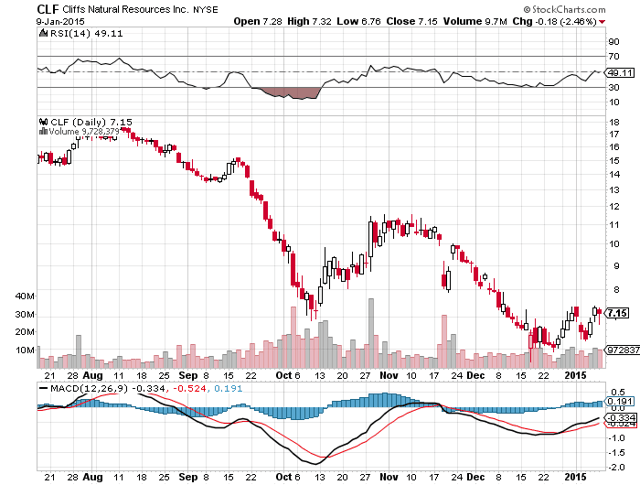 Back in October, CLF bottomed around $7 and then proceeded to rally back above $11. It has now fallen to a low of $5.63, with good support now at the $6 level. It would not be much of a stretch to see this stock back at $9 on a further short-covering bounce, even if it falls back again towards $6. Anyone buying CLF under $7 should be happy they did if they hold the stock for a nice sized bounce.
Natural Gas Stock ETF (NYSEARCA:FCG) Is Trying To Bottom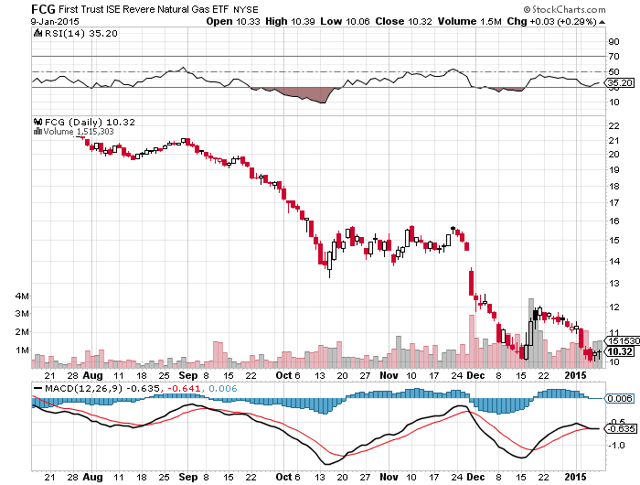 FCG is now showing good support around $10 and would appear to be a nice buy right in here. If natural gas prices should catch a rally thanks to colder than expected temperatures over the next few weeks, FCG should get a nice bounce. Looking long-term, it s hard to imagine this ETF dropping much under $10. It is much, much safer buying FCG than trying to time the elusive bottom in triple leveraged natural gas ETN (NYSEARCA:UGAZ).
Iamgold (NYSE:IAG) Continues To Be My Favorite Gold Mining Stock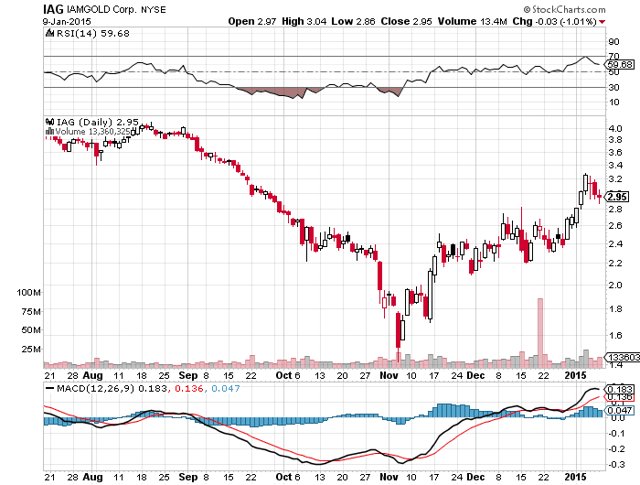 IAG has hit my initial target of $3.25 to $3.40 and could pull back towards support in the $2.60 to $2.80 area. However, I continue to like the action in this stock over any other miner. My son tells me that IAG is the largest holding of the Junior Miner ETF (NYSEARCA:GDXJ). It is also a small member of the Major Gold Miner ETF (NYSEARCA:GDX). Seems that everyone wants a piece of this stock.
Being a Canadian company, the price action is hurt when the Canadian Dollar loses ground to the US Dollar as has happened recently. However, the Canadian Dollar is approaching some major support and the US Dollar is facing some pretty stiff resistance ahead, so going forward, the Canadian Dollar could bounce back up, helping to support the price of IAG.
Disclaimer:
The thoughts and opinions in this article, along with all Stocktalk posts made by Robert Edwards, are my own. I am merely giving my interpretation of market moves as I see them. I am sharing what I am doing in my own trading. Sometimes I am correct, while other times I am wrong. They are not trading recommendations, but just another opinion that one may consider as one does their own due diligence.