Natural Gas: It Is Always Darkest Before The Dawn
The U.S. Energy Information Administration puts out a natural gas price forecast each month. The latest forecast found here, indicated that April Natural Gas in early January was averaging $2.88/MMBtu, compared to $4.19/MMBtu this time a year ago. What a difference a year makes! For the entire year of 2014, the average price of Henry Hub natural gas was a respectable $4.37/MMBtu, compared to an average price of just $3.73/MMBtu in 2013. So where is the EIA projecting the price of natural gas to be this year and next? Well, the agency is not bullish on prices, as they project the average price in 2015 to average $3.44/MMBtu, with a higher price of $3.86/MMBtu in 2016.
It is hard to believe that just Monday of this week, nearby February Natural Gas futures bottomed at $2.783. Traders ran the stops under $2.80 and made many bulls capitulate, for fear of falling to lower support levels at $2.50 and $2.00. But thanks to slightly colder temperature forecasts, we got a very strong short-covering rally that culminated in a high today of $3.352 hit soon after today's large inventory drawdown reported at 10:30 A.M. EST. The futures contracts had rallied strongly in the last couple days prior to today's bullish reading (buying the rumor), so it was not surprising we would top out with today's announcement (selling the fact). I predicted just such of an outcome, which was easy to do since recently any and all rallies in natural gas are sold off.
Yet hope springs eternal, as Andy Waldock (article found here) is not only looking for a rally in natural gas to the middle of February, his article shows the historical seasonal tendencies for natural gas (chart supplied by Moore Research) to rally strongly to the 3rd week of March. Again, the seasonal chart shows a tendency for natural gas to top out in mid February, dip for a week, and then rally strongly to the 3rd week of March. Since we find ourselves at such unbelievably cheap price levels, it would not be difficult to imagine that natural gas would move upwards until the middle of February, take a dip for a few days, and then resume a move higher to the 3rd week of March. It is surely something to watch out for.
Where Does Today's Rally Leave Us?
At firstenercastfinancial.com, today's natural gas summary, click here, explains that this week's natural gas rally was caused by freeze-offs at the well heads. It finally got cold enough to not only bolster demand, but to also cause cuts in supply totaling 2 billion cubic feet per day. As long as we stay cold and supply is limited, natural gas prices will remain firm. When the cold passes then supply levels could rapidly climb and prices will surely top out. With the extreme volatility in natural gas prices, I would expect many more short covering rallies and selloffs before this winter season ends. Traders should take advantage of these pops in the tripled leveraged bullish UGAZ by taking some profits on low priced shares and likewise hedging by buying some triple leveraged bearish DGAZ when it is cheap. I quit trading natural gas when it topped out in November, as I did not like the fact it could fall so easily back under $4.00/MMBtu after hitting above $4.50/MMBtu. I figured natural gas had a low probability of falling briefly into the $3.35 to $3.50 range, but could not fathom falling below $3.00/MMBtu, in the middle of winter no less! Through now and the middle of February 2015, I prefer buying the dips in UGAZ, and I may lightly scalp some mini 1/4 size natural gas contracts. However, on strength, I will also go short for quick swings lower as any and all rallies in natural gas don't last. The EIA is probably right that natural gas bulls will have to get in and out quickly as the oversupply situation may not get resolved for another year.
The secret is not to marry a position, but face each day fresh and anew. Try and access which side is winning on that day and join the winning side. It is preferred that one does not hold a position overnight, but if one chooses to hold overnight, liquidate the position over the next day or two. On sharp intraday dips in UGAZ, buy a few shares and then liquidate on the recovery bounce. On sharp intraday dips in DGAZ, buy some shares and then liquidate on the recovery bounce as well. With natural gas making intraday swings of 5 to 10%, the leveraged ETNs of UGAZ and DGAZ can swing up and down 15 to 30% in a single day. If your account does not allow you to daytrade, then try to swing trade over a couple days, averaging down in both UGAZ and DGAZ, and liquidating on rallies in each the following day.
And remember, less is more! Professional poker players play a very small percentage of hands, but then hit it hard when things are strongly in their favor. Professional card players wait for the really, really high percentage plays. Try to catch a nice swing just once or twice a week and be happy even if the gain is just 2-3%. All gains, large and small, can add up very quickly.
We can now take a quick look at the charts of UGAZ and DGAZ.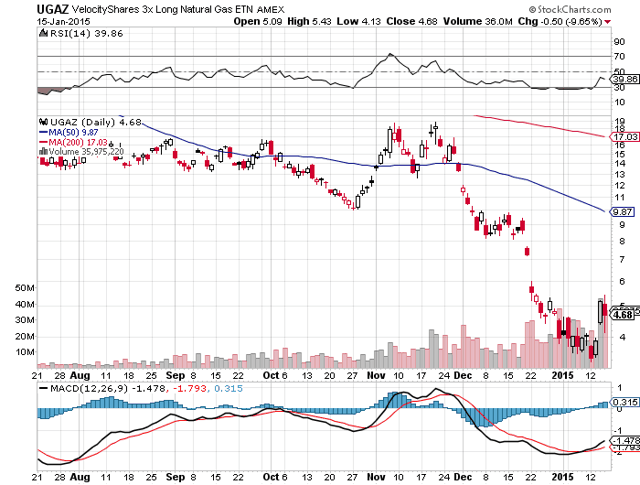 Despite the fact UGAZ closed lower today, the gap left from Wednesday's bullish action was not filled. Bulls do not want UGAZ to slip back under $4 and fill the gap as that would project falling back to the bottom and likely making new lows. Also, it is important that UGAZ closes up on Friday, January 16th, so that today's bearish Harami Japanese Candlestick pattern is not confirmed. But if it should close down, I would especially not like to see a close below $4.39 in UGAZ, (Wednesday's low). If UGAZ should close below $4.39 then anyone who went long on the big Wednesday gap up, would be losing money and liquidations could cause a further selloff. We can now look at the daily chart of DGAZ: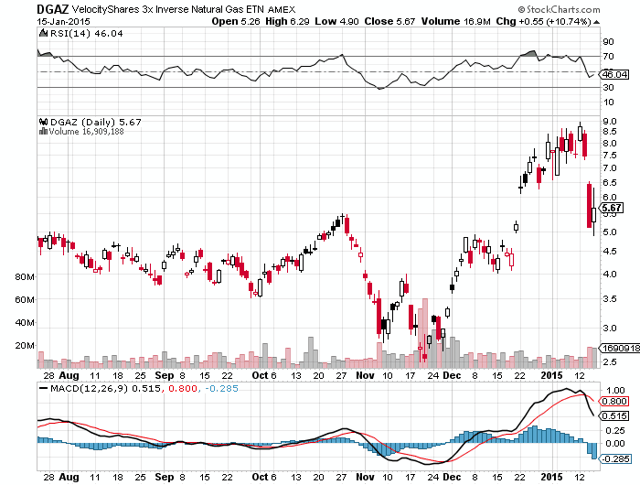 On the cold snap in November, DGAZ fell down to a low of $2.50, only to rally to $8.92 on Monday of this week. Today, just 3 days later, DGAZ dipped briefly under $5. Personally, I would prefer to wait for around $4 or lower to begin scalping on the long side in DGAZ in any real size. However, if one is overweighted in UGAZ, one needs to strongly consider buying some DGAZ on this dip in UGAZ. When natural gas prices correct back down, it will cause DGAZ shares to rise and create profits to help offset UGAZ losses.
Summary:
It is okay to try and predict where natural gas will be tomorrow, next week, or next month, but very difficult trading on that prediction. So I am not going to make any predictions right now. However, I am going to watch natural gas very closely for clues as to where the next direction it is heading, and try to join the winning side.
The bulls are in charge 30% of the time in about any market. The bears are in charge 30% of the time as well. On days one side has the advantage, jump on the winning pony! About 40% of the time neither side is winning as the market is range bound. One can just not play those days and take a break. Or for others, they might want to use the ranges to play both sides, buying UGAZ or DGAZ whenever either is on its lows, and then take profits when one side rallies back up.
Disclaimer:
The thoughts and opinions in this article, along with all Stocktalk posts made by Robert Edwards, are my own. I am merely giving my interpretation of market moves as I see them. I am sharing what I am doing in my own trading. Sometimes I am correct, while other times I am wrong. They are not trading recommendations, but just another opinion that one may consider as one does their own due diligence.