Everyone Is Now Jumping On The Bullish Bandwagon In Gold
Gary Wagner is looking for gold to test resistance at $1300 to $1315, click here. Meanwhile, Carter Worth mentions on Options Action on CNBC that gold is rallying in the face of a stronger dollar and he is quite bullish, click here. Watching that tape I see Mike likes the metal more than the miners. He would apparently prefer trading GLD over the large miner ETF (NYSEARCA:GDX). However, earlier on Fast Money, Guy Adami recommended buying GDX. On the final call of Options Action, click here, Carter Worth suggests buying the Junior Miner ETF (NYSEARCA:GDXJ). So it appears everyone is now getting on the bandwagon. When that happens, we might be very close to a short term top. However, with this much bullish momentum, the ultimate top may not come for 2-3 months. Personally, I was very bullish in gold up to the $1260 and $1280 area, but now believe we should approach $1295 to $1300 in February Gold futures, but could roll over then and consolidate recent gains. I still like gold and the miners but prefer buying on dips now that we have come so far so quickly. Just take a look at the daily gold chart: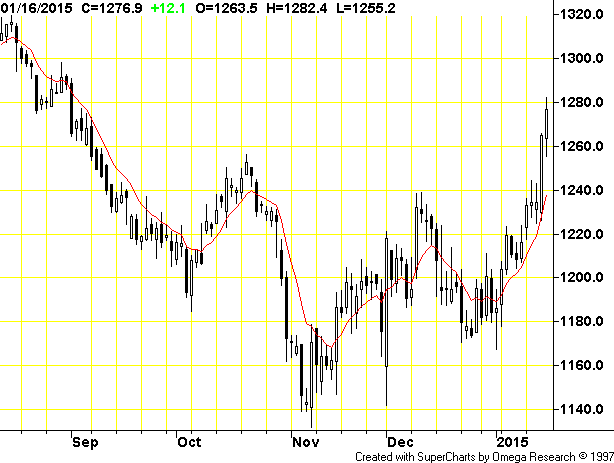 Gold can thank the Swiss Bank for its meteoric rise above both the $1240 and $1260 resistance levels the last couple days. However, gold was rallying before the Swiss decided to no longer peg their currency to the Euro. Over the past 2 weeks, gold has rallied over $100 from the $1180 area to the $1280 area, supposedly on safe haven demand and expected increases in physical demand, to include purchases in the gold ETN (NYSEARCA:GLD). Despite seeing a nearly 3% rise in the US Dollar the past couple weeks, it is very impressive that gold still managed to rally 8.5%.
But viewed from the perspective of about any other currency than the US Dollar, gold looks even more bullish. One currency that I was thinking would bottom last week was the Canadian Dollar. However, the Canadian Dollar just can't catch a break. Here is a quick look at the Canadian Dollar chart: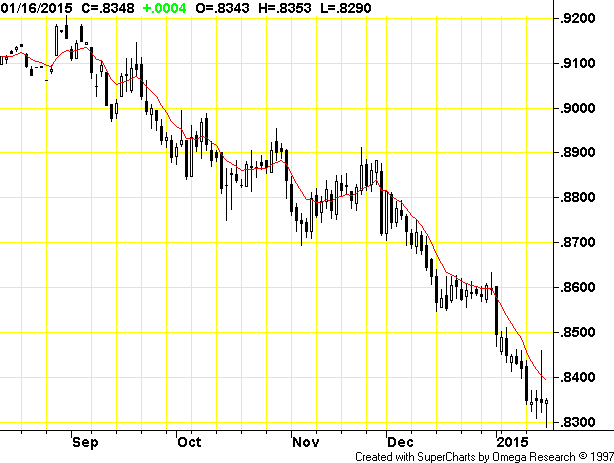 Many of the miners are Canadian, and strength in the Canadian Dollar helps miners to rally, but the Canadian Dollar has not been strong recently. When our stock market tends to falter like it has been doing the last couple weeks, the Canadian economy can slow a bit, pulling down the Canadian Dollar. I still plan to go long the Canadian Dollar soon, when I get a buy signal. Thursday the Canadian dollar boomed when crude oil boomed, but both gave back their gains by the end of the day. I was glad to see that the Canadian Dollar managed to bounce off the lows on Friday.
Is The Swiss Move A Game Changer?
When there is market turmoil, like the dramatic currency moves seen in the last couple days thanks to the Swiss surprising everyone, there is one immediate reaction. Well, of course there will be traders and some un-hedged traders to go belly up, but when there is a market scare nearly all traders lighten up their positions. Since most were short gold and silver, to get out, traders had to buy, thus we had some nice short-covering rallies. Equities fell since most traders were long stocks and getting out caused selling. Most traders were short natural gas, so to lighten up their positions, they bought back their positions, helping natural gas to rally this past week (along with some cold weather). There was safe haven buying in both the US Dollar and in gold. It is too soon to know if the safe haven buying will grow some legs and keep moving higher, or not. All one can say is that for the first time in months, there is a strong bid under gold. Thus, I like buying gold futures on dips, along with the miners. I will now take a look at some charts of the gold mining ETFs as follows: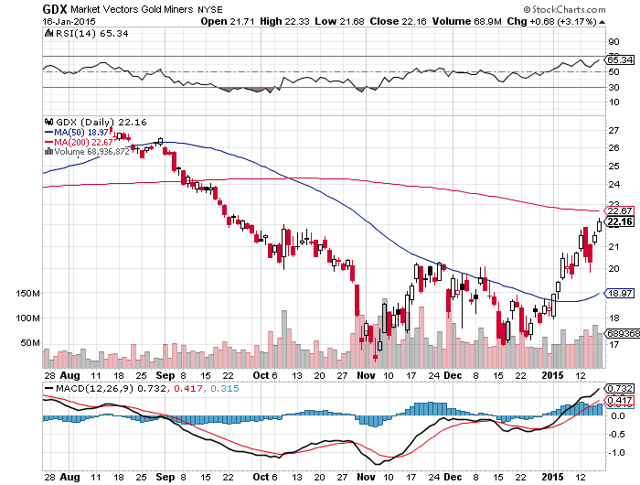 The chart of the gold mining ETF (GDX) is breaking out to the upside. First resistance is now $23, but it could continue to $24 or even $25 before consolidating. Between our new year and the Chinese New Year, is a seasonally great time to be long gold and gold miners. This year is no exception. Just take a look at the weekly chart of GDX to compare January 2015 to January 2014: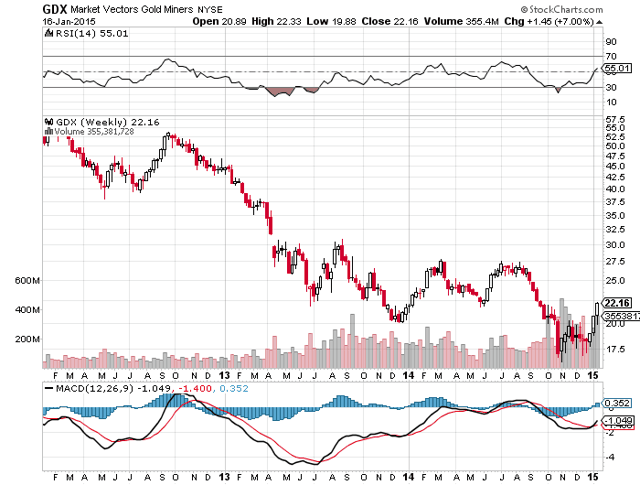 A year ago, GDX rallied strongly in the first 3 weeks of the year. That bodes well for a rally next week in 2015. However, in 2014 after consolidating a bit, in February, gold stocks would rally some more, moving from $20 to $27.50. This year GDX bottomed around $17 so a similar $7.50 rally projects a move to $24.50. Friday, GDX closed at $22.16, so it could easily rally another 11% by the first week of March. We can now take a look at the GDXJ daily chart: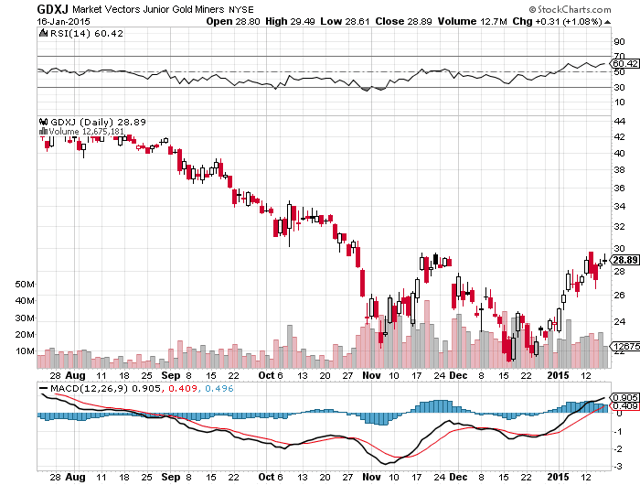 If you compare the Junior Mining ETF (GDXJ) to the ETF of the majors (GDX), you will notice that the Junior miners are not rallying as much and have not broken out above the $30 resistance level hit last November. In a healthy market, the Juniors would be leading. GDXJ should have gained more than GDX has, but right now it is not happening. GDXJ has struggled to close near the highs of the day, for the last couple days. GDXJ failed to close out at a weekly high on Friday. It is imperative that GDXJ moves above $30 this coming week, if the rally in the gold mining stocks is to continue. Bullish traders playing GDXJ or the triple leveraged bullish Junior Mining ETF (NYSEARCA:JNUG), need to watch closely for this breakout. If it does not come, then it could be time to start hedging one's bullish bets by buying leveraged DUST or JDST to balance out one's bullish positions in JNUG. As we rally into resistance at $30 and beyond in GDXJ, we should see more 2-sided action, and the teeter-totter trading strategy should start working quite well, if not next week, definitely the week after. I will be updating my thoughts on gold and the miners on StockTalk. Hope to see you there.
Disclaimer:
The thoughts and opinions in this article, along with all Stocktalk posts made by Robert Edwards, are my own. I am merely giving my interpretation of market moves as I see them. I am sharing what I am doing in my own trading. Sometimes I am correct, while other times I am wrong. They are not trading recommendations, but just another opinion that one may consider as one does their own due diligence.