If you read my last gold article, click here, you will have seen my warning that gold was not acting well and picking a bottom around $1200 was not advised. Since that article was published a week ago, the action in gold has turned even more negative. Just take a look at the following April Gold futures chart that is current up to the minute I am writing this article: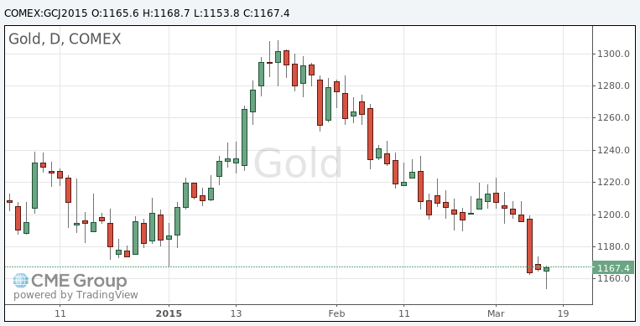 Last week gold was falling for 4 days through Thursday, but was holding above $1190. With a weaker employment report last Friday, I thought gold might get an oversold bounce. Well, the employment report was much stronger than expected, and gold got killed, running stops below $1190 support, $1180, and even $1170. Then on Monday, March 9, 2015, April gold traded in a very tight range, only rallying about $11 above Friday's low and barely closing up for the day. That is not at all bullish action, as one would expect to see a $15 to $25 bounce in a market as oversold as gold is right now. No surprise then, gold sold off overnight, hitting a low in April Gold futures of $1153.80. However, the $1150 area is a good support area and as expected, gold has bounced and now is challenging resistance again at $1170. The above chart looks like April Gold futures is trying to form a bullish hammer pattern, on the daily chart. It is too soon to declare a temporary bottom, but if a bullish hammer pattern is formed today, it would be the first bullish thing that has occurred in this market in a very long time. However, if you add $25 to $30 from the $1153.80 low, you get a target of $1188.80 to $1193.80. After experiencing the recent carnage, it will be difficult for April Gold futures to rally back above $1190. What was once support will now be resistance. If $1190 resistance is breached, strong resistance at $1200 could stop any rallies in the near-term.
Since topping at just above $1300 in January, gold futures has fallen $155. I have continued to successfully scalp from the long side, buying on every new low. By getting out quickly on a small bounce, I have not gotten caught and have not "hung" any of my long futures contracts. Below $1200, I definitely prefer playing the long side over the short side, on scalps, as I am not that bearish long-term. However, I am still cautious in trading gold right now as a lot of damage has been done and it will take some time to repair the technical chart damage. What adds to my caution is the fact that the mining stocks have been even more bearish than the gold metal. IAG, a stock that I have been recommending, and still believe it will trade to $5+ in the next year or two, has now fallen from the $3.30s, to under $2. I am very bullish on the stock at prices below $2, but there is no guarantee that the stock will not take out the low in the $1.40s and trade to as low as $1. (Note: If IAG does hit $1, just know that I will be backing up the truck and grabbing all the shares as I can afford!)
Be advised that March is not historically a time when gold likes to rally. In fact, Bloomberg just posted an article, click here, that explains how seasonally, March is the worst performing month for gold bulls. Hard to imagine though that gold could have a worse month than it just experienced in February. This year the March weakness came early. With the recent action, the chances of having to test the bottom support levels of $1130 to $1140 in gold, that were established last fall, have increased to at least 2 chances out of 3, with at least a 50/50 chance that the support will be broken. We might not make a hard drop if support is broken, but we are definitely now vulnerable to see a move to $1100 and possibly as low as $1065. Such a move would also satisfy Elliott Wave Theorists who have been calling for a marginal new low in the metals, prior to a lasting bottom being formed on the charts.
One chartist that I like to follow is Gary Savage, a man who appears to be equally comfortable being long or short gold, with no overreaching bias. I tend to reject prognostications from those who are diehard bulls or bears. Gary Savage was interviewed on Al Korelin's radio show on Monday, with the audio found here. I recommend listening to what Gary Savage has to say. He begins talking about oil and the stock market but then gets to gold. I agree with Gary's assessment that gold is now vulnerable to moving to lower levels prior to bottoming for good. Once we do bottom, I am quite comfortable in being aggressively bullish gold in anticipation of a rally that will move several hundred dollars higher and eventually move to all-time highs and beyond. By September 2015, gold will have been in a 4 year bear market, and if gold does not bottom by then, it will set a record as the worst bear market in the history of trading for gold mining stocks. I don't see that happening but it could. If the gold mining stocks should make new lows though, just realize that they are a generational buy and buy them with gusto, even though you could get your hands soiled with all the blood in the streets!
Disclaimer:
The thoughts and opinions in this article, along with all Stocktalk posts made by Robert Edwards, are my own. I am merely giving my interpretation of market moves as I see them. I am sharing what I am doing in my own trading. Sometimes I am correct, while other times I am wrong. They are not trading recommendations, but just another opinion that one may consider as one does their own due diligence.