During my research today, I have come across several articles with very timely information that I would like to share. I will begin by covering natural gas, and then move on to crude oil and gold.
March 19th Could Be Short Term Top In Natural Gas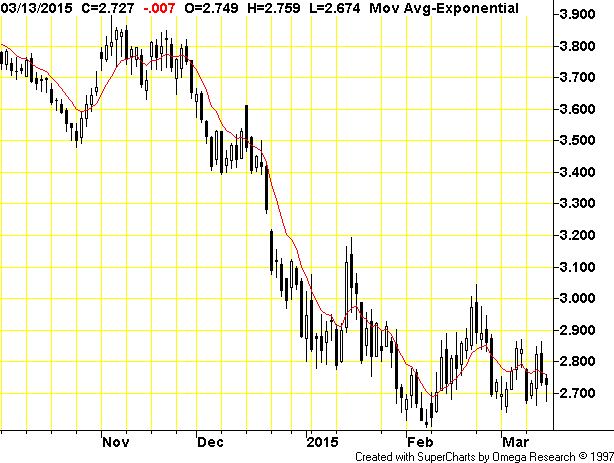 Looking at the above chart, one will notice how natural gas tried to bottom in January around $2.80 support. Many of those trying to pick a bottom were surely stopped out when that support gave way in late January, causing a bottom in the low $2.60s. However, natural gas regained its footing at lower prices and thanks to some cold weather hitting, was able to briefly trade to the $3.00+ level. It is now trading sideways between $2.66 and $2.88. This action gives me more hope that we probably won't fall that much lower in 2015 before we bottom and begin the long trek to higher prices.
Back on February 28th, I wrote an article found here, where I identified the current trading pattern to what occurred three years ago. Just as natural gas bottomed in April 2012, I was now predicting a similar major bottom to occur in April 2015. Well, I have now located an article from Main Street Trading found here, where the author also mentions the three year cycle of natural gas, and also is looking for a major low to occur in April 2015. Main Street Trading shows how the current action is similar to what occurred in 2012 and in 2009. But Main Street Trading also adds a very important point that March 19th was the last major high point those two previous times, before falling to the April low. Thus, this Thursday, March 19, 2015, on the day of the weekly natural gas inventory report, we could hit a major high in natural gas just prior to or following the report that day. We should then start a 4-week selloff into the Spring low. Those who are invested in the triple leveraged bullish natural gas ETN (NYSEARCA:UGAZ) may want to utilize any strength we see in the market prior to and during Thursday to buy some leveraged bearish natural Gas ETN (NYSEARCA:DGAZ) to offer protection as we anticipate a 4 week selloff to follow, taking us to the seasonal April 2015 low.
Crude Oil Could Also Be About Thirty Days From Its Low
In my February 28th article, I also predicted a low in Crude Oil to come in April 2015. Recent price action makes me more confident in that prediction coming to pass. For one, Jim Cramer pointed out this week that the junk bond market which is loaded up with oil company paper, is rallying rather than selling off, click here for video. The oil companies have been able to look to Wall Street to borrow and stay afloat. Drilling costs have dropped, and I agree with Cramer that the oil stocks probably have already bottomed. Could the futures market be that far away? The last couple days dozens are coming out of the woodwork predicting much lower prices down to $30 or $20. This is hogwash. It is unlikely we trade much under $40 and the worst case scenario might be $35, but only for a day or two. On Friday the US mentioned they will be adding to their oil reserves. China has already begun buying and should increase purchases on lower prices. India has no emergency oil reserves but is expected to begin buying shortly. Here is a daily chart of May Crude Oil futures: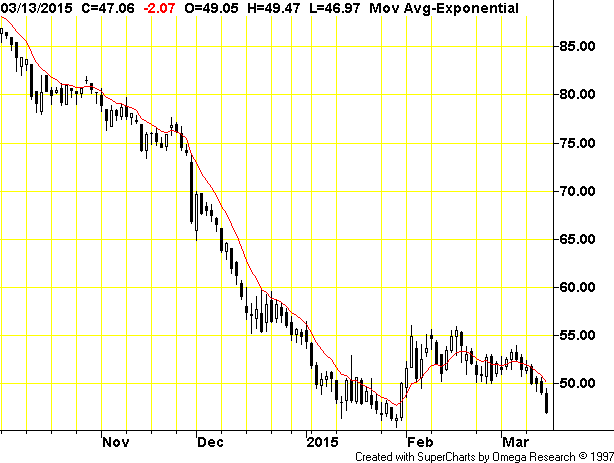 On Friday on Stocktalk, I mentioned that one could begin buying crude oil and energy ETFs and ETNs but be a scale in buyer. I am recommending buying 10% now, and another 10% down on every drop of $1 in crude oil. If one had $50,000 to invest, buying $5,000 of an ETF or ETN, every time crude oil drops another dollar, the number of your shares you can buy will increase as the price of the ETF or ETN goes lower. Thus instead of needing to rally back half way to break even, one may only need to rally back 35 to 40% off the lows to reach a break even point. Those less anxious to trade can wait to buy until we reach $40 to $42 in crude oil to buy. And then buy 1/3 to 1/2 of your position, and add more if we should trade into the $30s.
Tom Aspray wrote an article on crude oil and gold on Friday, click here. I agree with Tom that crude oil could hit $40 or a tad lower, but that the energy stocks could have already hit their lows. Tom Aspray is looking for more weakness in gold, and I will cover that market now.
Still Like Buying The Dips In Gold As We Drop Lower & Lower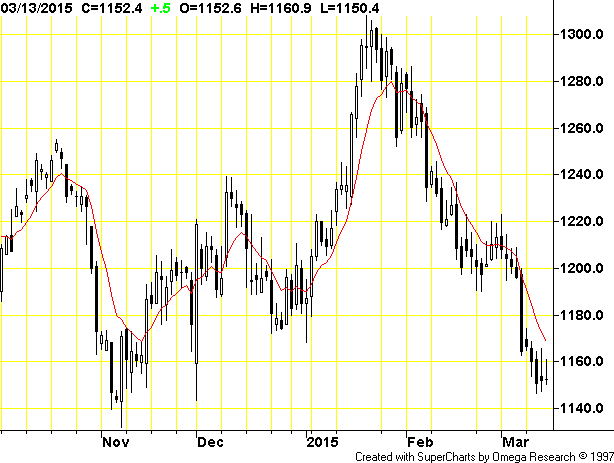 It is amazing that I have been able to successfully trade gold from the long side, soon after it topped out just above $1300 recently, all the way down to the $1140s and $1150s where we now sit. I never "hung" any contracts along the way. Well, if I have not hung any contracts to this point, it is doubtful I should get in too much trouble buying into major support and even a break of that support. The reason I have remained bullish gold, can be found in an article by Jason Hamlin, located here. We both see the current weakness in gold and the miners as an excellent long-term buying opportunity.
I expect gold will bounce on every new low that it makes in the next few weeks, just as it has done so far in the current downward correction. I will be buying every dip, especially when new lows are struck. $1130 should be a great spot to go long, and a break of support should open the door to $1100, which should be a fabulous spot to get long gold. Although there are many predicting an ultimate bottom in gold at $1000 or as low as $850, I feel that the most likely bottom will occur in the $1065 area and we may not trade much under $1095. I am buying gold using micro 10 ounce futures contracts. Every $1 drop in gold only translates to $10 per contract. I can buy every $2 drop lower, and relish getting more contracts bought on further weakness as I average down. Should we finally trade down to the $1065 to $1095 area, I will probably switch over to the full 100 ounce contracts because I want to own several under $1100. I do not see the price of gold being sustainable under $1100 long-term, due to the price of production of the miners.
Finally, Neils Christensen of Kitco News, had a good article showing what we can expect next week, click here. On Wednesday we get the "dreaded" FOMC policy statement that could be the catalyst to lower prices in gold. If we should fall into the Wednesday announcement then I will be lightly buying into the report. You can bet that if gold does plummet post report, I will be aggressively buying into that dip, especially if the $1130 support level gives away. Professionals will get rich running the stops under $1130, and I expect to profit as well. Nothing could be more bullish for gold, than to make a marginal new low, with major new shorts entering the market under $1130 and longs giving up at the bottom. I can hardly contain myself in anticipation of the final dip lower as it should surely be the long anticipated bottom we have been looking for!
Disclaimer:
The thoughts and opinions in this article, along with all Stocktalk posts made by Robert Edwards, are my own. I am merely giving my interpretation of market moves as I see them. I am sharing what I am doing in my own trading. Sometimes I am correct, while other times I am wrong. They are not trading recommendations, but just another opinion that one may consider as one does their own due diligence.