For a nice description of the current technical picture of both gold and silver, click on the article by Michael Noonan article found here. The author is looking for a possible several week correction. However, I do not believe that gold has necessarily topped quite yet. I have a proprietary "count" system that uses cycles and my system tells me gold should remain perky for another week at least. My analysis is in agreement with I agree with Main Street Trading Advisors, who is also indicating possible further strength in gold for at least another week, click here. Here is a daily chart of June Gold: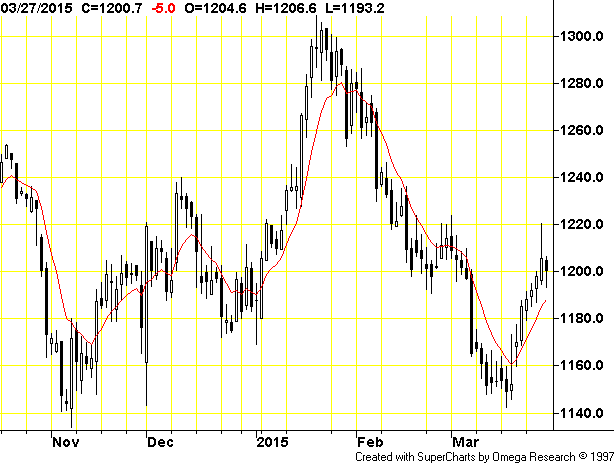 When you get seven straight up days off a low, it is always a remarkable move, it tells you that the market was extremely bearish and a short-covering rally was due. We have now popped virtually $80 off the recent low and could consolidate for a day or two. However, I would look for $1190 and $1180 to be excellent support, should we retrace a bit more. I would then expect to see a retest of the highs in June Gold of at least $1220 and possibly $1236 to $1240 or higher, before rolling over. I am lightly long over the weekend and will be continuing to scalp from the long side.
Because we are still in a bottoming process, despite the recent strength, I have not been playing the triple leveraged gold mining ETFs, and instead have been recommending buying Iamgold (NYSE:IAG). Here is a daily chart of IAG: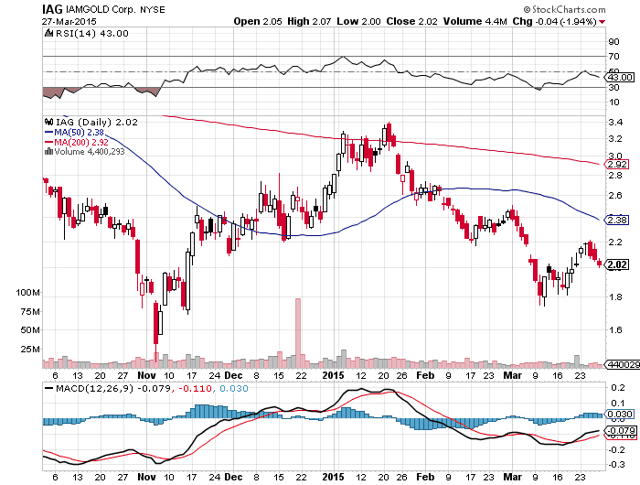 On the recent dip below $2.20 support, I bought IAG at $2.18, $2.08, $1.94, $1.84 and $1.76, with my average price being just under $2.00. I liquidated 40% of my position at $2.02 when we rallied to $2.03 on March 12th. I then bought heavily on the dip back to $1.81 on March 18th. On Wednesday, March 25th, when IAG rallied just above $2.20, I liquidated all my remaining shares at $2.20, so even my highest shares purchased at $2.18, were profitable. I have since not bought anything back but will be buying again on any dips below $2.00. With Friday's close at $2.02, I would not mind buying at $1.97 and adding every 5 cents lower. I do not anticipate falling below $1.80 but if we should take a quick dip lower, I will be backing up the truck (if you know what I mean!). I still anticipate a move to $4 and eventually $5 and higher in IAG, but that move may not come until the 1st quarter of 2016. However, I know of no better speculative stock to buy right now on dips, than IAG. My timing in this stock has been perfection. That could always change but for now, I have its number and so I am going to keep playing it! Scale in buy and then on rallies, scale out selling. You won't suffer the slippage you have in JNUG or NUGT. You will have staying power if it takes a bit longer than expected for gold to bottom. If gold ever does bottom, and surely it will sooner than later, and trades back to $1900 or higher, IAG could be back in the teens if not the twenties! This stock has potential to be a 5 to 10 bagger in the next 2-3 years, IMHO. In 2011 this stock triple topped in the $22 to $22.52 area, and I expect to see that high taken out when gold eventually trades to $2,000 and above!
Disclaimer:
The thoughts and opinions in this article, along with all Stocktalk posts made by Robert Edwards, are my own. I am merely giving my interpretation of market moves as I see them. I am sharing what I am doing in my own trading. Sometimes I am correct, while other times I am wrong. They are not trading recommendations, but just another opinion that one may consider as one does their own due diligence.