June Gold Futures
Michael Noonan wrote an article Friday, describing how gold is just going nowhere fast, click here. When he talks of TR it is an abbreviation for "trading range". June Gold can't get below $1180 to the downside, nor above the $1220 to $1225 resistance level to the upside. Until things change, one can only play the ranges, going long gold and gold mining stocks when gold is trading below $1200, while shorting gold and gold mining stocks against resistance in the $1210 to $1225 area, and again at $1240 to $1250 if we ever get up there.
Although I was recently able to buy some Iamgold (NYSE:IAG) stock below $2.00, and still like buying all dips below $2.00, IAG has struggled to move above $2.20 and also remains in a tight trading range. One might be best served to look elsewhere for trades until gold and the miners catch some fire.
June Natural Gas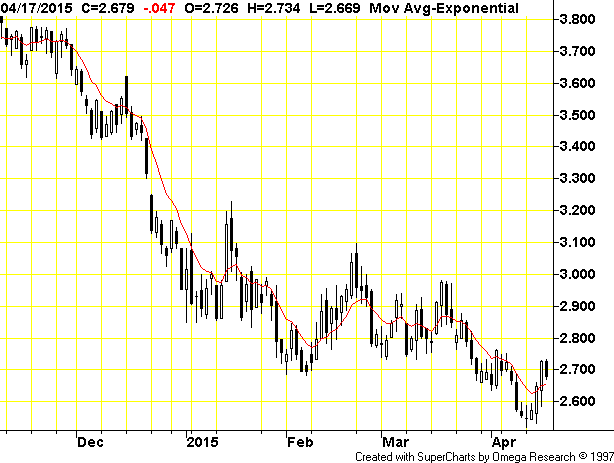 June Natural Gas futures bottomed on Monday, at a new yearly low of $2.521 and then bounced just as expected. If you have read my recent articles, you will know that I had been calling for a bottom in May Natural Gas futures at $2.50. Although the May contract ran stops under $2.50, hitting a low of $2.475 last Monday, that same day it closed at $2.511. It spent the rest of the week rallying, climbing over 20 cents off the low. Rallying 8% off the bottom, it translates to about a 25% gain in the triple leveraged ETN (NYSEARCA:UGAZ). I recommended buying in the mid $1.90s, $1.80s, $1.70s etc. The low in UGAZ on Monday was $1.85 while Thursday's high was $2.32.
June Nat Gas dropped initially after the bearish inventory report was announced on Thursday this week, but traders bought that dip and natural gas closed strongly higher. When June Natural Gas got back to unchanged, I got in and caught a 7 cent pop. I got out as I expected some retracement on Friday and that is what we got. When a market initially sells off on bad news but then reverses strongly higher, that is telling you that most of the bad news is already priced in. The March cold weather season has passed and it is awhile before we get the July air conditioning upsurge usage of natural gas by utilities. One would expect for April and May to be a time where natural gas prices fall. However, seasonally, natural gas prices like to bottom in April and we are probably very close to a major bottom in natural gas. I don't like playing the short side when we have already fallen to such historical low prices.
I still like buying UGAZ on small dips, as a scale in buyer, especially should it fall this week back to $2.00 or lower. I have been recommending the First Trust ISE Revere Natural Gas ETF (NYSEARCA:FCG) for some time. I liked it at $11.00 and even better when it traded down to $10 and a bit lower. Here is a daily chart of FCG: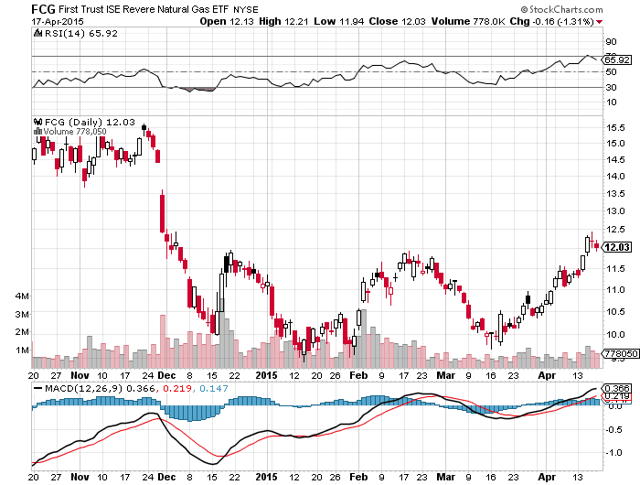 On a very short-term basis, FCG is getting overbought and could correct back closer to $11. However, it is showing signs that is has bottomed. In late December 2014 and later in mid February 2015, FCG could not overcome resistance at $12. The last three days FCG has had a close above $12, which I find quite significant. I expect to see prices eventually move to $15 and higher over the next few months.
June Crude Oil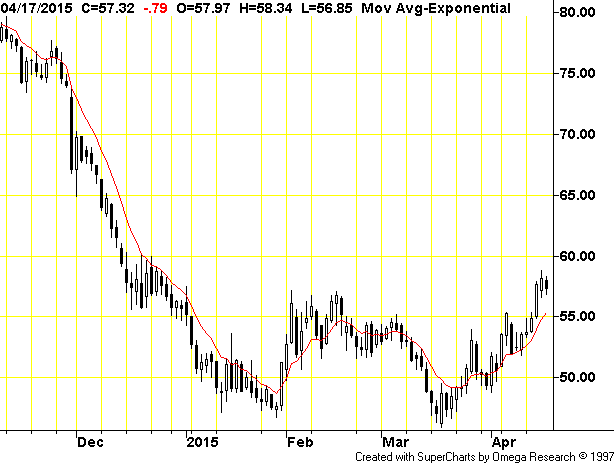 June Crude Oil bounced off its lows in early February, but was turned back when it hit the $57.11 to $57.18 resistance area. Three times in February, June Crude Oil tried, but failed to move to higher levels. Then in the middle of March, after making a marginal new low (just to run stops), June Crude Oil rallied first to the $54 area, then to $55.50, before finally stopping at $58.82 on Thursday this week. Since the beginning of this year, the only way to play the crude oil market is from the long side. In my articles I have been steadfastly bullish crude oil and recommended buying all dips. That has worked out quite well and I see no reason for things to change. Above $60, Crude Oil will begin hitting some significant resistance levels and it is doubtful we can sustain a move higher than $65 in the short term. Above $60 could bring some production back online that has been taken off line and could act to throttle back further gains. Still, all dips should remain a buy, especially if June Crude Oil should fall back to the $50 to $52.50 level. Don't believe all the hype about crude oil falling into the $20s or teens. No move below $40 is justified longer term or even short term, so all dips below $50 should remain a screaming buy! Happy trading!
Disclaimer:
The thoughts and opinions in this article, along with all Stocktalk posts made by Robert Edwards, are my own. I am merely giving my interpretation of market moves as I see them. I am sharing what I am doing in my own trading. Sometimes I am correct, while other times I am wrong. They are not trading recommendations, but just another opinion that one may consider as one does their own due diligence.