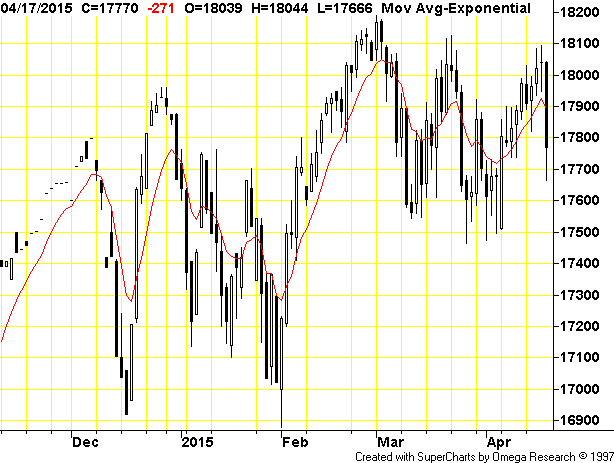 On Friday, April 17, 2015, the Dow Jones fell 374 points before bouncing over 100 points off the low to close down 271 points (see the above daily chart of the June Emini Dow Jones Futures). I am a technician who likes looking for similar price action and patterns in the recent past. I call them "doppelgangers" as it is like finding your twin. What happened the last time such a pattern was struck, could give a hint for the future. More on that in a minute.
For over 2 weeks, the stock market and thus the June Emini Dow Jones futures, had been in a nice uptrend. But then came Friday when in a single day, we fell to price levels not seen in 2 weeks. This action formed a triple top. The first top was at 18188 on March 2nd. The next top was at 18126 on March 23rd. On Thursday we made the third top at 18093. The last couple times we failed to make a new high. In March we dipped to a low of around 17550, but then in early April dipped to just under 17500. I expect to see a marginal new low soon a bit further below 17500 as a downward channel is being formed.
Now, the last time we topped out (just 3 1/2 weeks ago), it was followed by a hard smackdown day, (March 25th). That is the doppelganger to the candlestick formed on Friday, April 17th. The next trading day the Dow made the low below 17500. I expect that Monday of this coming week, we could see a similar carry through to the downside. However, if we should fall closer to the 17500 area, it should find some temporary support and should bounce.
There is an alternate scenario, a Monday rally. Back on March 6th, a few days after the first top was formed, we got a hard smackdown day making a new low going back a couple weeks again. However, that time there was a rally of over 50% off the lows the following day. But then the next day we saw another hard smackdown day.
Thus, if Monday should be a nice snapback rally day, don't be surprised if Tuesday, April 21st we see another hard selloff with a bottom coming on Wednesday. The fact that we ended up closing over 100 points off the low on Friday, increases the chances that Monday is an up day. But even if Monday is higher, we should continue lower for Tuesday and into Wednesday where a short-term low can be expected.
In Summary, I am recommending selling into any strength seen early in the week, as we should either go lower by the end of trading on Monday, or go lower on Tuesday and Wednesday if Monday is an up day. Will be fun to see if I am right in my price action guess.
Disclaimer:
The thoughts and opinions in this article, along with all Stocktalk posts made by Robert Edwards, are my own. I am merely giving my interpretation of market moves as I see them. I am sharing what I am doing in my own trading. Sometimes I am correct, while other times I am wrong. They are not trading recommendations, but just another opinion that one may consider as one does their own due diligence.