Taki Tsaklanos of Secular/Investor.com, click here, wrote an excellent article that warns investors to not embrace the current low interest rate environment as it will surely end badly. His answer to the current dilemma is to own gold. I wholeheartedly agree.
Right now, the U.S. (along with most countries in the world), is embracing a negative real interest rate environment to combat deflation and to try to spur growth. The Fed has announced that small measured increases in interest rates are coming, but has delayed the start of the rate increases over fears of upsetting market participants. It is apparent that once rate increases begin, either in June 2015, September 2015 or later, we will probably not get more than 2-3 rate increases the first year. Thus, for the foreseeable future we will only go from extremely negative interest rates, to slightly negative interest rates. The fear of an increase in interest rates has supposedly been a negative influence on gold. I say it has been the opposite. Once they actually increase rates by a quarter point, gold should rally and not fall. The uncertainty of the Fed dragging its feet is not doing gold bulls any favors. Get on with it already! We have more to fear from the Fed dragging their feet on raising rates, than from raising them! Better to be early than to be late!
Another person who appears to share these same sentiments is Stan Druckenmiller, a billionaire investor with great knowledge and insight. He was recently interviewed on Bloomberg.com, click here, where he mentions how the current environment is similar to the markets in 2004. It is a long interview but well worth the time listening. Rarely will you find anyone who can spit out numbers like Stan does without looking at any notes. He is really brilliant and when such an intelligent market participant speaks, it is worth listening to. All that I am going to say for now, is that if 2015 is similar to 2004, then we need to be investing in gold right now, just like one should have been investing in gold in 2004! Take a look at the monthly chart of gold, as follows: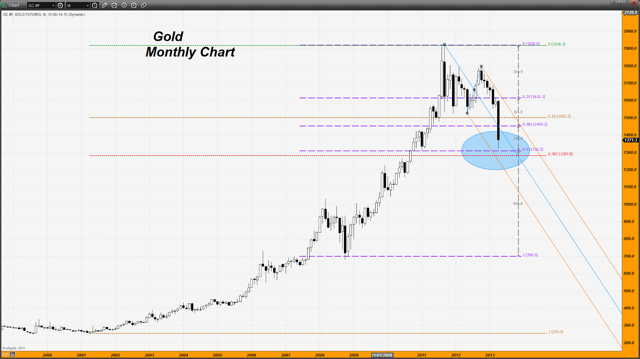 If you look at where gold was trading in 2004, it was going sideways. But in 2005, it started to pick up some steam. Then in 2006 gold exploded higher and after 5 more years, hit an all-time high in 2011. I hope Stan Druckenmiller is right about this being like 2004! The bullish implications for gold are astounding!
I will end this article with a reference to Chris Vermeulen at www.TheGoldAndOilGuy.com. Friday he wrote a great article on kitco.com, click here, where he projected a future gold price of $5,000+ in the next 3 to 5 years. Chris might be a bit aggressive on his targets as we may stop at $3,600 and may take a bit longer to reach $5,000+, but I believe he does have the direction gold will be moving, correct. Should be fun!
Disclaimer:
The thoughts and opinions in this article, along with all Stocktalk posts made by Robert Edwards, are my own. I am merely giving my interpretation of market moves as I see them. I am sharing what I am doing in my own trading. Sometimes I am correct, while other times I am wrong. They are not trading recommendations, but just another opinion that one may consider as one does their own due diligence.