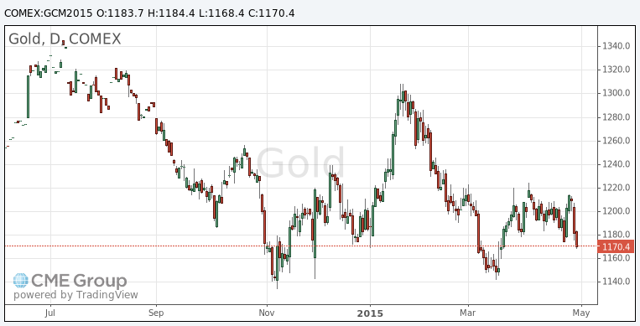 The above daily chart of June Gold Futures confirms that although gold has suffered a nasty selloff the last couple days, it remains in a tight trading range, between $1140 on the downside and $1224 on the upside. Last week June Gold futures hit a low of $1174.10 and then bounced nicely to trade towards $1215. Well, today that support level of $1174.10 was obliterated, thanks to a 5000 contract sell program that hit between 8 a.m. and 9 a.m. EST. The low so far today is $1168.40 which may or may not hold. However, being down for the third day in a row, I am hopeful that beginning Monday we see a nice short-covering rally begin. The bounce off the lows, should be in the neighborhood of $20 to $30. Based on the current low of $1168.40, that would project a swing high of $1188 to $1198.
There is no explanation for the severe drop in gold prices on Thursday, April 30, 2015. Regardless of what some pundits are saying, there was nothing hawkish about Wednesday's Fed statement. If anything, the statement was dovish, meaning the Fed is more inclined to hold off on raising of interest rates. If we do actually get an interest rate hike in 2015, it will surely occur in September or later, and should not be more than a quarter point. The only reason the Fed will raise rates is to save "face" and to give the appearance of possessing a small bit of credibility. All that would be accomplished with a small rate increase, is a move from extremely negative interest rates, to just marginally negative interest rates. There is no reason for anyone to panic, including stock investors, at this time. Everyone knows that the moment we get as much as a 10% correction in the stock market, the Fed will be running back in to stimulate the economy with more easy money.
Anyway, there was no reason for gold to make a new 6-week low today. The US Dollar is off its highs. The stock market has a few jitters. Crude Oil is rallying. The Fed remains extremely accommodative. The only explanation for gold's weakness is that large players who can control the market, decided to band together and bring it down. Whether June Gold futures stops dropping at $1168, $1160, $1150, $1140, $1120, $1100 or $1065, I cannot say. I do know that over the past year, all dips under $1180 and especially $1160, have been short lived. We are at the end stages of a bear market in gold and gold stocks, that will soon hit the 4 year mark in duration. We are at the extremes in both time, and in price. The only safe way to play gold and gold stocks at this late stage, is from the long side. The risk to the downside is limited, while the potential gain to the upside is infinitely great.
Unfortunately we don't yet have a solid buy signal in gold, as the best one can say is that we are just moving sideways in a large trading range. We are now approaching the lower end of that range and should soon see a bounce, either from support in the $1140 to $1160 area, or from marginally new lows. Anything below $1180 is a buy longer term, IMHO. We are just waiting for a catalyst to get the ball rolling to the upside. If Asian or Indian buying does not show up soon, or if Greece stays with the Euro, etc., we could drift around for a bit longer. Without a fundamental reason to buy, eventually we will have a good technical reason to buy. When the bears drive the price down to a low enough level, they will exhaust themselves and will have driven out virtually every last bull. Then there will be no other direction to move but up, and we should see the mother of all short-covering rallies.
Anyway, as I type it is 10:00 a.m. on Friday, and gold just jumped from $1172.90 to $1179.70. That buy program is very helpful for the bulls. Maybe we won't have to make new lows today and can begin a 1-2 day rally back to the $1188 to $1198 resitance area beginning late today or Monday. It is the weekend and maybe the bears will want to cash in and maybe we get a late rally today in the $10 range. I think I will play for that.
Disclaimer:
The thoughts and opinions in this article, along with all Stocktalk posts made by Robert Edwards, are my own. I am merely giving my interpretation of market moves as I see them. I am sharing what I am doing in my own trading. Sometimes I am correct, while other times I am wrong. They are not trading recommendations, but just another opinion that one may consider as one does their own due diligence.