Main Street Trading performed some cycle work on natural gas, and concluded that we should get an April low in Natural Gas prices. This coincided with my conclusions after doing similar cycle study over the past 3 years. Well, Main Street Trading just wrote an article, updating what they now see going forward, click here. We did get a nice April low and bounce, but are still vulnerable for a correction to retest the lows. It is unlikely that we have a "V" bottom when one considers how protracted the downtrend has been. But if we should continue higher next week, getting above $2.800 would open the door to a move to good resistance at $2.980 to $3.000, as mentioned in the cited article. However we may stall out in here today or Monday and turn lower first, retesting the low and then rallying. Note, on a retest of the low, we could hold above the recent support, or make a marginal new low. Either way, all dips should be a buy. A new low should be a screaming buy! Here is a daily chart of June Natural Gas:

June Natural Gas bottomed as expected on Monday of this week, and has now rallied nicely, taking out the recent high of $2.734 made on 4/17/15 and the high of $2.765 scored on 4/02/15. So far today June Natural Gas has traded as high as $2.789. It could stop around $2.800 or keep going towards $3.000. In any case, a bottom is in the process of being formed and all dips should now be a buy.
In my recent articles and on Stocktalk, I have been recommending the purchase of the triple leveraged natural gas ETN (NYSEARCA:UGAZ) as natural gas fell to just under $2.50. Many of my readers bought UGAZ in the low $1.90s last Friday, to the mid to low $1.70s scored on Monday of this week. I personally elected to take profits at $2.00 in UGAZ prior to the Thursday inventory report, but some held out to be able to take profits in the $2.20s or higher. I am now recommending the purchase of UGAZ (very small position) right here at $2.40, but one should scale in buy down to $2.00 and lower. As we drop back, I would recommend buying bigger position size. I will watch closely to see what natural gas prices do over the weekend. If we are going to continue to rally, it is worth playing the move in June Natural Gas from $2.80 to $3.00. However, I feel the most likely scenario is that we get a correction back lower early next week, and June Natural Gas falls back closer to the $2.60 to $2.67 level. That would correspond to a price of $2.10 to $2.20 in UGAZ. I will conclude by providing a daily chart of UGAZ: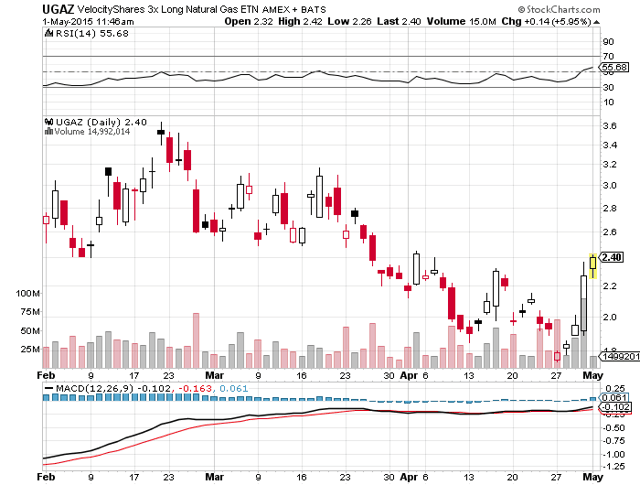 Disclaimer:
The thoughts and opinions in this article, along with all Stocktalk posts made by Robert Edwards, are my own. I am merely giving my interpretation of market moves as I see them. I am sharing what I am doing in my own trading. Sometimes I am correct, while other times I am wrong. They are not trading recommendations, but just another opinion that one may consider as one does their own due diligence.