Gold Should Bottom By June 1, 2015
Last Friday I wrote an article, click here, saying that I thought we were due for a late day rally and then should pop $20 to $30 higher in gold on Monday, May 4, 2015. Well, we got our late day rally on Friday of $9.50 off the low (I had predicted $10), and today we have rallied just under $24 off the $1168.40 low of Friday, in June Gold futures. We have rallied about the middle of my range of $20 to $30 that I had predicted, but I remain hopeful that we can rally a bit further, closer to the $1200 resistance level, probably later today.
Over the weekend I did some research on Gold to include cycles and such and concluded that we could start looking up in gold, but may not get the rally really going until the first week of June 2015. Between now and June 1st, I plan to position myself long the June and later August Gold futures and gold stocks through GDX and GDXJ ETFs.
Since April ended and we have another bar completed on the monthly chart, it turns out that we closed down 70 cents for the month of April, making the 3rd straight down monthly close. Here is a monthly chart of gold using the nearby month: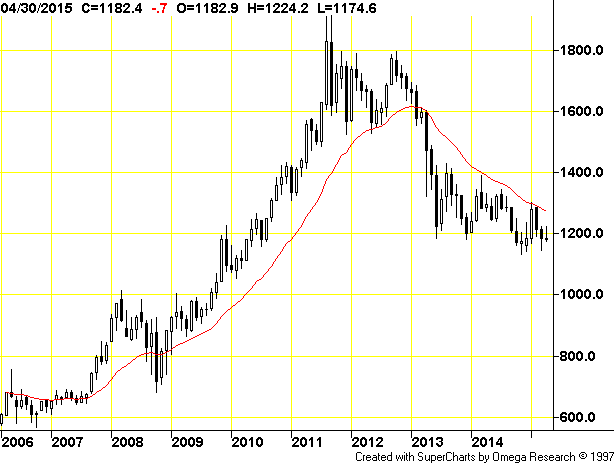 The pattern that was formed on the last bar is called a Gravestone Doji, click here. When it forms at the end of an uptrend, it is usually called a Shooting Star, and is a sign that a bearish reversal down is now about to occur. However, when this pattern is formed during a downtrend, it is closely aligned to an Inverse Hammer pattern, and can signal an uptrend is about to occur, however, the turn could be delayed by one more bar. Since this pattern was formed on the monthly chart, we could still have a weaker May, however, beginning in June 2015 we should see a rally that should last for 2-3 months and carry gold to much higher levels.
If you look at the above monthly long-term chart in gold, you can see that a year ago, in April 2014, a similar Gravestone Doji was formed. And then in May 2014, we did go down for another month. However, as soon as June 2014 began, we got a bullish Marubozo pattern. Well, I am looking for a repeat of what occurred a year ago, assuming we drop during the month of May. However, it is not required that we go down for another month and in fact last Friday's low of $1168.40 could be the low for the month.
If you look at the weekly chart of gold, we closed down for the third straight week and last week we formed a Gravestone Doji on the weekly chart as shown here: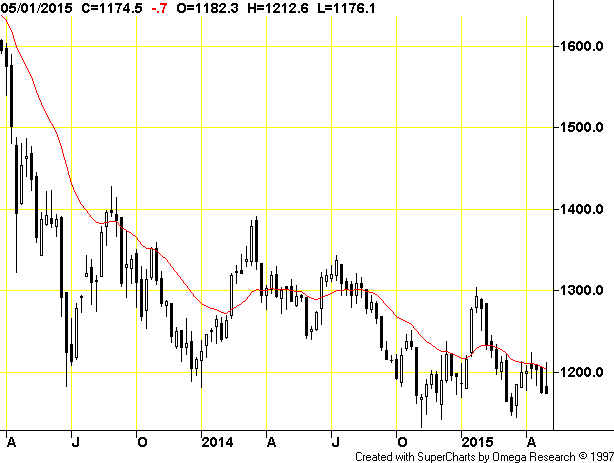 This chart does not show the $1168.40 low of June Gold hit on Friday as the low of the week, as it used May Gold futures as the lead month and it is about to expire and hardly traded Friday. Still, with a nearly inside week down and closing far off the highs, we were due to see a snapback rally today. We also had 3 consecutive down days, which has not happened for awhile, and is was very doubtful we would see 4 down days. The late day rally made the drop under $1174 a false breakout to the downside. This explains how I came up with my bullish prediction for today, and indeed that is exactly what happened.
Now, since we have rallied at least $20 off the low, we could top out later today or Tuesday and again retest the lows. by the end of this week. We could even end up with a down week by Friday. However, I see the $1160 support level holding and do not anticipate a break of the $1140 to $1150 support area during the entire month of May 2015. I base that prediction on the fact we are getting a lot of back and forth action, both up and down, and lack the conviction to move drastically one way or another right now. Snapping back off the lows on Friday, helped curb the bearishness then, and today's snapback rally also helps curb the bearishness for this week.
In summary, I am looking for a continuation of the range trading that we have seen recently in gold, to possibly continue for the rest of this month. However, beginning in June 2015, one should get positioned long gold and the gold miners. If one is trading the gold miners you can use ETFs of GDX (Majors) or GDXJ (Junior Miners). However, if scalping (quick in and out daytrading) is your style, that should also work out well.
How To Play Using The Leveraged ETFs
Recently several traders have contacted me asking me to help them develop a trading strategy to get out of their losing positions in JNUG, JDST, or both of these. Others are caught at much higher prices in NUGT, DUST, or both of these. Let me say here and now that the leveraged ETFs (especially the 300%) leveraged ETFs, have significant slippage and one should not carry them longer than a day or two at a time, and no longer than 5 days, ever! The biggest mistake one can make is to buy them and forget them. Holding long or short, both sides will eventually work themselves towards zero, but it may take a few months or even years to see the ultimate loss of all of your funds. Never be paralyzed by fear. Never freeze. When these move against you, to be successful you have to get extremely aggressive to work yourself out of the loss. If you are not up to doing aggressive daytrading, then stay out. Instead stick with the unleveraged ETFS (NYSEARCA:GDX) or (NYSEARCA:GDXJ). Take a look at the daily chart of JNUG, the bullish triple leveraged Junior Miner ETF: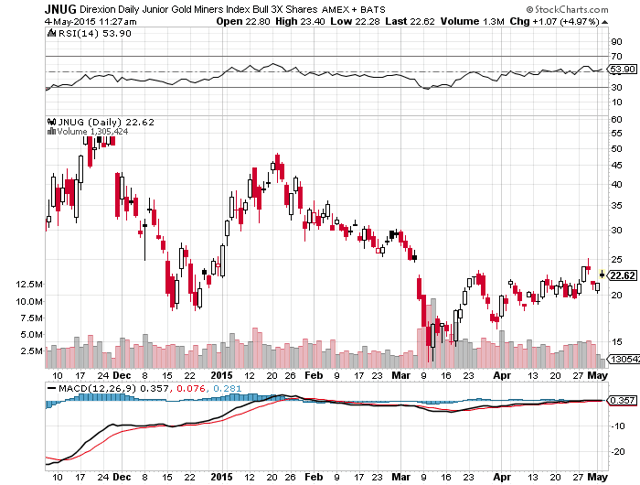 In February, JNUG was trying to hold support around $30, but slowly drifted down to $25. One could have done scale in buying and get out at breakeven or at a profit when JNUG rallied back to $30 at the end of February. But then came the plunge first to $25 and then a big gap down and drop in just 3 days to $13.16. If one happened to get caught long in JNUG and rode through the bottom, buying more shares at $15 would have worked out fine. Within a couple weeks JNUG hit a high of just above $23. It then fell within a week to a low of $16.24 and has continued moving up and down in a channel with an upward bias. In fact, on Wednesday of last week, it hit a high of $25.23, which is above the $25 mark and the gap has now been filled. Being the volatile instrument that it is, Friday's low was $20.25 so one has to sell when one has profits to take. Right now I like buying JNUG in the $20 area and lower, while taking partial profits on all rallies. I seriously doubt that the $15 to $16 support area will be violated in the near future.
However, if one was bearish the miners and wanted to play the bearish leveraged Junior Miner ETF (NYSEARCA:JDST), one could have done quite well recently trading that. Check out the daily chart of JDST: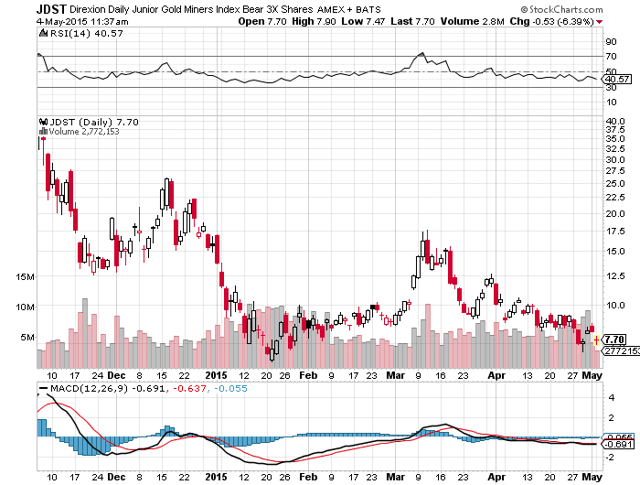 JDST is the mirror image of JNUG, as it goes down when JNUG goes up, and visa versa. When gold traded above $1300 in January 2015, and the miners got their big January rally, JDST hit a low of $6.51, having fallen from a December 2014 high of $26.11. Had one averaged down from $25, all the way down to $7, the average price could easily have been around $16. I would not recommend holding through that level of carnage, but for illustrative purposes, one can see how one could have broken even when we rallied back to a high of $17.61 in March 2015.
In late March 2015, one could have bought into the dip down to $9.00 and then caught the 5 day rally to $12.69. The next dip was down to $8.80 and a pop in 3 days to $10.59. Then JDST spend a lot of time in the low $8 before hitting a low last week of $7.04, but in 2 days hit a high of $8.71 on Friday.
I already showed how one could swing trade JNUG. Well here I have shown how JDST could also have been swing traded successfully. When something like JDST is in a downtrend, then buy shares only after making a new low, and space out one's buys. Then get out in a day or two of any rallies. If buying something in an uptrend, like JNUG is right now, then buy on dips and sell out every time a new recent high is scored.
To summarize, I have shown how one could have made money in JNUG and JDST. One could have played the swings both up and down in gold and the miners, playing both sides if one is fleet of foot. This is how Lefty does the teeter/totter.
"But I am caught in a very bad losing position" you say, "How can this help me?" Recently someone emailed me with this very question.
If You Have Lost Most Of Your Money Already Then Just Get Out And Start Over, Making Money This Time!
Here is my email response:
The prices that you are in these are so far away that they don't matter anymore. Although you did not take your loss in fact, the money has disappeared in your bottom line nonetheless and much of it will never come back.
One needs to decide if they are bullish or bearish gold stocks. Since we have fallen so much, and for so long, odds favor the long side, especially since we have bottomed 6 weeks ago and started a nice uptrend in GDX, JNUG and NUGT.
What I would do is to try and swing trade these positions. Again, tight now, the JNUG position is doing much better as we have been in an uptrend for 6 weeks. If gold can bounce back soon, and JNUG gets back up towards $25, then I would completely take off the position, cashing it out for whatever you can salvage. Then on a dip back closer to $20, buy some shares back, starting over. I would calculate the loss that I took and just make a goal to get that money back over the next few months and not be concerned about the price you were in before.
Regarding JDST, since we are not in a downtrend and long-term JDST should work lower, I would cash out at a price of $8+ and then not trade it again. However, if you are inclined to try and get your money back, you could scale trade by buying every dip lower. That would have worked well during the current downtrend. From $17.50, JDST fell to $9 where it could have been bought and sold again at $12.50 on March 31st. Then we fell to $8.80 so you could have bought again around $9 and rode it up to $10.59. Then one could have bought in the low $8s and sold in the low $9s getting in and out every couple days. Finally JDST fell to $7.04 on Wednesday which would have been a great buy area since we then rallied by Friday to $8.71.
Since I am looking for a short-term bounce in gold and miners, if I was in your shoes, I would take any rally in JDST and get completely out, especially if I could get $8.50 or higher, with the intention to buy again on a dip, around $7. I would plan on buying at $7 and then dumping on a rally back to $8. Then next time I would look for a dip to $6 to $6.50 to buy again and dump out at $7 to $7.50.
The main thing is to get things working your way and taking advantage of what the market gives you. If we rally a few days, cash out the gain, even if it is an overall loss. You need to rid yourself of the old trades and start anew. I will try to make some suggestions over the next few days if I see something you need to do.
The reason Lefty can make money is that he plays both JNUG and JDST by swing trading each one. He buys the dips in each and sells out on rallies. Looking at the recent chart action, one could have made money playing both things, if one took advantage of the dips to buy and the rallies to sell in each. The main thing is to trade, even if it is wrong, and not hold on to these leveraged ETFs. The worst thing that you can do is to do nothing!
Hope this is helpful.
Disclaimer:
The thoughts and opinions in this article, along with all Stocktalk posts made by Robert Edwards, are my own. I am merely giving my interpretation of market moves as I see them. I am sharing what I am doing in my own trading. Sometimes I am correct, while other times I am wrong. They are not trading recommendations, but just another opinion that one may consider as one does their own due diligence.