This article is to give an update on where I see short-term trading opportunities now in the energy sector. I will start with Natural Gas and then cover Crude Oil.
Natural Gas Traded Above $3.00 Today, And UGAZ Hit My $3 Target
In my last article concerning natural gas, written on May 8th, click here, I explained how I predicted the bottom in natural gas. Well with the 20% rally off the lows, from just under $2.50, to just over $3, not only has the natural gas market bottomed, but it has met the definition of a bull market. Thus, the recent low is probably not just any old bottom, but is more likely than not, "the" bottom for 2015 and beyond. Maybe forever. Here is the daily chart of June Natural Gas: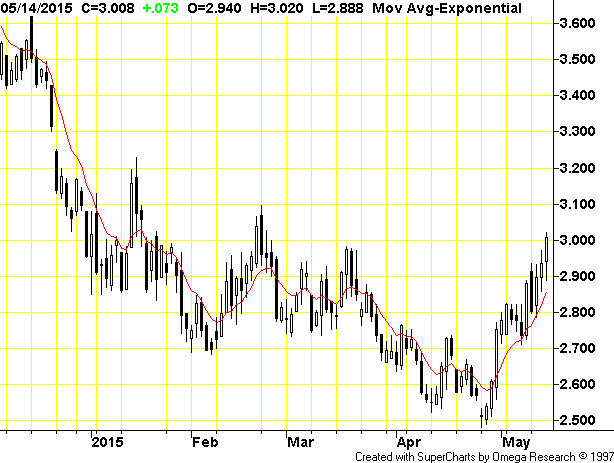 During the last week of April 2015, the June Natural Gas contract bottomed just under $2.50 and then rallied to the $2.82 area the first week of May (a gain of 32 cents). For 4 days June Natural Gas was stuck between $2.70 and $2.82. However, last Friday, May 8, 2015, June Natural Gas busted on through to close just under $2.90. Adding that same 32 cents to the $2.70 support, you get $3.02, which happens to be today's high. In my article last Friday, I predicted we would see $3.00 within a week, and we reached the goal in 4 trading days. Having reached the goal, one should take profits if trading in natural gas, or in the triple leveraged ETN (NYSEARCA:UGAZ). From my article, I had a $3.00 target in UGAZ and today's high was $3.01 and we closed at $2.99. The recent bottom in UGAZ, just less than 3 weeks ago, was $1.74. Many of my followers bought UGAZ under $2, and rode it up for big gains.
If you want a good fundamental explanation for the current rally, check out this great article from Tim Puko at firstenercastfinancial.com, click here. Power companies switching from coal to gas has helped fuel the current rally, but that only works if natural gas is trading under $3. Above $3, it is more economical to still burn coal, so the current rally may not have legs. With near record short interest by funds betting against the current rise, the rally was inevitable. Too many leaning to one side of the boat and they all got wet. So again it is time to take profits and some will be looking to buy the bearish triple leveraged ETN (NYSEARCA:DGAZ) to take advantage of a correction. It could work, but I strongly urge one to not hold the bearish bets for more than a day or two.
Looking at the above chart, you will notice how previous rallies in natural gas stopped just shy of $3, near $3.10, and just above $3.20. The resistance levels of $3.10 and $3.20 are quite formidable and it is unlikely they will be taken out right now. Friday's high may not exceed $3.04. Do not be surprised if we roll over and retest the $2.70 to $2.80 area in natural gas next week. If we should fall back towards the $2.80 area, I plan to buy natural gas futures and may pick up some UGAZ.
Crude Oil Bounced To Retest The Recent High, Just As Expected
My most recent crude oil article was written May 6th, click here. I was quite bullish when I wrote the article as the market was rallying strongly with no sign of a top. Here is a daily chart of June Crude Oil: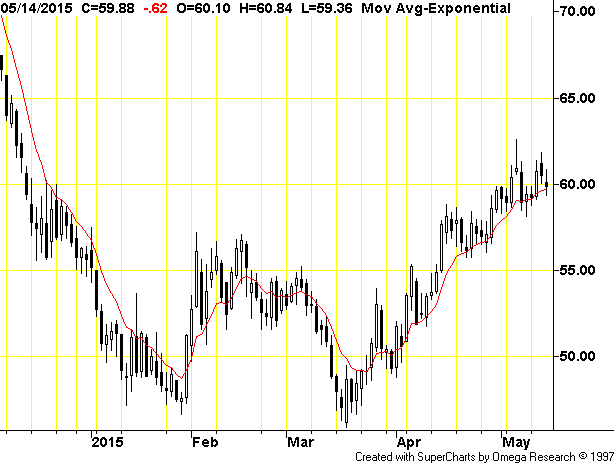 The day I wrote my article, the high of $62.58 was scored. I was hopeful then that the rally would continue to $65 and then to $70, in short order. However, by the end of that trading day, profit-taking had set in. We still closed up, but barely. The Japanese Candlestick pattern that was formed was a bearish Shooting Star. It marked a top, but only a temporary one. Because we had a shallow correction once we hit $58 resistance earlier, I assumed that topping in the $62s, we would again have a shallow correction, not falling more than $5. I was looking for support to show up in the $58 and $59 area. The actual low turned out to be $58.14 hit last Friday, May 8th. As one of my major rules of trading is, "One can almost always successfully buy the first dip", I strongly recommended buying into that weakness below $60, anticipating a retest of the highs. The trade worked out fine. Being a stock market forum, most traders trade a crude oil ETN, like the triple leveraged (NYSEARCA:UWTI). Here is a daily chart of UWTI: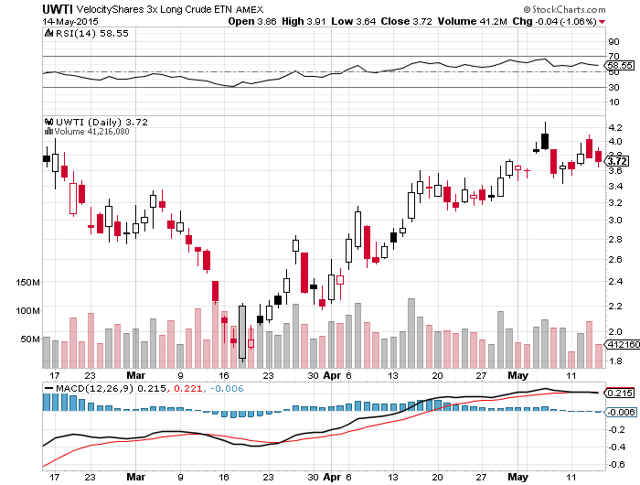 After bottoming recently at $1.79, UWTI hit a high on May 6th of $4.28. Just two days later, by last Friday, UWTI had fallen back to a low of $3.43. On Stocktalk, I was recommending buying UWTI on that dip below $4.00, using scale in buys every dime or so. One could easily have averaged down to the $3.70 price level, or a bit lower. Then on the retest of the high on Wednesday, May 13th, a high of $4.09 was scored, and I recommended taking profits above $4. Well today, May 14th, I again recommended buying UWTI again beginning at $3.65. (Today's low turned out to be $3.64 so any $3.65 orders were filled today). Again, I am recommending buying every dime lower to scale in buy UWTI. Just as we did not rally as high this week, stopping at $4.09 (19 cents lower than $4.28), do not be surprised if we should make a low about that same 19 cents below $3.43, which brings us an expected bottom at $3.24. If one was to buy at $3.65, $3.55, $3.45, $3.35 and $3.25, the average price would be $3.45, very close to the recent low. However, if one spends the same amount of money at each price level, one would get more shares at the cheaper prices, lowering the average further to below the midpoint. I am more aggressive than that. I like to buy twice at many shares at $3.25 than I bought at $3.65, and then take off half my position on a breakeven rally to free up cash.
After we bottom, one could then expect to see a rally back towards the $3.85 to $4.00 area, or higher within a few days.
Disclaimer:
The thoughts and opinions in this article, along with all Stocktalk posts made by Robert Edwards, are my own. I am merely giving my interpretation of market moves as I see them. I am sharing what I am doing in my own trading. Sometimes I am correct, while other times I am wrong. They are not trading recommendations, but just another opinion that one may consider as one does their own due diligence.