If you have been reading my articles related to Natural Gas, you will know how I recommended buying June Natural Gas when it was trading recently at the bottom, just under $2.50, and later set a target of $3.00, which was met the last couple days. I have now recommended taking profits on that trade, thinking we will now consolidate and soon roll over.
For those who only invest in stocks vs. commodities, they were buying the bullish triple leveraged ETN (NYSEARCA:UGAZ) near the bottom, below $2, down to the $1.70s. Later I recommended holding for a target of $3.00, which was also met the last couple days. Thursday we hit $3.01 and Friday we topped at $3.08 with a close of $3.01.
Well, after playing the long side for three weeks, I am now looking for consolidation of the recent gains and a short-term move lower. I am recommending scale in buying of the bearish triple leveraged ETN (NYSEARCA:DGAZ). But before I show a chart of DGAZ and give price parameters, we need to first look at the daily June Natural Gas Chart as follows: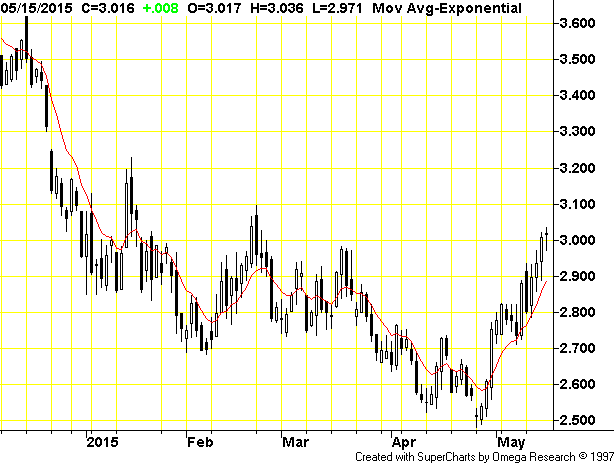 When I look at a chart of a commodity that I am thinking about going short, (selling at a high price with the intent to buy it back at a lower price in the future and pocket the difference), I try to see how the commodity traded on previous rallies.
Well, starting at the left side of this chart, June Natural Gas fell straight down from the $3.60s to the $2.80s. After consolidating for a little over a week in the first week of January 2015, June Natural Gas rallied in a couple days to just above $3.20 and within 3 days all the gains were gone. Had one gone short June Natural Gas on the first close above $3.00, they would have gone short at $3.15. The high of the next day was just one tick below $3.23 but closed down below $3.10, putting the trade in a profit of over 5 cents (each cent equal to $100 using the big contract or $25 if trading the mini contract). Within 3 days the traders could have taken profits at $2.90, earning 25 cents profit ($2,500 for the full contract or $625 if playing a mini). Natural gas worked its way lower and a couple weeks later was trading down to $2.70. From that base, another rally ensued. And in late February 2015, June Natural Gas again got a close above $3.00 on February 20th. Selling there in order to open a short position, one would have been filled at $3.037. Like before, the next day we rolled over and after a four day drop, we were trading back under $2.80, allowing for a profit of at least 24 cents ($2400 or $600).
The next rally we stopped at $2.98 just shy of $3.00, but selling into the $2.97 to $3.00 resistance level one could have quickly profited on a drop to $2.70, to $2.60, and eventually $2.50. Now from that $2.50 level we are now back above $3.00 and I now contemplate going short natural gas since June Natural Gas does not like closing above $3.00.
Now, I also like to look at a the above chart looking at each 10 cent increment. For instance, suppose I had gone short June Natural Gas the first close off the bottom back above the $2.70 resistance level. I would have gone short on April 30th at $2.75. Although we rallied for a couple days to $2.80 within 3 days we were back down to $2.71, allowing for the $2.75 short to be taken off at a profit. Then when the $2.80 resistance level was taken out, one could have shorted when $2.90 was hit. Since we hit a high of $2.935 and fell immediately back to the $2.80 area, the $2.90 short was also nicely profitable. Well, rallying off the bottom, if selling on the first close above $2.70 and $2.80 made money as well as the first move above $2.90, it is likely that shorting at $3.00 should also work out well.
What is helping any bear is the nice resistance levels established by previous peaks that come in at $3.10 and just above $3.20. There is also a nice gap to be filled between $3.25 and $3.30. If one started shorting now just above $3.00, and shorted again in the teens (between $3.10 and $3.20) and then again in the $3.20s, one should do great on the trade. It is very possible we won't even make it to $3.10 before rolling over, let alone $3.20 or higher. I will now put on a chart of DGAZ so traders can see what prices this natural gas translates to, as follows: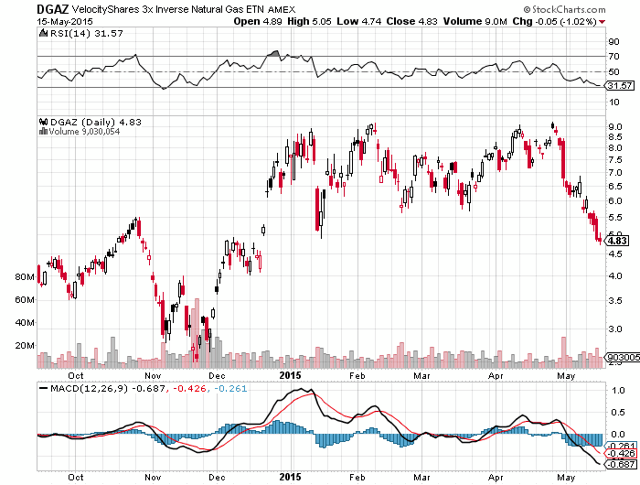 On Friday, DGAZ closed at $4.83, having fallen from $9.00 that was hit when natural gas was bottoming in the $2.50 area. June Natural Gas is sitting around at $3.01, so if it rallies to $3.10, a gain of 3%, then DGAZ should fall about 9% from Friday's close to about $4.40. A rally to $3.20 in June Natural Gas, would drop DGAZ to around $3.95. I consider it highly unlikely June Natural Gas moves above the $3.25 level, which would translate to an extreme low in DGAZ of $3.75. With a possible drop of as much as about $1, one might want to buy DGAZ around $4.80 and then adding every 20 cents lower, buying more shares on lower priced buys.
If June Natural Gas would fall back into the $2.80 level, DGAZ should rally to about $5.80. If you get your average price of DGAZ down to the $4.50 to $4.40 area, potential gains of over 30% would appear to be possible if June Natural Gas cooperates by rolling over somewhere between $3.00 and $3.20, and falls back towards $2.80. I plan to make this trade in my own account this week and you can follow me in the $DGAZ Stocktalk.
Disclaimer:
The thoughts and opinions in this article, along with all Stocktalk posts made by Robert Edwards, are my own. I am merely giving my interpretation of market moves as I see them. I am sharing what I am doing in my own trading. Sometimes I am correct, while other times I am wrong. They are not trading recommendations, but just another opinion that one may consider as one does their own due diligence.
Disclosure: The author has no positions in any stocks mentioned, but may initiate a long position in DGAZ over the next 72 hours.