In my last article, click here, I explained how gold needed to move higher on Friday, May 22, 2015. Well, gold did move up over $10 overnight, to $1214.60. However, June Gold was sitting at $1212.50 when the weak CPI number was released, which caused it to drop to the $1205 area. Then when Janet Yellen's remarks were somehow viewed as somewhat hawkish, June Gold fell to $1201, just 20 cents above the previous day's low. By a minor miracle, the critical $1200 support level held and we closed about unchanged at $1204.00. I guess we can give gold a Mulligan, a "do over" since we spent most of the day in the positive and closed virtually unchanged.
So then I ask myself, is there any hope for gold next week? Well, Monday is the Memorial Day Holiday but gold will be trading on the Globex, opening Sunday night as usual, but all trades will be part of Tuesday, May 26th action. I will be trading Sunday night and Monday as I still want to buy any dips in here, even if we should drop below $1200, as I don't think we will fall below $1193 and once we bottom, we should then recover with a $20 to $25 rally in 2-3 days.
Gold Did Well Last Week Considering The Dollar Strength
One thing that was constructive about Friday's action concerns the US Dollar. At the beginning of the day we started with a weaker dollar, but ended with a very strong dollar. With the US Dollar up nearly a percent for the day, it is amazing gold could close at unchanged. When the US Dollar rallies 1%, one would expect that gold should have fallen 1% in value, and should have closed down $12, instead of closing unchanged, since gold is priced in dollars. Gold bought in the other currencies in the world, other than the dollar, saw an increase in the price of gold Friday. For the week, the June US Dollar futures gained $2.93 or 3.15%, while June Gold futures fell $21.30, or 1.74%. The price that Europeans, Asians and Indians, had to pay for gold actually rose this week. Gold was held back this week by the fact that the US Dollar hit a 3 month low and had a large short-covering rally. If gold was not in fact strong, it could have fallen another 1 1/2% to match the amount that the dollar gained, and instead of closing at $1204, it would have closed around $1187. In light of the dollar's strength, I am not so disappointed with the action that I saw in gold. Here is a weekly chart of June US Dollar futures: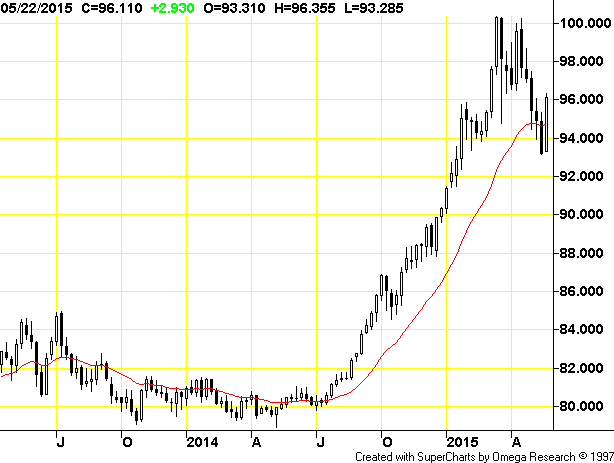 Going into last week, the US Dollar was down 5 straight weeks and 8 of the last 9 weeks. After topping out in March at just above 100.00, the US Dollar had suffered a significant correction, was oversold, and ripe for a short-covering rally. On March 7, 2015, I wrote an article, click here, where I mentioned the US Dollar rally was about to hit formidable resistance. The following week, the US Dollar index topped out.
When the US Dollar topped out above 100.00, it would eventually work its way lower to a price low that was $7 off the recent high, dropping from 100.00 to 93.00. The US dollar has already bounced back about $3 which slightly exceeds the 38% Fibonacci retracement level. Another 50 cents higher and we will hit the 50% Fibonacci retracement level, and less than $1 higher we will have retraced a Fibonacci 62%. I expect the US Dollar will continue higher early in the week, but will likely turn down either 50 cents or $1 higher from Friday's close. If one looks at the daily chart (not shown) one can see how it will be challenging for the June US Dollar futures to rally much above $97.00 in the short-term, without again facing formidable resistance.
Japanese Yen Should Bottom Another 100 Pips Lower
I was going to show a long-term chart of the Japanese ETN (NYSE:FXY) compared to the Gold ETN (NYSEARCA:GLD). The chart would have shown the high correlation between the Japanese Yen and gold. They both topped out in September 2011 and have both been in a downtrend ever sense. Yahoo Finance now has interactive charts that are not printable. If you want to do the comparison yourself, just go to the Yahoo Finance site and get a quote for FXY and then on the chart click "comparison" and type in "GLD" to have GLD And FXY plotted on the same chart.
This week June Japanese Yen futures fell nearly 2% to score a new low close of 2015. Just take a look at the daily chart: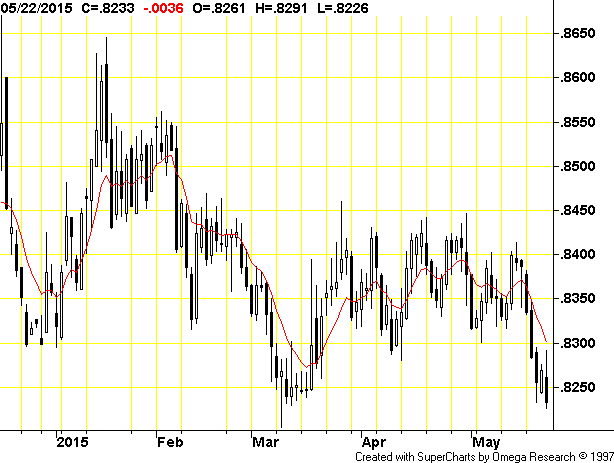 On Friday, March 6, 2015, the June Japanese Yen futures hit a similar new low for the year, at a price just under .8300. This Friday the June Japanese Yen futures closed at .8233 for another new low for the year, but not by much, so far. It was the weakness in the Yen that prompted me to study the US Dollar on March 7th, and caused me to write the article calling for a dollar top. It was the Yen making a new lows now that is causing me to write the current article, relating gold to these currencies. Back in March, the Yen only fell two more days hitting a major low at a hair above .8200. That was a drop of nearly 100 pips from the Friday March 6th close. I am looking again for the June Yen futures to stop falling no more than 100 pips below Friday's close of .8233. Don't be surprised if the Yen hits bottom by Wednesday of next week. The Yen has dropped 6 of the last 7 days and is getting quite oversold. I am not looking for much follow through beyond the 100 pips already mentioned. There was news this week in Japan that implied no more increases in stimulus are likely or possible at this time. That news should have strengthened the Yen but it did not appear to help at all. I will be watching the June Yen futures prices closely this week, to see if I can catch the turn and go long near the bottom. Since the Euro is the most heavily weighted currency in the dollar index, I would like to cover that quickly before I close.
Euro Should Bottom Shortly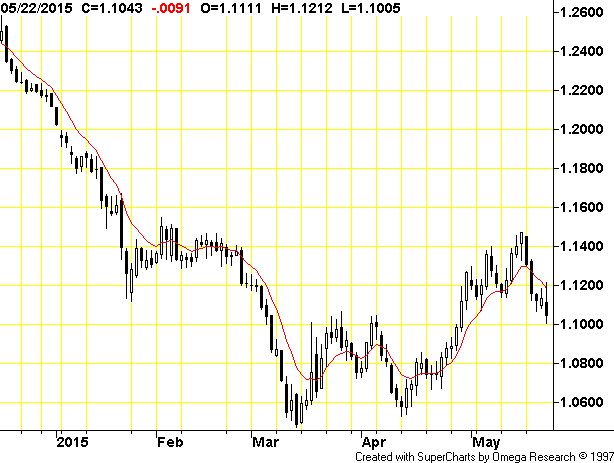 When I wrote that US Dollar article on March 7th, the Euro was falling like a rock, making the dollar rise look almost parabolic. Traders were selling the Euro relentlessly thanks to new bears entering the market short, and bullish longs selling to take their losses. Whereas the Yen would bottom on Tuesday, it took until Friday of the next week to stop the freefall in the Euro. From Friday, March 6th to Friday, March 13th, the Euro fell an additional 400 pips. Trust me, it was a lot easier to catch a falling knife in the Yen, that saw 100 pips of risk, compared to the Euro that in March would have caused 400 pips of pain. Now though, I am not so fearful of scalping the Euro from the long side, thanks to the big rally that it saw recently, and the lack of current downward momentum. A 62% correction of the entire move up off the bottom, would project a further drop on only about 160 pips lower than Friday's close, to about 1.0883.
Summary
What is important is that if the Yen and/or the Euro are going to find a bottom next week, it should help gold bottom as well. When the US Dollar had over a 3% rally this week, off the bottom, I heard many commentators remark that the dollar was back and expect a breakout to new highs and beyond. Don't listen to the propaganda. Make up your own mind. It is good to be right. But it is better to be wrong. Because when you are wrong you can learn something. You don't learn or grow from being right.
The June US Dollar futures closed at 96.11 on Friday and there is significant resistance just above 97.00, at 98.70, at 100.00, and at 101 and again at 102.50. Even though the dollar had one heck of a short-covering rally off the bottom, it will not be easy to undo the damage on the chart of the weakness seen over the previous 9 weeks. Just take a quick look at the June US Dollar daily chart to see what I mean: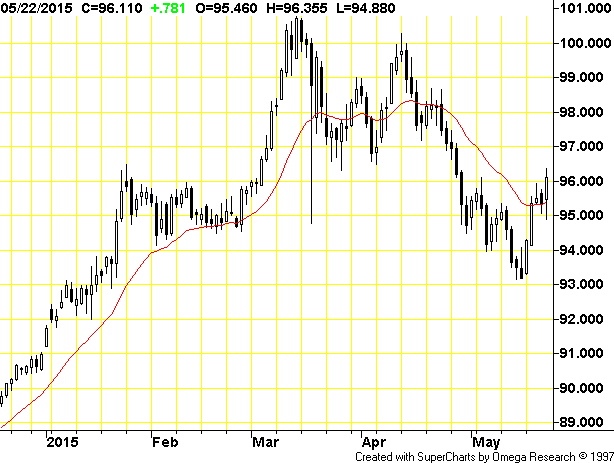 Note: If you want to receive a free copy of my newsletter that I will be sending out each Saturday evening beginning in June 2015, email me your email at shortbull2020@yahoo.com.
Also, for nearly two years, we have been making comments in Stocktalk, so that we can all be a part of a group and share ideas during the week. I have a suggestion that might work much better. You can put the free Wechat app on your phone and then add the contact "bobed1". I have set up a group room and will add your name to the room when I accept you as a contact. Up to 100 members can join the room at one time and it should be a lot easier to access the phone vs. posting using a computer. Just an experiment.
Disclaimer:
The thoughts and opinions in this article, along with all Stocktalk posts made by Robert Edwards, are my own. I am merely giving my interpretation of market moves as I see them. I am sharing what I am doing in my own trading. Sometimes I am correct, while other times I am wrong. They are not trading recommendations, but just another opinion that one may consider as one does their own due diligence.