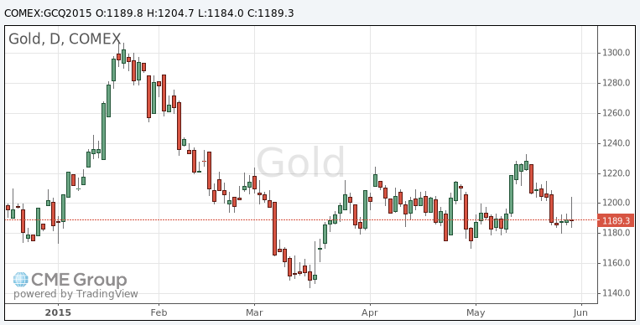 The above Daily chart of August gold shows a close of $1189.30 but that was just where it was trading when I ran the chart. Today at 1:30 p.m. EST the close turned out to be about $1188.70, down $1.10 and gold continues to trade between $1188 and $1191 late this Monday afternoon, June 1, 2015. Being an outside day (higher high and lower low than yesterday), I was hopeful that August Gold would close up to make a bullish confirmation. However, closing up or down a dollar or two is basically unchanged and overall today was a wash with neither the bulls or bears winning.
In fact, if you look at the above chart, you should notice that for the fifth straight day, August Gold has closed within a tight range of only $3.30. Having fallen from resistance at $1232, gold has found support and even though it is not rallying, neither is it selling off. When tight closes occur after a selloff, it is bullish. The last time we got a similar pattern in gold was March 11th to March 18th, when August gold closed for six trading days, within a tight spread of only $5, ranging from $1154.80 to $1149.80. Look at the long bar that occurred on March 18th on the above chart. Gold rallied up over $25, only to fall back and barely close up. (Note that today we had a surge to $1204.70 which was $14.80 higher only to fall back and close down $1). Back on March 18th, that first day up looked like a failure, very similar to today's action. Then gold continued to move higher and closed up 7 straight days, gaining $66. I don't know if we will now get a similar $66 rally in gold, but we could very well move higher from here. I do expect that the next breakout will be to the upside and not the downside. If we do get that breakout back above $1200, then you should monitor gold closely for a few days. Another failed rally that fails to take out the resistance from $1205 to $1215 would not be constructive and could lead to a further selloff. But what tells me that the next rally should be "for real" is the fact that the $1180 support level has held now for the fifth or sixth time over the last couple months. Gold has a very established base and even if we break the base we should still turn higher, just from a lower level.
I am aware that the bears keep selling the rallies into resistance but if gold keeps knocking on the topside door, resistance should finally give way and a significant short-covering rally like we saw in January, could be repeated.
Disclaimer:
The thoughts and opinions in this article, along with all STOCKTALK posts made by Robert Edwards, are my own. I am merely giving my interpretation of market moves as I see them. I am sharing what I am doing in my own trading. Sometimes I am correct, while other times I am wrong. They are not trading recommendations, but just another opinion that one may consider as one does their own due diligence.