Crude Oil Is Bouncing Up Against Resistance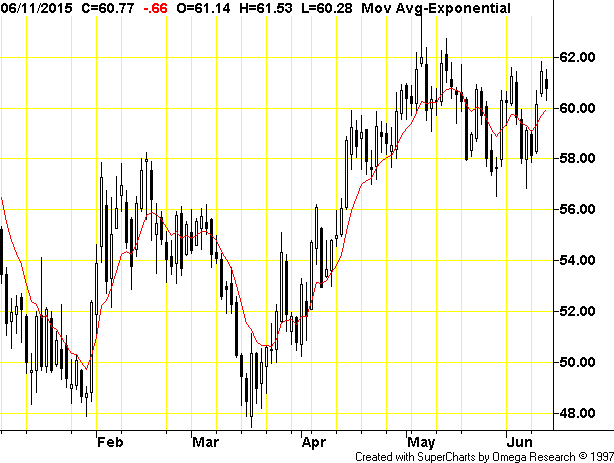 The above daily chart of July Crude Oil, shows that on May 6, 2015, July Crude Oil Futures topped out at $63.62 but fell back to close that day at $62.00. For the five weeks since then, no close above $62 has been achieved, although the $62 resistance area has been tested at least four times. As a short-term trader, one can benefit from buying the triple leveraged Bearish Crude Oil ETN (OTC:DWTI), whenever the $62 resistance area is approached. Since the $62 resistance area has been tested about 4 times without making a new high, it is proving how formidable the resistance is.
I still remain bullish crude oil and eventually see a move towards $65 and $70 plus. However, at the present time, it is better to scalp from the bearish side when hitting up against resistance levels. To review, back in February, $58 was the point of extreme resistance and there were three quick attempts to break above $58 that failed. Crude Oil traded in a tight $5 trading range from about $53 to $58. But after four 1/2 weeks, eventually July Crude Oil futures broke down to make a double bottom around $48. From that floor, Crude Oil was able to build a base that raised the resistance level from $58, to the current $62.
Now, should the current $62 resistance level be breached, expect formidable resistance again in the $65 to $66 area. From there, expect a similar $5 trading range from about $59 to $64 or $60 to $65. If we should break out to the upside, one can immediately take their loss and switch over to UWTI. However, if one is more bearish and is well capitalized, one can scale in buy more DWTI as DWTI drops lower and lower as crude oil rallies higher. If crude oil stops at $66 and forms the $5 trading range then when we swing to the low side, one can take off the higher priced DWTI shares at a profit.
We have traded for about 4 1/2 weeks and are due to make a move to higher ground, or to correct back lower to help build a base. Until we actually do break down (or up), I will continue to play the trading range of buying UWTI when crude oil is trading between $57 to $59, and DWTI when crude oil trades between $60 to $62. Crude Oil typically has a daily trading range of 2 to 3, sometimes 4%. With the triple leveraged ETNs, one can get a daily range of 6 to 9, sometimes 12%. With that kind of movement, it is not that difficult to catch 2 to 3 percent of the moves each day, and not having to hold anything overnight.
Summary:
Remember, you don't have to catch all the daily or weekly move, and trying to do so will get you in trouble. Play short term and hold the triple leveraged ETFs and ETNs part of the day if daytrading, which these products were designed for. Holding 2 or 3 days is allowed, but not preferred. Holding more than a week just makes too much slippage that is extremely difficult to overcome.
If you want to join us in our private Short Bull Trading Room on WeChat, just download the free app on your phone or tablet, and then add "bobed1". You can then send me a message so I can invite you into the room. Still plenty of room. See you there.
Disclaimer:
The thoughts and opinions in this article, along with all STOCKTALK posts made by Robert Edwards, are my own. I am merely giving my interpretation of market moves as I see them. I am sharing what I am doing in my own trading. Sometimes I am correct, while other times I am wrong. They are not trading recommendations, but just another opinion that one may consider as one does their own due diligence.