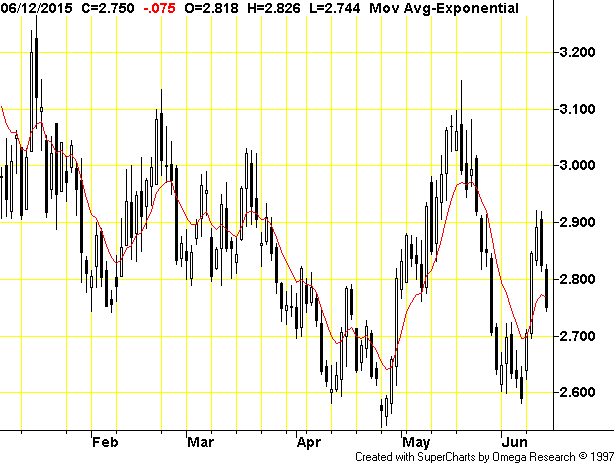 The above daily chart of July Natural Gas shows how a week ago, Friday, June 5, 2015, we got a close under $2.60 for the first time in 5 weeks. From that low of $2.581, we saw a rally in 3 days to $2.922. We have since fallen back a couple days on profit-taking. With a rally of 34.1 cents, one can use Fibonacci retracement percentages to look for a spot to get long on some weakness. The 38.2% retracement level comes in at $2.790. The 50% retracement level is 2.750, and the 61.8% retracement level is 2.710. In our private Short Bull Trading WeChat room on Friday, I mentioned that having broken under support at $2.790 overnight, we were vulnerable for a drop to as low as $2.70. But if we should drop that low, one should expect to see a ten cent rally to $2.80 the following day. Before the market opened for the day session Friday, I felt that $2.760 should hold as support as that was where we retraced to on May 7th, during the last big spike out of the bottom. Sure enough, early on Friday the low was $2.765 and we immediately rallied just over 5 cents and spent most of the day hanging around the $2.800 level. But late on Friday, a drop to a low of $2.744 was made, and we closed right on the 50% Fibonacci retracement level of $2.750.
Should we pop back straight up on Monday, expect to see a quick move back up to $2.844, calculated by adding 10 cents to Friday's low. If we however, need to hit the 61.8% Fibonacci retracement level of $2.710, or we overshoot down to $2.700, I expect for buying to come in and we should move back to at least $2.800 where we spent most of the day on Friday.
If you look at above daily chart, an April 13, 2015 low was scored at a similar $2.582, that was followed by 3 up days and then 2 down days, just like we got this week. And the next two days that followed were both up days. If we repeat the same pattern, expect a move by next Tuesday back to at least $2.800 if not $2.850. At that point one should liquidate their bullish positions, be they futures contracts or the triple leveraged ETN (NYSEARCA:UGAZ). Here is a daily chart of UGAZ: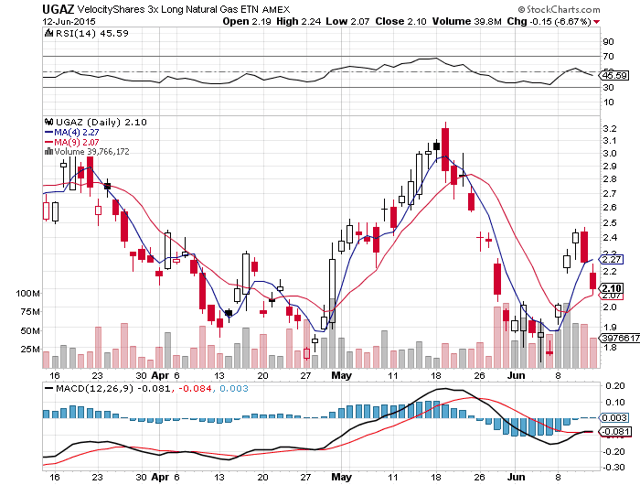 Many of my followers got long UGAZ beginning in the $2.30s a couple weeks ago and did scale in buys down to the $1.70s, with a greater number of shares purchased at the lower prices. Done properly, one should have had an average price of less than $2 in their UGAZ position. On the 3 day rally, traders were encouraged to take profits in the $2.25 to $2.50 level, and many were quite happy with their outsized gains. Some bought a small position in DGAZ to take advantage of a small correction which we did get. Now buying again from $2.20 down to $2.10 and lower, should natural gas prices fall just a nickel on Monday, the gap should be filled with a retracement to $2.01. Around $2.00 should be a fabulous place to buy and any shares bought lower than $2.00 would be a bargain buy. I expect to see a rally early next week that would allow taking profits again at a price level of $2.25 or higher.
Although I am a technician, I still do like to read fundamental information to see if fundamentals line up with what I am seeing on the charts. I was reading the Short-Term Energy Outlook report released by the EIA on June 9th, click here. They are looking for a slight rise in natural gas prices through the summer, thanks to air conditioner demand. In that report under the heading "Natural Gas Prices" we find the average Henry Hub price projection for 2015 is down to $2.97/MMBtu and $3.32/MMBtu in 2016. This is much lower than the 2014 average price of $4.37/MMBtu, and the 2013 average price of $3.73/MMBtu.
Back in 2012, the average price was $2.77/MMBtu thanks to a drop at one point to under $2.00/MMBtu. That was a drastic retreat from the 2011 average price of $4.02/MMBtu. If you should want to see where natural gas have traded on a monthly basis since 1997, click here. You will see that in April 2012, the average price per MMBtu was only 1.95, but by July the price had recovered to $2.95. The low mark in 2015 also came in April at $2.61. May of 2015 had an average price of $2.85. I expect that by July 2015, the average price should continue to rise to at least $3.10. If we are going to average $2.97/MMBtu for the year, we need to spend some time above $3.00/MMBtu, and I suspect it will be sooner than later.
One article I read mentioned how gas supplies will be drastically reduced beginning in July 2015, supporting significantly higher prices. However, I cannot locate the article right now. If I find it I will post the link in the comments section.
Today I am sending out my second issue of my free weekly newsletter. Send an email to shortbull2020@yahoo.com if interested in subscribing.
Also, if you want to join us in our private Short Bull Trading Room on WeChat, just download the free app on your phone or tablet, and then add "bobed1". You can then send me a message so I can invite you into the room. Still plenty of room. See you there.
Disclaimer:
The thoughts and opinions in this article, along with all STOCKTALK posts made by Robert Edwards, are my own. I am merely giving my interpretation of market moves as I see them. I am sharing what I am doing in my own trading. Sometimes I am correct, while other times I am wrong. They are not trading recommendations, but just another opinion that one may consider as one does their own due diligence.