Bearish Hanging Man Formation Needs To Be Confirmed By A Down Close On Wednesday
In my last article, click here, I was looking for a rally in natural gas which we got on Monday, June 15, 2015. However, on Tuesday, after making a marginal new high, natural gas dropped 9.8 cents off the $2.929 high to a low of $2.831, only to rally back to close up 5 ticks for the day. (Note: I had mentioned in our private WeChat room one should buy on Tuesday on a 10 cent correction but I could not decide if the ten cents should be measured from the high, or from Monday's close). I did not like the action and elected to do nothing, missing a nice buy spot and rally of over 7 cents. But what was formed on Monday, was a more ominous hanging man Japanese Candlestick formation. You can read about that here. Note that to be valid (confirmed), one needs to see a lower close today, Wednesday June 17, 2015. Here is a look of the daily chart of July Natural Gas futures: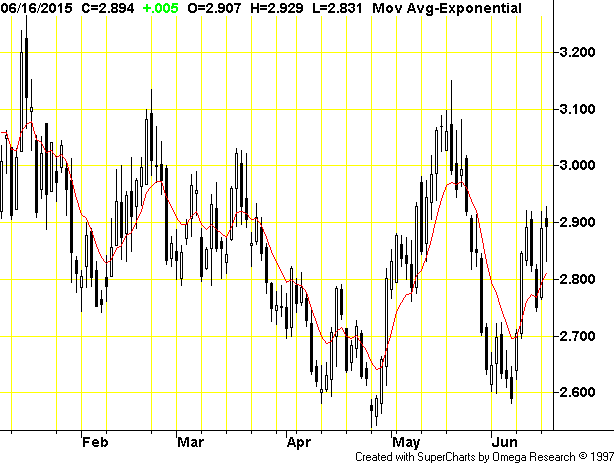 There are a couple previously formed "hanging man" formations in the above chart, the last occurring on May 15, 2015. The next day opened lower, traded both sides of unchanged, and then closed down slightly, confirming the formation. Sure enough, the following day we rallied to a spike high and then started a fast downward correction. Another "hanging man" formation occurred on March 6, 2015 and the following day was a hard drop to confirm. However we fell so hard that day, it turned out to be a temporary bottom and was followed by a couple up days.
For five trading days July Natural Gas has found resistance just above $2.90. Do not be surprised if on Wednesday, June 17, 2015, that we rally up towards the $2.95 to $3.00 area and then roll over. One definitely needs to be wary.
Bearish Seasonal In Natural Gas From June 15, 2015 to July 21, 2015
Today I read the following article from Jay Kaeppel, click here, where he warns of a bearish seasonal trend that has occurred 21 of the last 22 years. The last time Mr. Kaeppel wrote about this, was in 2012 when unfortunately it did not work. As most of you know, 2012 was the year when natural gas prices slipped under $2 and bottomed in April, only to rally strongly for several months afterward and defy the strong bearish tendency to fall for about 5 weeks beginning in the middle of June.
In 2015 we did not fall to a price under $2, but we did fall to a price under $2.50 ($2.443 in the nearby contract) and have rallied since. This year again could be the exception and we do get a continued rally. However, playing for the exception is rarely ever advised as the odds are extremely favoring the side of being bearish instead of bullish, during the current time frame. This is another reason to be cautious. Even if we don't reverse down hard today, Wednesday June 17, 2015, I am advising taking at least 50% profits on all long positions in futures as well as UGAZ and other bullish natural gas ETNs and ETFs. On any strength, one might want to lighten up even more or find a spot to get out completely and consider buying a small bit of the bearish triple leveraged ETN (NYSEARCA:DGAZ).
For more up to the minute analysis, join us in our private Short Bull Trading Room on WeChat, just download the free app on your phone or tablet, and then add "bobed1". You can then send me a message so I can invite you into the room. Still plenty of room.
Last Saturday I sent out my second issue of my free weekly newsletter. Send an email to shortbull2020@yahoo.com if interested in subscribing. It is free!
Disclaimer:
The thoughts and opinions in this article, along with all STOCKTALK posts made by Robert Edwards, are my own. I am merely giving my interpretation of market moves as I see them. I am sharing what I am doing in my own trading. Sometimes I am correct, while other times I am wrong. They are not trading recommendations, but just another opinion that one may consider as one does their own due diligence.