The Background
In this article I am going to explain an option strategy that I plan to employ this year, involving the sale of far out-of-the-money October and December Lean Hog puts, wherein I hope to capture the premium if the options expire worthless as I expect that they will. The odds are overwhelmingly in my favor. You may not care a "hoot", or should I say an "oink" about the swine industry, but the strategy that I am presenting can be applied to many other markets. We can begin by looking at the monthly price chart: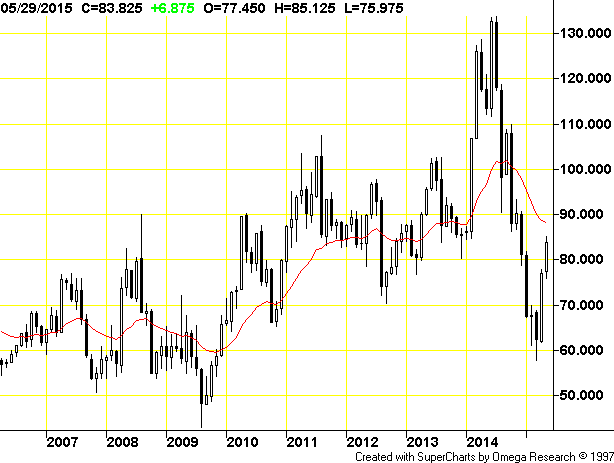 You will notice that in 2014, lean hog prices made all time highs as the PED virus drastically reduced piglet numbers. Farmers quickly learned to cope with the outbreak and the reduction in pork supply for the year was in the single digits. In fact, instead of returning to the prices we were at in 2013, it is estimated that we will have about 6 to 8% more pork slaughtered in 2015 than we had in 2013. Most of the surplus should occur in the last half of 2015.
The above monthly chart is only current through the end of May 2015. We have nearly completed the month of June 2015 and have fallen about $10 so far this month, from the mid $80s to the mid $70s. Pork prices are quoted per 100 weight (100 lbs) so if hogs were selling for 80 cents, it would be quoted as $80 per 100 weight. Recently the retail price of pork was selling for about $3.90, so to have "the board" (futures prices) trading in the mid $70s is kinda sad. Farmers get something less than the futures price, and the difference between the futures price and what farmers are paid, is called "the basis". Farmers typically receive 10 to 15 cents per pound less than the futures board price. Fortunately costs in 2015 have come down thanks to cheap soybean meal prices, and instead of needing the high $50s per 100 weight to break even, efficient farmers only need the low $50s. It will be a struggle to make money this year as farmers will earn no more than $8 per head, and many will lose money.
Since 2014 is an outlier year, it is better to compare 2015 hog prices to what occurred in 2013. It is looking like farmers have been more aggressive than expected in expanding herds since the gestation period for a sow is only 114 days, a week shy of 4 months. That compares to gestation of a cow being 9 months. From birth to 225 lb. slaughter weight, takes 6 months for pigs. Slaughter cattle take 18 months. Thus pig numbers can drastically increase or decrease in a very short period of time, making for wide swings and volatility in prices when compared to beef prices. Not only supply, but demand also plays a factor and that too can see rapid changes up or down, depending on how many hogs are going to China or Mexico. Canadian imports used to be a problem in depressing pork prices but with so many hogs now going to China, a few pigs coming in from Canada is no longer a concern.
Looking at the monthly chart, you will notice that in 2013, there was a March low of $76.80 in the nearby April Lean Hogs contract but otherwise we stayed above $80 for the rest of the year. In 2012 there was a dip to just below $70 in the August/September period, but by December we were again trading above $80. In 2011, we also stayed above $80. The last time we saw pork prices hit $50 or lower, was August 2009, as we were pulling ourselves out of the financial crisis. Because the Chinese now own the largest pork slaughter house (Smithfield Foods) and have drastically increases their import of US pork as a result, I don't ever see pork prices again trading under $60, and only rarely should they see $70s per hundred weight. Future pork prices should stay at the $80 or higher level a majority of the time.
In 2015, just like 2013, a low was struck in March. In 2013, the low was $76.80, and in 2015, the low was $57.77. The 2015 yearly low was $21 lower than the 2013 low. After a summer rally, in 2013, Lean Hog prices fell towards the mid $80s, with a spike low hit at $80.22 in December. If we subtract a similar $21 from the December 2013 low, to calculate a projected December 2015 low, you would get $59 as your worst case scenario price for December hogs.
By the way, I found a chart of price predictions for August 2013 through December 2013, click here, that was made in April 2013. At that time they thought December hog prices would be around $78.29 but in fact they never got below $80 and spent most of the time near the mid $80s, as shown on the above chart. I won't bore you with the references but I have studied price forecasting for pork and pork prices typically run $2 to $4 higher than predictions made a couple quarters early.
My Lean Hogs Futures Trading Strategy Explained
I am most interested in where the December 2015 price level will be as as I have a large trade that I want to put on the next few weeks. If we are running 5 to 10% more hogs now than in 2013, should the prices in 2015, be more than 5 to 10% lower than in 2013? Probably not. However, markets tend to overshoot on the upside and on the downside and the March 2015 low was $21 lower than the March 2013 low. That is a drop of 27%. No wonder we snapped back up about $28 off the low by the end of May 2015. Well, we have since given back about $10 of that rally, with July Lean Hogs closing at $75.75 on Friday, June 19, 2015.
Knowing that prices in December should be running much lower than this summer, December 2015 lean hogs closed Friday at $61.65, a discount of $14.10 to the price of the July contract. If you remember my earlier calculation, the worst case scenario low for December 2015 Lean Hogs should be no lower than $59, with most trading occurring at least $5 to $6 higher than that, around the mid $60s. Thus the current $61.65 price has pretty well factored in all the bearishness that we need to deal with. Any moves below $59 would be way overdone, especially since we are talking about prices nearly 6 months out. Take a look at the daily chart of December Lean Hogs: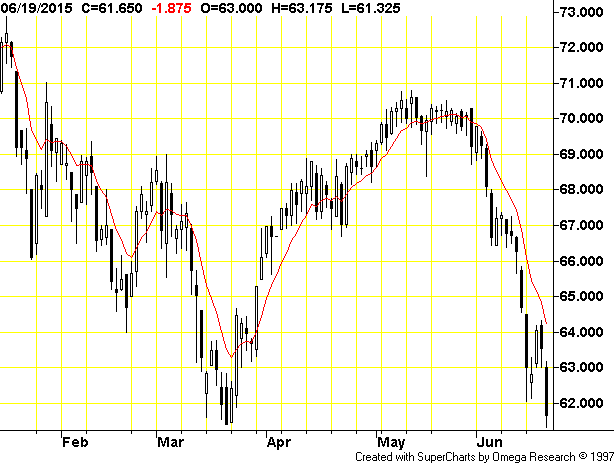 In the last 2 1/2 weeks, December Lean Hogs have fallen $9. Anyone who would have shorted Lean Hogs above $70 and then bought back in the $61s on Friday, could have done so with a couple thousand dollars of margin, and earned $400 for every dollar drop, or $3,600. Not a bad trade at all for 2 1/2 weeks of work. However, now we could be in for a small bounce.
If you look at the little 2 day bounce of Tuesday and Wednesday this past week and then drop back down on Thursday and Friday. week, it appears to be quite similar to what we saw in the middle of March, at about the same price levels. It appears we are showing some buying interest in the $61s back in March and at present. This looks like an excellent time to try and pick a bottom as the market already bounced earlier this past week.
My Short Dec Lean Hog $50 Strike Put Option Trading Strategy Proposal
Now what I could do is just go and buy December 2015 Lean Hog futures on Monday, and I probably will do so. However, I want to set up a very long term trade involving the sale of far out-of-the-money puts. With December 2015 Lean Hogs contract closing Friday at $61.65 the $50 strike put ($11.65 out of the money) is worth .875 ($350). I can sell this put and collect the premium that will immediately be added to my account. If December Lean Hogs expires at $50 or higher, then I can keep the entire $350 less commissions ($6). If Lean Hogs prices continue to fall, I can sell more puts at higher and higher premiums to lower my breakeven price. To lose money on this trade, December Lean Hogs would have to be trading below $49.125. If it does trade below $50, then the option will be in the money and I could get exercised and forced to buy and be long a $50 December Lean Hog Contract. Well, it sure beats buying at $61.65. How could I not find a way to make money on that contract?!
There are lots of strategies that one can employ that begins with selling of a far out-of-the-money put. On a decent rally, I could always sell a far out-of-the-money call to balance out the position. That would then be called a short strangle position, one of my favorites.
On Friday, 212 of the $50 strike December puts traded, showing great liquidity. While the $50 strike put trades at .875, the $52 strike put closed at $1.175 which is 20 cents higher. If Lean Hogs would fall another $2 lower on Monday, the $50 strike would increase just 20 cents, which means I would be temporarily losing $80 on margin when marked to the market. If a $2 drop in Lean Hogs causes a 20 cent increase in the $50 put, it is trading at a delta of .10 (10%). Selling a put is like being long 1/10th of a Lean Hog contract. Thus I could sell 10 of these puts to be required to put up margin for just one lean hog contract.
Managing The Option Trade
If December Lean Hogs dropped $6 right away next week, the .875 premium of the $50 strike put, would increase to $2.15, causing me a temporary loss of $1.275 or $510. The delta would increase to .35, so I would be long an equivalent of .35 or about 1/3 of a full contract. Earlier I said a full margin was $2,000 as that is how I think of it in my head. It is exactly $1320 on the first day and $1200 maintenance margin after that. After the first day one would still only need to have $510 plus $400 or $910 to hold one put if Lean Hogs dropped $6 early next week. With that drop the futures contract would still be trading $5.65 out of the money but the time value premium would have been increased and probability of being exercised in the money will have also gone up. Once a trade is placed there are lots of ways to manage the trade. I could catch a nice rally and then sell a far out-of-the-money call to balance the position, what is then called a short strangle position. You would be hoping that Lean Hogs goes off above your put strike but below your call strike. Short strangles is one of my favorite option trading strategies. You can also purchase calls or puts to create a spread or even involve futures contracts to balance out your position. The possibilities are endless.
To see me place this trade and manage it on a daily basis, join us in our private Short Bull Trading Room on WeChat. Just download the free app on your phone or tablet, and then add "bobed1". You can then send me a message so I can invite you into the room. Still plenty of room.
Last Saturday I sent out my third issue of my free weekly newsletter. Send an email to shortbull2020@yahoo.com if interested in subscribing. It is free!
Disclaimer:
The thoughts and opinions in this article, along with all STOCKTALK posts made by Robert Edwards, are my own. I am merely giving my interpretation of market moves as I see them. I am sharing what I am doing in my own trading. Sometimes I am correct, while other times I am wrong. They are not trading recommendations, but just another opinion that one may consider as one does their own due diligence.