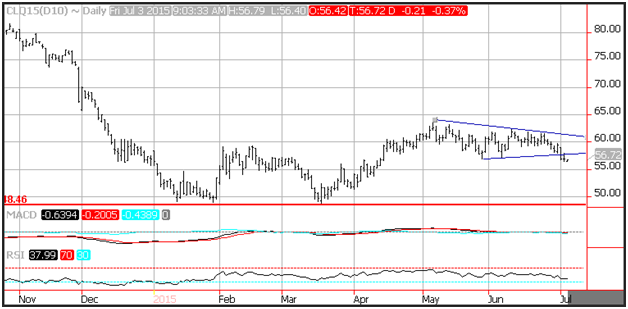 The above daily crude oil chart was posted by David Becker in a technical analysis article posted on FXEMPIRE, click here. In the article they mention the next support is $48.50. Is this a valid price target? Well, if you look to the early February 2015 rally, you will see that August Crude Oil stopped rallying then when it hit $59.17 on February 3rd. Then it dropped to as low as $48.71 on March 18th, a drop of $10.47 (17.7%). Next we topped out at $64.12 on May 6th, and if we fall a similar 17.7%, we would bottom $11.35 lower, or $52.77. To me, $52.77 is a more reasonable target than $48.50.
On Thursday, July 2nd, August Crude Oil hit a low of $56.50 which happens to be just one penny below the $56.51 low that July Crude Oil hit on May 28th. However, on Friday, July 3rd, although most markets were closed, crude oil traded until 1:00 p.m. EST on the Globex, and closed just off the daily low of $55.42. Many factors contributed to the weakness, the Greek vote on Sunday, the small increase in the rig count, and a bearish inventory report on Wednesday. Counting Friday, August Crude Oil has traded 8 days in the current downtrend, and a typical count is 9 to 12 days. I do expect for a bounce soon, but we could slip early next week first. Due to the Greece vote, I took profits in the triple leveraged Crude Oil ETF (NYSEARCA:UWTI) on Thursday's early strength and have stayed out of the market since.
I am looking for no more than a 7% drop in crude oil, lower than we saw on Thursday when UWTI was still trading. Being triple leveraged that would translate to a 21% drop in UWTI from $2.80 down to as low as $2.21. Here is a daily chart of UWTI: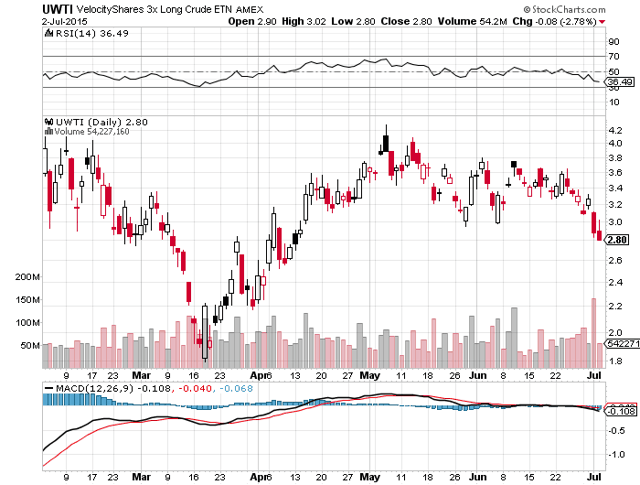 We could bounce from $2.60 and $2.40, even if we ultimately see $2.20 and again, I still want to play UWTI over DWTI, as once we bottom, we should eventually work our way back to the $65 to $70 area in crude oil, which is 15% to 24% higher than Thursday's lows. Adding 45% to 72% to the $2.80 price, UWTI could rally to $4 to $4.80. Factoring in some slippage, you would still get $3.75 to $4.50 as a reasonable price target once crude oil bottoms.
For those who are long UWTI at $3, it might seem alarming to think UWTI could fall to $2.20, but if you realize that we have rallied in UWTI after every 20 cent move lower, one should be comforted. From the top, we first stopped at $3.40, and rallied back to $4. Next stop down was $3.20, which caused a rally back to over $3.70. Then we stopped twice at $3.00, rallying first to 3.80 and next to $3.75. Last Wednesday we fell to just above $2.80, and got a quick Thursday pop back to $3.02. With the weakness seen on Friday, I expect to see UWTI hit $2.60 on Monday but we could bounce from there. We are 8 days into the current downtrend in crude oil and most of the time we don't work lower than 10 days (2 weeks) at a time without showing some significant strength for at least a few days.
To follow along as we trade crude oil , gold, natural gas (NYSEARCA:UGAZ) and other commodities, join us in our private Short Bull Trading Room on WeChat. Just download the free app on your phone or tablet, and then add "bobed1". You can then send me a message so I can invite you into the room. Still plenty of room.
You can also subscribe to my free weekly newsletter. Send an email to shortbull2020@yahoo.com if interested in subscribing. Again, it is free!
Disclaimer:
The thoughts and opinions in this article, along with all STOCKTALK posts made by Robert Edwards, are my own. I am merely giving my interpretation of market moves as I see them. I am sharing what I am doing in my own trading. Sometimes I am correct, while other times I am wrong. They are not trading recommendations, but just another opinion that one may consider as one does their own due diligence.